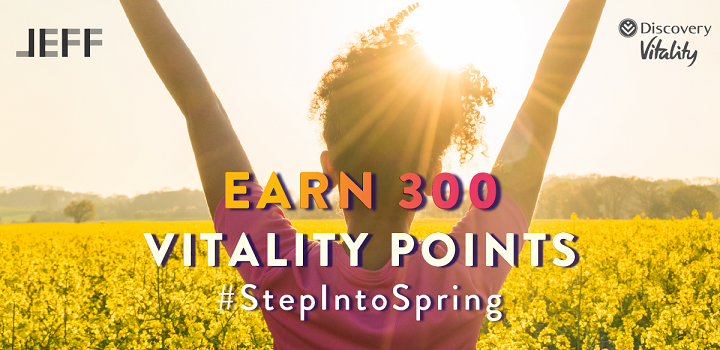 SUN'S OUT, FUN'S IN! JOIN OUR STEP INTO SPRING WORKOUT WITH JEFF, POWERED BY VITALITY, AND GET REWARDED. PLUS, STAND A CHANCE TO WIN A LIFE CHANGING PRIZE.
Hello Sunshine! you're invited to join our step into spring workout with Discovery Vitality and the global JEFF community.
Join us on Saturday, 11 September, at 08:00 in the morning for a 45-minute online workout that'll put the spring back in your step. The warm-up starts at 07:45, so don't miss out!
You can earn 300 Vitality points for joining in the fun. PLUS, one lucky Vitality member can stand a chance to win two months' free access to the JEFF 1-on-1 Personal Coaching Programme, valued at R2 250 a month.
This is your one chance to win life-changing direction, guidance and accountability from JEFF's world-class coaches, with exceptional daily support. Find out more.
Remember to log your workout with Vitality to get your points and stand a chance of winning by sending us a screenshot of your logged workout between 08:00 on Saturday and 09:00 on Sunday. Terms and conditions apply.
SIGNING UP IS EASY - AND FREE
RSVP to the event on Facebook.
Join the fun online on 11 September from 07:45 on the JEFF Together Facebook Group.
Create a free profile on the JEFF Web App to get you free access to workouts leading up to the event.
Don't forget: As a Vitality member, you can get a 25% discount on your JEFF Life membership fees. Visit the Vitality webpage to find out more, and keep an eye on our Facebook, Twitter and Instagram pages for updates.
Let's shake off our winter ways, step into spring, and live life with Vitality.
GET HEALTHY. GET REWARDED.