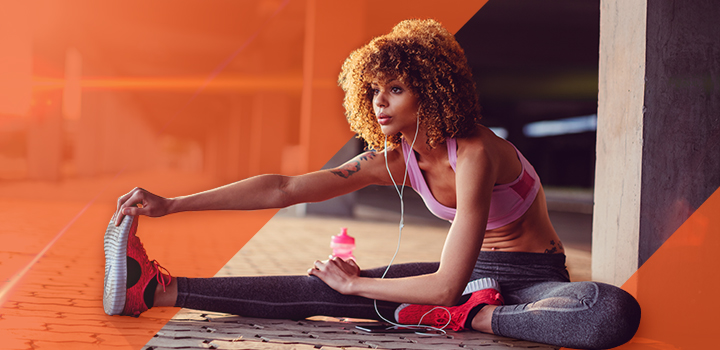 This April, six lucky Vitality HealthyGear members stand the chance to win their share of R3 000 from their favourite HealthyGear partner, Sportsmans Warehouse or Totalsports!
Plus, you still get up to 25% cash back. All you have to do is swipe your HealthyGear card for every purchase that you make at your preferred partner store during the month of April. This will automatically enter you into the draw to win one of six Sportsmans Warehouse or Totalsports vouchers or gift cards to the value of R500 each. Terms and conditions apply.
Picking the right active gear can make all the difference
Make sure you have the right clothing for the activity at hand. Here are a few things to consider when you pick out your active wear:
Think about the climate you are exercising in
In hotter seasons, choose loose, natural-fibre clothing for your workouts. This can help prevent issues such heat stroke or heat cramps. If you're going to be outdoors, use lighter colours. During the cooler seasons or for an environment that is artificially cooled, choose clothing that can easily be layered.
Consider your range of movement
Choose loose clothing that allows you to move comfortably - especially if your exercise requires a larger range of motion.
Wear clothes that make you feel good about yourself
Remember that you automatically feel more comfortable if you're exercising in clothes that don't make you feel self-conscious. The better you feel in your clothes, the better the chances of you feeling more positive about exercise, which will ultimately make you want to continue doing it.
Don't forget to wear the right shoes
When you choose shoes for your workout, keep in mind the type of exercise you're going to do. High-impact exercises such as running will need even more consideration. If you need help in picking the appropriate shoe, think about having your feet analysed at a sport gear store to make sure you don't invest in a shoe that might end up injuring you.
Boost your fitness with Vitality Active Rewards Fitness Boosters
Remember, our new suite of Fitness Boosters are live! Activate Device Booster to get up to 75% cash back OR Shoe Booster to get up to 100% cash back. Download the latest version of the Discovery app, and earn great cash backs by achieving your weekly goals.
If you have not activated your HealthyGear benefit, visit www.discovery.co.za or find out more in store. Not a Discovery Vitality member? SMS 'Gear' to 47751
Happy shopping!