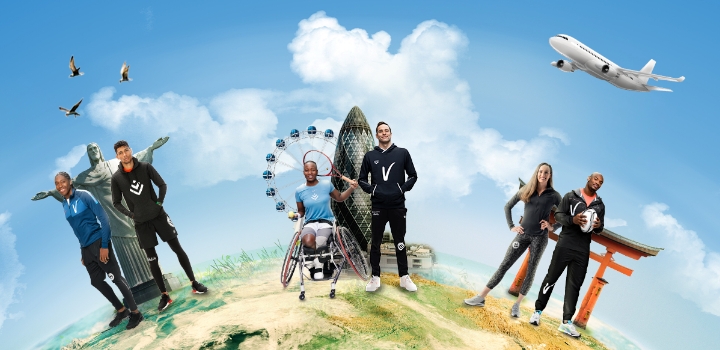 They dreamt. They went. They conquered. Discovery Vitality Ambassadors Caster Semenya, Chad le Clos, Kgothatso Montjane, Makazole Mapimpi, Tatjana Schoenmaker and Wayde van Niekerk share stories from the cities that shaped them.
Caster Semenya: "I experienced new dishes in Rio"
On 20 August 2016, Caster Semenya made history when she won the gold medal in the women's 800 metres at the Rio Olympics and set a new record of 1:55.28.
"I didn't get much time to explore Rio because I was so focused on winning the gold medal. I spent most of my time in the Olympic Village preparing for my races, and only had interactions with other athletes. In the few encounters I had with the people of Rio, they made me feel welcome and accommodated.
It may be shocking to most people, but I don't maintain a specific diet, so I got to try out and experience a lot of new dishes while I was in Rio.
My one travel tip is to try and maintain the training goals you set at home. Use anything that you may use back home to stay in shape.
And yes, of course I brought back a souvenir. The biggest one of them all, my medal!"
Relive Caster's magical moment:
Chad le Clos: "London 2012 was the best experience I've ever had"
Ten years ago, Chad le Clos outswam his childhood hero Michael Phelps when he won the gold medal in the 200-metre butterfly at the Olympic Games in London 2012.
"London 2012 was the best experience I've ever had in my life, not just because I won but because it was my first Olympic Games.
When I arrived, I walked into the Olympic Village and saw all the greats walking around. We took bus rides and we saw fans in the street cheering. It was just next-level support.
Whenever we talk about the Olympics and London, my dad always says that it couldn't have gone any better, because it was just perfect.
After my race, I can't even describe what it felt like to win. Like New Year, my birthday and Christmas Day all in one."
Watch Chad swim for victory:
Kgothatso Montjane: "The most special Wimbledon moment was ..."
In 2018, Kgothatso Montjane became the first black South African woman to compete at Wimbledon.
"I was starstruck because I got to share lockers with Serena and Venus Williams and a dining hall with everyone from Federer to Nadal to Djokovic. It's unbelievable the life I've been living, brushing shoulders with the stars.
Playing at Wimbledon in a wheelchair is hard. You need to be super fit. I like it because it favours my style of grinding hard. I'm not a person who likes to rally a lot, and grass allows me to do that.
The most special Wimbledon moment was making the finals and playing on Court Number 1. I had never thought I would play there. What was extra special was that my family got to watch me play in a big tournament on TV. That meant a lot."
Watch Kgothatso's life story so far:
Makazole Mapimpi: "Japan 2019 was an electrifying environment"
Rugby legend Makazole Mapimpi scored the winning try at the 2019 Rugby World Cup in Japan.
"Japan 2019 was an electrifying environment because of the Rugby World Cup, and people from all over the world coming to watch the games. I was surprised by how much the Japanese love rugby and I went back in 2020 to play for their top league team, the Red Hurricanes.
The Japanese people are very welcoming, organised, respectful and disciplined. They're just as willing to teach tourists their language as South Africans are.
My favourite food was yakiniku, a meal of bite-sized meat pieces and vegetables cooked on a griddle over a flame of wood charcoal known as sumibi. You could say it's a Japanese take on the South African braai. Yakiniku is, in fact, one of Japan's most popular national dishes."
Makazole reflects on the 2019 Rugby World Cup in Japan:
Tatjana Schoenmaker: "Enjoy the culture and the food"
At the 2020 Summer Olympics in Tokyo, Tatjana Schoenmaker won the gold medal in the 200-metre breaststroke and set a new record of 2:18.95.
"For the Games, Tokyo was closed to the outside world, but open to all Olympians. We couldn't do much sightseeing, but I'd visited before and loved how they'd kept the old Japan intertwined with the new.
The Japanese people are friendly and kind, and they have the utmost respect for others. They're incredibly courteous.
My training tip for travellers is to walk everywhere. You'll embrace your new surroundings and at the same time stretch your legs. The other thing is not to be so hard on yourself when you're on holiday or travelling. Enjoy the culture and the food."
Watch Tatjana swim for gold:
Wayde van Niekerk: "Rio was a dream destination"
Wayde van Niekerk won the gold medal in the men's 400 metres and set a new world record of 43.48 at the 2016 Olympic Games in Rio de Janeiro, Brazil.
"Rio was a dream destination that I always wanted to experience and explore. The fact that the Olympic Games were there in 2016 was a double blessing. I always dreamt of going there.
I got to watch one of the local football games, a must-see experience for anyone who loves Brazilian football. Nothing beats watching football in Brazil and experiencing the passionate local fans.
My training tip for travellers is to always travel with resistance bands because they make great as exercise equipment. And always take running shoes to jog in a new city.
It's also a good idea to bring back a souvenir from wherever you visit. I brought back a gold medal."
Watch the replay of Wayde's historic feat in Rio:
Go everywhere with Vitality Travel
Do you want to go where legends once reigned? Whether it's Brazil, England or Japan, your healthy behaviour can take you everywhere through Vitality Travel, brought to you by Discovery Bank.
Discovery Bank clients enjoy unprecedented travel benefits and discounts, which we've enhanced even more with Vitality Travel, the world's first shared-value travel booking platform.
With your healthy behaviour, you can unlock unparalleled discounts on flights, accommodation and car hire, and the widest range of travel partners.
Visit the Vitality Travel webpage to find out how much you can save on travel and how to make your first booking. Plus, check out our 5 travel trends to ignite your wanderlust right now.
Live life with Vitality. Go everywhere with Vitality Travel.