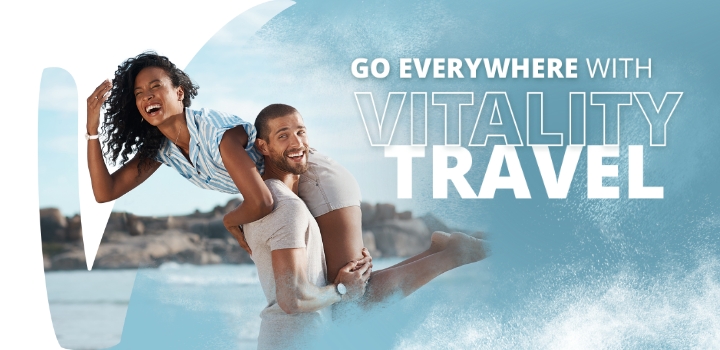 Travelling in 2022 will be more accessible, seamless and rewarding than ever before. Soon, you'll enjoy bigger savings across more airline and accommodation partners with Vitality Travel, the new Vitality Travel platform, from Discovery Bank
Start planning your future adventures! Soon all Discovery Bank clients will have access to one of the widest and most rewarding travel platforms in South Africa.
The new Vitality Travel platform will offer Discovery Bank clients who are also Vitality Health members up to 75% off local and international flights, 25% off holiday accommodation and car hire, and 15% off international holiday packages.
Plus, you'll enjoy a seamless, end-to-end travel experience when you book your holiday on the Vitality Travel platform - without leaving the Discovery Bank website or app. But before we release Vitality Travel on the app, it will first only be available on our website, www.discovery.co.za.
Booking through Vitality Travel offers you the opportunity to:
Explore our exclusive travel deals and book your entire trip, including flights, accommodation and car hire, with a convenient single checkout.
Pay securely using your Discovery Bank card or Discovery Miles without leaving the Discovery Bank app or website.
Travel anywhere across South Africa with new local flight partners
Vitality members that are Discovery Bank clients can save up to 75% on local and regional flights with our new airline partners FlySafair, LIFT and Airlink. Plus, keep saving with kulula.com and British Airways (operated by Comair) on the kulula.com booking platform and the Vitality Travel Platform. You can also save up to 75% on international flight bookings with British Airways, Emirates and Qantas.
Get more accommodation options and holiday packages
Vitality members with a qualifying Discovery Bank product get a 25% upfront discount at over 2 000 holiday accommodation options across South Africa, including hotels, B&Bs, resorts, lodges and apartments. Plus, get a 15% upfront discount on a wider range of exclusive international holiday package items and special offers.
You'll also get 25% off car hire options on the Vitality Travel platform, with unlimited bookings and no booking fees.
If you're planning on using the Vitality Hotel Collection benefit this side of the year, note that Vitality has changed the 21-day advance booking rule for Vitality Hotel Collection venues around the country until 31 December 2021. Vitality members can book holiday accommodation for local travel just 48 hours ahead of their check-in date.
Keep an eye out on our Facebook, Twitter and Instagram pages for more updates and information on Vitality Travel.