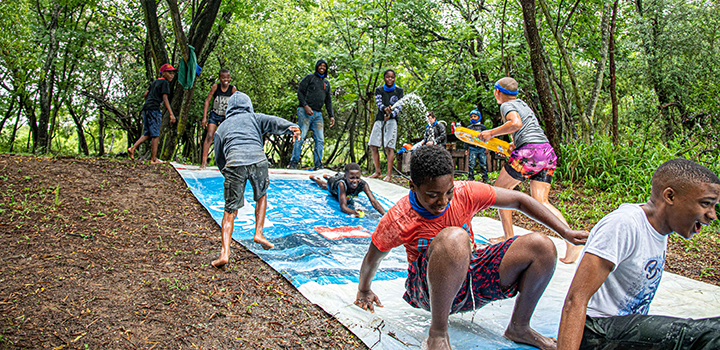 Vitality MoveToGive has partnered with The Character Company, whose goal is to help to change South Africa's current culture of violence and abuse by instilling honorable values in young boys
This image was taken prior to the COVID-19 pandemic
You can help boys without fathers grow into good men with Vitality MoveToGive and The Character Company.
The Character Company aims to positively impact families, communities and society, via a long-term mentorship programs – with the singular mission of raising boys to be good men.
To achieve their goals, the national team of volunteers focuses on long-term mentoring and relationship building, instilling five specific values – courage, kindness, self-discipline, honesty and respect.
"We primarily work with young boys between the ages of five and 10 as an intake age, but our long-term mentorship approach means that we will continue to be part of their lives throughout their school career and beyond," says founder Jaco van Schalkwyk.
Be the change you want to see
With teams in major cities around South Africa, The Character Company arranges weekly activities, camps and mentoring for young boys with absent fathers, creating a support structure for single mothers, and using the time to advocate for better treatment of women and children.
You can help by achieving your exercise, drive and money goals and donating the Discovery Miles you earn to this worthy cause.
For 200 Discovery Miles you can give a boy a mentorship curriculum workbook that teaches strong values
For 650 Discovery Miles you can give a boy from an under-privileged background access to a half-day session with a mentor
For 950 Discovery Miles you can give a boy a day of on-site character building activities with a mentor
How to donate to MoveToGive
Members of the public can contribute to The Character Company's initiatives by donating via their website.
Vitality members can donate their Discovery Miles. Here's how to donate on MoveToGive:
Activate Vitality Active Rewards on the Discovery app.
Achieve your exercise, drive or money goals to get a play on the gameboard.
Pick a tile on the gameboard to reveal Discovery Miles.
Spend your Discovery Miles on MoveToGive charity donations.
Together, we can help raise good men.
View the terms and conditions of this campaign.
Get active to get (others) rewarded.
Not on Vitality Active Rewards? Activate it for free in the Discovery app so you can take part in this important cause.
Vitality MoveToGive is a series of campaigns that allows members who reach their weekly Vitality Active Rewrds goals to donate their Discovery Miles to a preselected cause or charity.