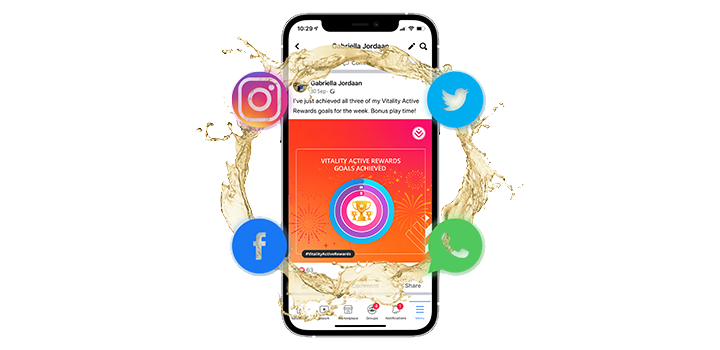 You worked hard for your success. Now share your Vitality Active Rewards achievements and progress on social media.
If there's one thing we learned from the 2021 Vitality Running World Cup, it's that we all love sharing our achievements on social media. And rightly so! Your success can motivate others to do their best. Plus, there's nothing like celebrating your friends' wins to keep you striving for more.
NEW! Social sharing on Vitality Active Rewards
You can now share all your Vitality Active Rewards achievements on Facebook, Twitter, Instagram and WhatsApp from the Discovery app.
Update your friends and followers about your exercise, drive or money goal achievements, goal streaks, the number of Vitality fitness points and fitness days you've earned in a month, your position on the Vitality leaderboard and the Discovery Miles you've revealed on your gameboard.
Upgrade your Discovery app to start sharing your achievements.
You brag. We buy!
Plus, stand a chance to earn instant rewards when you share your achievements on social media until 31 January 2022.
Remember to tag us on Facebook, Twitter and Instagram use #VitalityActiveRewards to qualify. Limits, terms and conditions apply.
It's time to show the world who you really are with Vitality Active Rewards.
Get healthy. Get social. Get rewarded.