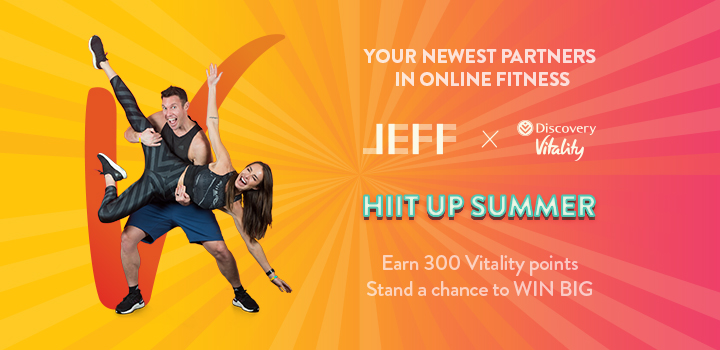 They kept you moving during the COVID-19 lockdown. They kept you active in the safety of your home. They kept you motivated with heart-pumping pop-up workout campaigns. And now, you can stay active and get rewarded with our new Vitality partner, JEFF.
Discovery Vitality is excited to announce that your journey with JEFF is far from over.
During the COVID-19 national lockdown, Johno Meintjes and his awesome family kept our Vitality members active with a host of exciting online pop-up workouts. Plus, our members earned Vitality points and got rewarded for joining in the fitness fun.
And now Johno's e-Fitness Faculty (JEFF) is joining the Vitality partner network, giving you more ways to earn Vitality points for completing online workouts.
Get active with JEFF and get rewarded
From 4 December 2020, you can earn 50 Vitality fitness points for completing an online workout through the JEFF web app.
Choose from daily live sessions, which include exercises like, high-intensity interval training, low-impact training, running and cross-training and yoga. There are over 40 sessions to choose from each week. You'll also get access to exceptional coaches, an amazing community of likeminded individuals, incredible events and so much more.
Vitality members train for less
With JEFF's customised fitness programme, JEFF Life, you really can exercise anywhere and at any time in a way that suits you best. Plus, Vitality members will get 25% off their JEFF Life membership fee, helping you get fitter, push harder and get rewarded for less.
But that's not all. From 2021, you can use your Discovery Miles to buy vouchers towards your JEFF workouts through the Vitality Mall for 1-on-1 personal coaching or JEFF Life subscriptions, and get up to 20% off.
HIIT up summer with Vitality and JEFF
To welcome JEFF to the Vitality family, join us for a celebration workout on Saturday, 5 December 2020, from 08:00 to 08:45.
Bring your A game and your enthusiasm to a big or small screen in your home, and JEFF will provide the rest. As always, Vitality members can earn 300 Vitality points and stand a chance to win amazing prizes for participating.
Make 2021 your fittest year yet with Discovery Vitality and JEFF.
Get active. Get healthy. Get rewarded.