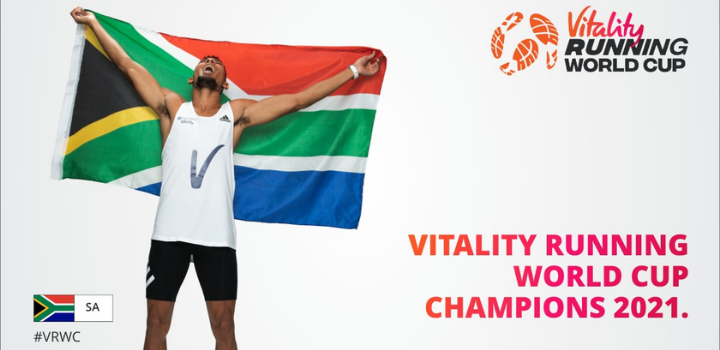 Congratulations to everyone who ran for South Africa in the Vitality Running World Cup. Thanks to you, we can now proudly call ourselves the 2021 Vitality Running World Cup Champions!
How we performed (spoiler: we won!)
From 21 September to 10 October 2021, 628 000 registered runners across the globe ran a total of 3.2 million km in the Vitality Running World Cup. Imagine running from earth to space and back - that's how far we ran together! Out of this world!
We also donated 189 403 polio vaccines to children in need via UNICEF, and set a new Guinness World Record for completing 19 862 virtual 5 km runs in 24 hours on 25 September.
But the winning doesn't end there....
Congratulations to Maurits Hagg! You are the winner of the 2021 Vitality Running World Cup grand prize, which includes:
Exclusive, signed Wayde van Niekerk memorabilia.
A framed Vitality Running World Cup 2021 SA shirt signed by Wayde.
A selection of Wayde's "Favourite Things" including a pair of Adidas 4DFwd running shoes valued at R4 999.
A Garmin Forerunner 55 fitness device.
R5 000 Totalsports voucher
A one-year membership to Planet Fitness (T&Cs apply)
A Virgin Active hamper including a limited-edition gym bag and a personal trainer session start-up pack
A pair of Oakley Flak 2.0 XL sunglasses from Sunglass Hut valued at R3 120
Plus, well done to Romario Sardinha from Cape Town for logging the most qualifying runs during the qualifiers. You're sprinting away with a Nordic Track S25 Treadmill, exclusively stocked by Sportsmans Warehouse, worth R19 000.
Congratulations to Namibia, Mongolia and England for putting up fierce competition in the finals.
We look forward to seeing you next year!
Get healthy. Get rewarded. Get Vitality.