x
Discover
The Lounge
Discovery has partnered with SAA to give Discovery Bank Platinum, Black and Purple clients access to The Lounge, a world-class airport lounge experience.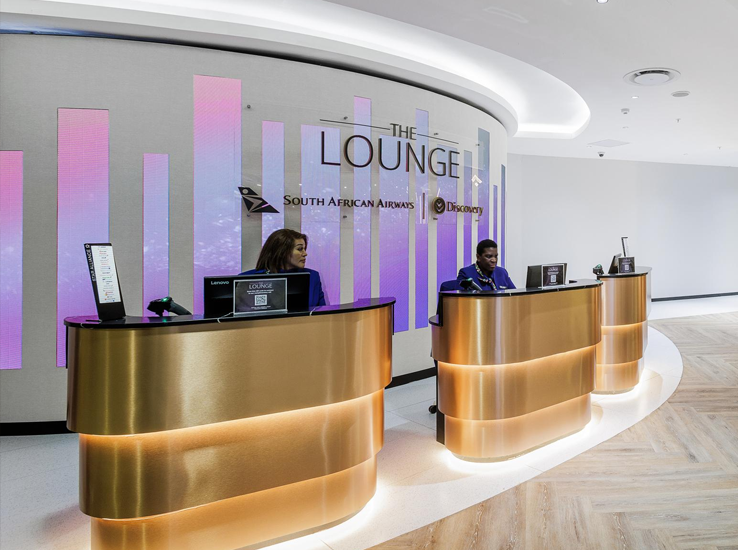 Get ready for the
Future of pre-flight experiences

. Now.

Every journey begins with a single step. A moment of discovery. The start of a beautiful adventure.
The Lounge, a partnership between Discovery Bank and SAA, offers our clients an elevated pre-flight experience with upgraded comforts that will refuel body, mind and soul.
Enjoy a five-star coffee experience from our newly imported La Marzocco coffee machines and healthy dining options.
Indulge in our new curated selection of cocktails and mocktails... crafted to perfection to excite your senses. The Lounge offers a restful and ambient space where guests can connect, or get connected, ahead of their beautiful adventures.
A client's complimentary lounge allocation depends on their account engagement.
Access to The Lounge is now
available at:
Cape Town International Airport domestic departures, OR Tambo International Airport domestic and international departures and King Shaka International Airport domestic departures
Monday - Friday
Weekends
Open
Close
Open
Close
OR Tambo International departures
06:00
00:30
06:00
00:30
OR Tambo International arrivals lounge
04:30
12:30
04:30
12:30
OR Tambo Domestic departures
04:30
20:30
04:30
20:30
Cape Town Domestic departures
04:30
21:00
05:30
21:00
Monday - Saturday
Sunday
King Shaka Domestic departures
04:30
19:00
05:30
19:00
How to generate a voucher for The Lounge:
Log in to your Discovery Bank app.
Tap Transact.
Tap Lounge.
Tap Generate voucher.
Select the airport lounge location.
Enter the number of individuals aged 13 years or older accessing The Lounge including yourself. Then, select if you'd like to use your complimentary visits or paid access.
Input the number of children aged between 2 years and 13 years accessing The Lounge, they can enter for free and will not count towards the complimentary visits.
Please note: Once your voucher has been scanned at The Lounge, you will not be able to cancel the voucher and you will not be entitled to a refund.

Other features
Discovery Bank Purple clients get unlimited* access to the exclusive Platinum section of the Lounge.
The annual lounge visit allocation can be used by primary accountholders or secondary cardholders aged 18 years or older.
Clients, or secondary cardholders, may take up to four others (including their children under the age of 18, or guests aged 18 and older) into The Lounge.
Once a client has used up their annual allocation, they and their guests will each be charged an access fee of R300 per visit
Technical detail
Access to The Lounge is dependent on the primary accountholder being up to date with their banking fees, their account being in good standing and their account qualifying for rewards.
From 1 July 2023, the number of complimentary visits will be based on the client's level of engagement with their account.
The Lounge benefit through Discovery Bank operates independently of the worldwide lounge benefit that Black and Purple cardholders receive through LoungeKey. Learn more about the LoungeKey programme.
Explore all the travel rewards

you can get with Discovery Bank
Airport lounge access
Enjoy access to over 1,200 airport lounges worldwide for you and a partner with LoungeKey (exclusive to Purple and Black cardholders).
Priority queuing
Enjoy faster security clearance with a Discovery Bank Black or Purple account at OR Tambo and Cape Town International Airports with Discovery Bank Priority Fast Track. Simply show your bank card and you and up to five guests can skip the longer queues.
Card benefits
You can make purchases worldwide, wherever Visa is accepted, as well as make cash withdrawals from all Visa-linked ATMs. Discovery Bank clients qualify for additional card benefits.
Free travel insurance
Get free travel insurance when booking your international flights using a Discovery Bank credit card, debit card or your Discovery Miles. Find out more.
Secure payment
Use your Discovery Bank card, virtual card or Discovery Miles to pay securely online.
Take your money places
With the only Real-Time Forex Accounts from Discovery Bank, you can open an account in seconds and start saving in British Pounds, Euros and US Dollars. Add a free multicurrency virtual debit card for stress-free, secure spending using your smart device while you're abroad. You can also add a physical multicurrency debit card for cash withdrawals.
Discover The Lounge
Discovery has partnered with South African Airways (SAA) to give Discovery Bank Platinum, Black and Purple clients access to The Lounge, a world-class airport lounge experience. Now available at all SAA lounges at Cape Town International Airport, King Shaka International Airport and OR Tambo International Airport. Plus, as a special introductory offer, you can enjoy unlimited complimentary visits for the rest of 2022!