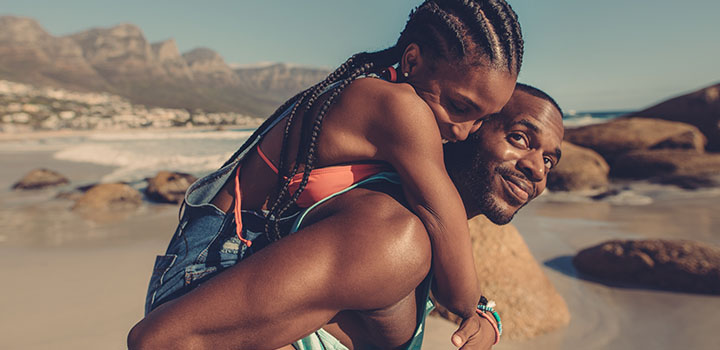 Our fingers were the first tools we used to count and add. As maths progressed, fingers made way for calculators. Today, finances may leave people crossing their fingers hoping everything balances. It doesn't have to be that way – the Vitality Money status calculator can give people a view of how they are doing financially and where they need to make some changes to be financially healthier.
With the national budget under the spotlight, there are definite factors that could impact your income and ways you spend or save. Despite this uncertainty, it's possible to take on good financial behaviours now that will help us achieve our best possible future financial health.
How do we do this? Start with the Vitality Money status calculator.
The Vitality Money assessment forms part of Discovery Bank's behaviour-change programme, Vitality Money, and provides you with a Vitality Money status. The Vitality Money status calculator gives you a snapshot of what your Vitality Money status would be. By completing it, you will have a better idea of the positive behaviours you already have that are leading to a strong financial future, and what you need to focus on to become financially heathier.
For clients of Discovery Bank, their Vitality Money status gives them a good indication of their financial health, and the Discovery Bank app guides them on ways to improve it. Clients are then rewarded based on their Vitality Money status, among other factors, to promote good financial behaviour. Not a Discovery Bank client, but curious about what your financial health and what your Vitality Money status would be? No problem, anyone can use the calculator.
Financial health is not dependent on monthly income
Although a higher income can provide more room to save and prepare for a financially healthy future, sometimes those with smaller incomes are actually more financially secure and in control. The Vitality Money programme is based on sound research and looks at the controllable behaviours that are not dependent on income alone, which have a direct effect on financial wellness, now and over time. Addressing any of these behaviours is a great way to start the journey to improving your financial health.
Behaviour 1: Saving
Less than 20% of breadwinners have enough of a financial buffer or an emergency fund to cover unexpected expenses. In South Africa, 40% of all people save, but we generally save too little at a rate of 0.3% of disposable income. By adopting the habit to save, we prepare ourselves for unexpected expenses, loss of income or high-cost purchases like a property.
With Discovery Bank, you can increase the interest you earn on savings by improving your financial behaviours.
Behaviour 2: Debt
South Africans are more likely to borrow money than many other middle-income countries. Despite tougher affordability requirements and consumer education, credit use is still growing faster than employment. There are eight million more credit-active consumers than employed people in South Africa. By managing short-term debt well, it alleviates financial stress and leads to less default on payments. Vitality Money also encourages making additional payments on home loans – these payments shorten the repayment period and help to save on interest costs.
To promote responsible debt management, Discovery Bank puts you in control of your borrowing rates, and lets you reduce them by up to 6% based on your financial behaviour.
Behaviour 3: Insurance
Having inadequate insurance cover leaves you exposed to the high financial costs of certain adverse events. The insurance gaps in South Africa are quite large with 32% of people in the middle-and upper-income brackets not having medical aid. Similarly, 58% of people are not investing in life insurance for protection in case of sickness, disability or death. Vehicle accidents or theft can also lead to high unexpected costs, yet 65% of cars on our roads are not insured.
Adequate insurance cover enhances your financial health by providing a financial buffer in case of unexpected expenses. With Discovery Bank, we consider any insurance you may have, whether it's with Discovery or not.
Behaviour 4: Retirement
There are currently about 86% of South Africans who either have no confidence in their plan for retirement or simply have no retirement plan. As many as 62% of people do not reinvest their retirement benefits at retrenchment or when changing jobs. These numbers show that we still underestimate the cost of living in retirement. To moderately cover these costs, it's important to replace at least 75% of a final income – yet only about 8% of South Africans end up in this position.
Discovery Bank provides you with retirement-planning tools that help you see how you can increase retirement contributions and understand your financial outlook in retirement.
Discovery Bank is the world's first behavioural bank, designed with your financial health in mind. The main goal is to improve financial health by guiding money management behaviour. The tools and guides are there to motivate positive behaviour change, which leads to gym, travel, food and fuel savings – the rewards for being financially healthier.
Check how healthy your current financial situation is with the Vitality Money status calculator. It takes a few minutes of your time to learn about your finances across the five behaviours that determine your financial health. Join Discovery Bank and learn how to change it and take control of your finances today.
This article is written and sponsored by Discovery. The Vitality Money status calculator is for information only and does not constitute financial advice. Please consult your financial adviser before making any financial decisions.
The worst thing you can do when it comes to your money is 'bury your head in the sand' and hope for the best. To make your money really work for you, it's vital that you take an active interest in every aspect of your finances and develop the right money mindset.
The difference between saving and investing
You might know that there's a difference between saving and investing, but do you really understand the difference, and why you need to do both for a secure financial future?
How cooking at home can protect your pocket
If you dine out often or have takeaways most nights, maybe it's time to take control of your pantry and start saving. Here are a few tips to make sure your food spending is not eating into your savings.