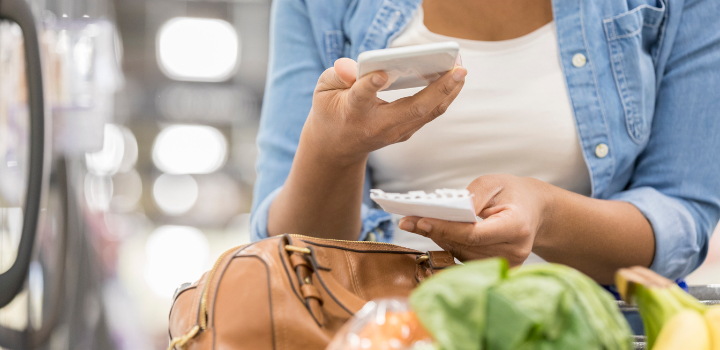 If you dine out often or have takeaways most nights, maybe it's time to take control of your pantry and start saving. Here are a few tips to make sure your food spending is not eating into your savings.
We're all super-busy, spend way too much time in traffic, work long hours and find it difficult to make shopping lists and stock our grocery cupboards and fridges. But grabbing convenience food, takeaways or small quantities of ingredients for a once-off culinary concoction is incredibly wasteful. And money that's wasted is money that could've been saved towards one of your goals.
Work out what you spend on food
Some people shop daily, which is much more expensive. Check your last few bank statements and see how often you're 'popping in to the supermarket' for an ingredient or two. Also, check how much you're spending on eating out, takeaways and convenience food. You might be (unpleasantly) surprised.
Have a few simple go-to recipes
Think about what you like to prepare at home and come up with a list of go-to recipes. Add the ingredients to a shopping list and plan to buy, not for a meal or two, but for several meals. If planning meals for the whole week is daunting, try to plan for just three meals on weeknights and stick to it. You can then, for example, eat out and order a takeaway just once.
Work out what you need
Create a list of the items you use the most. When you get down to it, you probably only use around a dozen items regularly. Do you make pasta often? Then stock up on your favourite pastas when you see them on special. Stock up on canned tomatoes or tuna, rice and flour, tomato paste and spices. Having these items readily available makes it much easier to create a meal by only needing to buy the fresh ingredients.
Shop for fresh food once or twice a week only
With all your items stocked up for a month or two, all that's left to shop for is the fresh stuff – and this can be done once or twice a week. Things like butter, milk and bread can be frozen, so you never need to run out of those essentials. Fresh fruit and vegetables can last three or four days so you will only ever need to go to the shops twice a week, at most.
Make extra whenever you can
If you make a batch of bolognaise or a pot of soup, make extra to freeze – that's another whole meal you don't have to shop for (and shopping may lead to impulse buys and overspending, remember?).
This article is not financial advice. Please consult with a financial adviser for financial advice.
Discovery Bank can help you become financially healthier
Wouldn't it be helpful to keep track of the money you spend and see whether you're meeting your savings goals? With Vitality Money, Discovery Bank's behavioural change programme, we'll help you understand your financial health and how to improve it. You'll get a full understanding of where you are financially and where you need to be. Then, you'll be guided on how to improve with a range of personal goals and tools to help you get there. Plus, you'll be rewarded along the way, like getting up to 75% off flights and cash back of up to 75% on HealthyFood.
Learn more about Vitality Money.
Discovery Bank clients do not have to visit an ATM to draw cash too often as there are a number of easy and safe ways to pay with our banking app.
Shopping online – keep your money safe
In today's fast-paced, digital world, shopping online is not only easy, but also convenient. But how safe is your money and personal information really?
How to choose your passwords…and keep it safe
The first step in cyber security is to choose strong passwords. They protect your identity and your money, so you need to think about them carefully. Ideally, they shouldn't be written down and they need to be changed often and remembered.