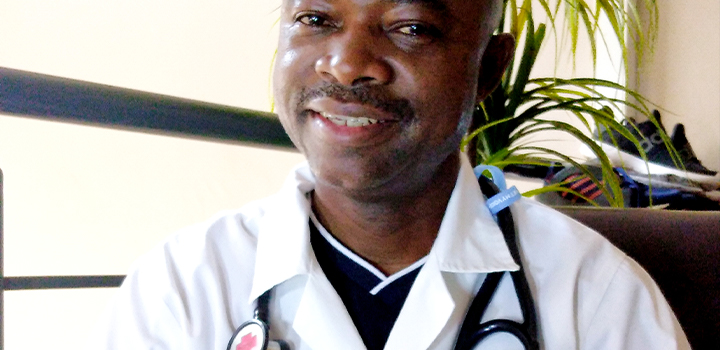 Who takes care of women after they have had an abortion? Dr Kwakombe Ndjondo's research on women's experiences after voluntary termination of pregnancy at a rural hospital aims to support women and reduce pressure on public healthcare services.
Many women who decide to terminate a pregnancy suffer from depression, anxiety or ambivalent thoughts after the procedure. Family medicine registrar Dr Kwakombe Ndjondo hopes that his MMed research will help alleviate the situation.
Dr Ndjondo is doing his research at the Moses Kotane Hospital in Rustenburg, with the help of a Rural Individual Award from the Discovery Foundation.
Better care for women who choose abortion
"Voluntary termination of a pregnancy is a sensitive matter," Dr Ndjondo says. "Besides their personal beliefs, women may also be in a situation where they get no support from family members or partners before, during and after the procedure."
Born in the Democratic Republic of the Congo, Dr Ndjondo studied medicine at the University of Lubumbashi and qualified as a medical doctor in 2003. For a few years, he was a medical officer at Sakania General Hospital in the Katanga Province.
Dr Ndjondo came to South Africa in 2007, and in 2008, he successfully completed the required examinations of the Health Professions Council of South Africa. Since then, he has worked in the surgical, orthopaedic, paediatric, medical and casualty wards at Moses Kotane Hospital. He is now in his third year, specialising in family medicine through the Sefako Makgatho Health Sciences University. He also did a rotation at the Job Shimankana Tabane Provincial Hospital.
Identifying the root cause of a problem is crucial
"I have learnt from experience that if one doesn't correctly identify and address the root cause of a problem, it recurs. Illegal abortions and mismanagement of pregnancies contribute to the maternal mortality rate," Dr Ndjondo says.
"At the same time, in the case of legal terminations of pregnancies, counselling and accurate information about contraception can play a huge role in preventing women from going through this experience for a second time," he adds.
What inspired him to focus his research on these issues? Dr Ndjondo says gender-based violence often leads to unwanted pregnancies and pregnant teenagers. These survivors of abuse need support and care - which he aims to provide with his post-abortion care plan.
Seven aims of the post-abortion care plan
Dr Ndjondo is developing a post-abortion care plan for doctors and nurses that aims to:
Reinforce family planning by making different kinds of contraceptives available in clinics and hospitals, and providing accessible and timeous information about the different methods to everyone who needs it. This would include long-acting reversible contraceptives.
Provide counselling, support and information before and after an abortion to help prevent future mental health conditions. This includes easy access to support groups.
Give general health and sexual education, and also focus on substance abuse.
Provide HIV testing and counselling.
Train staff in good clinical governance, and how to care for patients before, during and after voluntary termination of pregnancy.
Make sure that women know their rights to employment during pregnancy.
Encourage teenagers to complete school, as a high education level remains an important way to prevent unwanted pregnancies.
"The family doctor will then have a holistic overview of the patient, instead of just focusing on one aspect or condition," Dr Ndjondo explains.
"I hope that my research will make a difference in the lives of women who come to the Moses Kotane Hospital to terminate pregnancies," he concludes. A worthy goal, for which he has received a Discovery Foundation Rural Individual Award
This article was created for the 2020 Discovery Foundation Awards and has been edited for the Discovery Magazine.
About the Discovery Foundation
Since 2006, the Discovery Foundation has invested over R256 million in grants to support academic medicine through research, development and training medical specialists in South Africa.
The Discovery Foundation is an independent trust with a clear focus - to strengthen the healthcare system - by making sure that more people have access to specialised healthcare services. Each year, the Discovery Foundation gives five different awards to outstanding individual and institutional awardees in the public healthcare sector.

Easing the mental health hardships of rural mothering
Dr Nokwazi Mtshengu's Discovery Fellowship Award is helping her translate to isiXhosa a globally accredited psychiatric tool to assess postpartum depression, which will benefit depressed mothers, the infant, family and broader community.

Spotlight on the link between HIV and mental health conditions
There are common mental health conditions associated with HIV, but doctors do not always screen patients in mental health units for the virus. Dr Illana Links hopes that her research will help patients in mental health units and in community and HIV clinics.