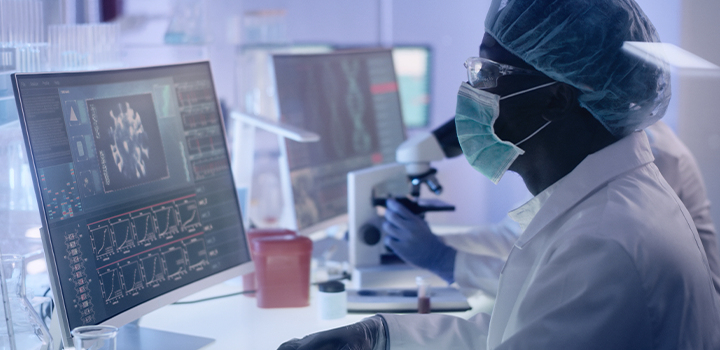 Despite a challenging year marked by the global COVID-19 pandemic, the Discovery Foundation continues to support cutting-edge clinical research and medical training in South Africa's public and academic medicine sector; with research grants for 28 public sector doctors and across 14 institutions.
The Discovery Foundation, an independent trust with the objective of investing in human resources for South Africa's healthcare sector, has this year again awarded research and training grants to some of South Africa's most talented future healthcare leaders and experts.
The R24.5 million in grants – including R16.6 million for 28 individual recipients towards their fellowships and R11.1 million approved to 14 institutions – will be used to boost academic, specialist and rural medicine in areas of critical need, including paediatrics, psychiatry, oncology and more.
"The Discovery Foundation believes that our country's doctors are in a unique position to solve some of the most perplexing health and clinical challenges we face as a country. By giving our healthcare professionals the opportunity to learn and grow, we can facilitate a homegrown response to some of the world's most challenging health problems," says Dr Vincent Maphai, Chairperson of the Discovery Foundation.
The Discovery Foundation was established in 2006 to invest in medical specialist training and to help retain specialists within the public health sector, with a special focus on developing black specialists. Investing in black medical specialists benefit not only the individual grant recipients, but also South African society more broadly.
To date, the Foundation has invested over R261 million in grants to support 473 medical specialists and institutions.
The 2020 Discovery Foundation MGH Fellowship Award
The Discovery Foundation MGH Fellowship Award was first introduced in 2013 in partnership with the prestigious Massachusetts General Hospital (MGH) – the largest teaching hospital of Harvard Medical School based in Boston in the United States.
The Discovery Foundation MGH Fellowship Award aims to develop the next generation of leaders in academic and clinical medicine in South Africa. The award provides support for mid-career clinical specialists committed to pursuing a career in academic medicine through a fellowship programme that links medical scientists based at South African medical schools with leaders in clinical science at this world-class medical institution.
The MGH Fellow for 2020 is 33-year-old Dr Sumy Thomas who will spend a year-long medical residency at Massachusetts General Hospital once travel restrictions are lifted. Dr Thomas will be in the MGH metabolism unit in the division of endocrinology. Her research will explore how HIV and antiretroviral (ARV) medicine affects the endocrine system.
"This will address a need in the population of SA. We have an estimated 7.7-million people living with HIV – the largest pandemic in the world. While ARVs have helped give longevity to patients in the past decade, we are now seeing a larger number of patients at risk for cardiometabolic disease, including dysglycaemia and fatty liver disease, which could be a result of the virus itself or from ARV therapy. This area needs to be explored further," she says.
Announcing the 2020 Discovery Foundation Awards recipients
This year, the Discovery Foundation granted 14 Rural Individual Awards to support the training and development of specialists working in rural and underserved areas, and for senior doctors practising in these areas. This years' Rural Individual Award recipients specialise in non-communicable diseases, family planning, mental health, HIV, mother and child health, orthopaedic surgery, epilepsy, rheumatology, obstetrics and gynaecology, paediatrics and urology.
The five Discovery Foundation Rural Institutional Awards aim to bring more medical expertise to hospitals in under-resourced areas in South Africa. The institutions that received grants this year focus on mother and child health, urology, dental surgery, mental health of young men going through circumcision, better service delivery through technology, and training and retaining specialists in provinces such as Limpopo and the Northern Cape.
Six doctors received Discovery Foundation Academic Fellowship Awards this year. These awards will promote research-focused training in academic medicine in South Africa by developing clinician scientists. This year's Discovery Foundation Academic Fellows specialise in trauma surgery, gynaecological oncology, chronic kidney disease, eye care, skin cancer and public health.
Seven doctors received the Discovery Foundation Sub-Specialist Awards. These awards aim to improve medical skills by boosting sub-specialist training and academic medicine in South Africa. This year's award recipients will sub-specialise in areas including high-risk pregnancies, nephrology and paediatric nephrology, maternal foetal medicine, reproductive medicine, male infertility and geriatric psychiatry.
Finally, the Discovery Foundation Distinguished Visitor Awards aim to build the capacity of institutions and support institutional partnerships in rural parts of South Africa by supporting specialists to mentor and help train young doctors in under-resourced hospitals.
Among them, Dr Nozipho Nyakale received a Distinguished Rural Visitor Award from the Discovery Foundation to establish a network to strengthen the use of nuclear medicine at the Pietersburg Hospital in Limpopo. Other focus areas include strengthening surgical systems in the Northern Cape, improving rheumatological service in Polokwane, and tackling the high maternal mortality rate in Limpopo.
Full list of Discovery Foundation Award recipients
Keep an eye on the Discovery website and social media channels for more stories about the 2020 Discovery Foundation Award recipients.
About the Discovery Foundation
Since 2006, the Discovery Foundation has invested over R256 million in grants to support academic medicine through research, development and training medical specialists in South Africa.
The Discovery Foundation is an independent trust with a clear focus – to strengthen the healthcare system – by making sure that more people have access to specialised healthcare services. Each year, the Discovery Foundation gives five different awards to outstanding individual and institutional awardees in the public healthcare sector.