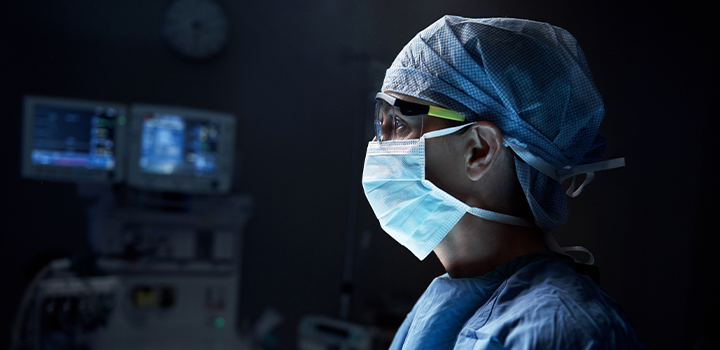 Every year since 2013, a South African doctor working in the public sector is chosen for a year-long fellowship to Massachusetts General Hospital, the largest teaching hospital of Harvard Medical School based in Boston in the United States.
It is an opportunity of a lifetime for a doctor with a global vision to learn from the world's top medical specialists and conduct cutting-edge clinical research. But while the Discovery Foundation MGH Fellowship Award is aimed at helping to develop the next generation of leaders in academic and clinical medicine – the broader aim is for better healthcare for South Africans and citizens around the world.
Boston-based Dr Vanessa Kerry is the Associate Director of Partnerships and Global Initiatives at the MGH Center for Global Health and an Associate Professor at Harvard Medical School. She says that over the years, the greatest value of the partnership she has seen is a "deep commitment to transforming patient care".
"Each of our fellows have all brought the commitment to ask questions, to be curious and then bring this knowledge back to their country. The thinking is to support South Africa as a leader in academic research and challenge the gaps that exist in healthcare."
After their experience, there is one thing all of Discovery's MGH Fellows agree on – the global need for Afrocentric research to address our unique challenges.
A pandemic highlights the need for collaboration
The COVID-19 pandemic has pushed the 2020 fellowship to 2021, but Dr Kerry says it has also highlighted the need for global cooperation and a collective healthcare effort, which is exactly the aim of the fellowships.
"If there is a lesson from COVID-19, it is that the world is connected in our health and our vulnerability … that global security lies in our health. In addition to COVID-19, the big issues continue to be maternal mortality, cancer, HIV, tuberculosis, malaria and now, non-communicable diseases, along with communicable diseases like this virus."
For this reason, partnerships like MGH and Discovery are case studies in how collaboration can create better health outcomes, while addressing the human resources needs for healthcare workers. "We know there is a global shortage of healthcare workers. The ability to build these kinds of programmes across multiple disciplines is beneficial to all of us," she adds.
opportunity for bilateral learning, improved health outcomes and the delivery of healthcare. We are extremely privileged to host these remarkable South African doctors."
A prestigious fellowship with lasting effects
Massachusetts General Hospital is a clinical service and biomedical research facility linked to Harvard Medical School. The Discovery MGH Fellowship, valued at R2.1 million, provides support for mid-career clinical specialists committed to pursue a career in academic medicine, coached by leaders in clinical science at this world-class medical institution.
"It is a chance to transform care through new models, given the gaps in the world and the fellows are already doing this. Dr Salome Maswime is superstar in transforming care delivery, Dr Sumy Thomas who will arrive soon is tackling one of the big challenges in health globalisation – diet, health and metabolic profile," she says.
"Given the large burdens of HIV and infectious disease, it will transform the lives of millions of South Africans and those around the world. That's our aim, bringing brilliant minds with different viewpoints, backgrounds and different experiences to solve issues. The value is not quantifiable."
Kerry ends, "I want to express my gratitude to Discovery, the partners on the South African side, to be willing to make the investment, see value and take on the challenge of doing this. We know that these relationships enrich us all, and those we are striving to care for. We have seen over the years the lasting effects of knowledge generation, mentorship and how much it has impacted the doctors. Now we must figure out how to expand and grow even more."
Meet the doctors
Dr Sumy Thomas, 2020 – 2021 fellow
Dr Thomas will be placed at the MGH metabolism unit in the division of endocrinology where she'll explore how HIV and antiretroviral medicine affect the endocrine system. "This will address a need in the population of SA. We have an estimated 7.7 million people living with HIV. While ARVs have helped give longevity to patients in the past decade, we are now seeing larger number of patients at risk of cardiometabolic disease, including dysglycaemia and fatty liver disease, which could be a result of the virus itself or from ARV therapy. This area needs to be explored further."
Get to know Dr Thomas:
Dr Sean Chetty, 2019 – 2020 fellow
Dr Chetty is an anaesthesiologist with a special interest in pain management. He spent a year at the cutting-edge MGH Centre for Translational Pain Research and his role upon return was about improving patients' quality of life through teaching, research, prevention, care and advocacy.
Get to know Dr Chetty:
Pulmonologist Dr Brian Allwood, 2018 – 2019 fellow
Dr Allwood says simply that his MGH tenure is helping him save more lives. Since his return to South Africa, he's organised the world's first post-TB symposium and workshop, attracting experts from around the world to grapple with this endemic and much-neglected societal problem.
Dr Salome Maswime, 2017 – 2018 fellow
Dr Maswime is Head of Global Surgery at the University of Cape Town and one of South Africa's top experts on the contribution of HIV and the various triple ARV drug treatment combinations to the alarmingly high incidence of still-births.
Get to know Dr Maswime:
Dr Shrish Budree, 2014 – 2015 fellow
A paediatric gastroenterologist, Dr Shrish Budree pioneered microbiome research in South Africa to address diseases that affect our unique population better. He launched the first global study of microbial transfer therapy in paediatric patients with stable severe acute malnutrition. His ambition is to establish a paediatric gastroenterology and microbiology research laboratory at the University of Cape Town, and produce novel microbial therapies for Africa-specific diseases.
Get to know Dr Budree:
Dr Neliswa Gogela, 2012 – 2013 fellow
A hepatologist with a PhD in liver disease, Dr Gogela is the trailblazer in Discovery's MGH Award. This will boost local knowledge on fatty liver disease, one of South Africa's most serious lifestyle diseases. Reflecting sentiment among her colleagues, Dr Gogela says, "We should stop relying on the developed world's assumptions. Let the world hear from us, rather than coming to conclusions about us. I didn't believe it before Discovery gave me the opportunity at MGH, but I now I think to myself, 'We can do this! We just need more manpower.'"
Get to know Dr Gogela:
About the Discovery Foundation
Since 2006, the Discovery Foundation has invested over R256 million in grants to support academic medicine through research, development and training medical specialists in South Africa.
The Discovery Foundation is an independent trust with a clear focus – to strengthen the healthcare system – by making sure that more people have access to specialised healthcare services. Each year, the Discovery Foundation gives five different awards to outstanding individual and institutional awardees in the public healthcare sector.


Discovery Fellows bring cutting-edge medicine to SA shores
The Discovery Foundation MGH Fellowship Award – valued at R2.1 million – enables a specialist clinician to experience Harvard Medical School's largest teaching hospital for a year. We caught up with our five Fellows here to learn what impact they're making.

Discovery Foundation alumni drive mental healthcare for all
Since its inception, the Discovery Foundation has invested in doctors and academics who are making a positive contribution to mental healthcare in South Africa. These mental health heroes are striving to make mental health more accessible for all.