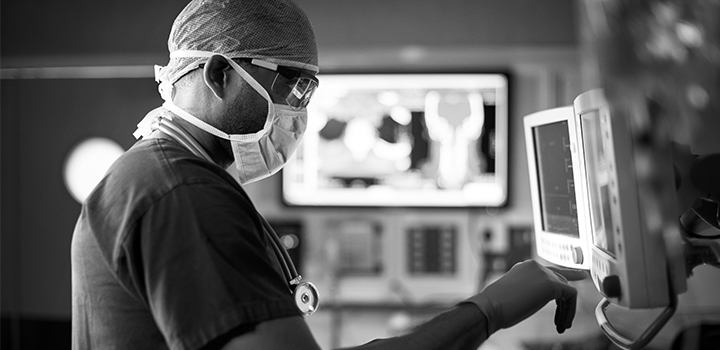 The Discovery Foundation MGH Fellowship Award – valued at R2.1 million – enables a specialist clinician to experience Harvard Medical School's largest teaching hospital for a year. We caught up with our five Fellows here to learn what impact they're making.
Over the last six years, the Discovery Foundation MGH Fellowship Award has been developing the next generation of leaders in academic and clinical medicine in South Africa by sending talented doctors to Massachusetts General Hospital (MGH) in Boston for a year. There they get the incredible opportunity to learn from some of the world's top medical specialists and to conduct cutting-edge clinical research.
After their experiences, there's one thing all five of Discovery's MGH Fellows agree on: the global paucity of Afro-centric research. They are keen to set that right by becoming leaders in clinical research in their fields, and by studying local cohorts of patients in their unique environments. Here's how they aim to accomplish that:
Dr Sean Chetty: Fellow 2019 – 2020
Dr Sean Chetty is an anaesthesiologist with a special interest in pain management. Having only arrived in Boston in June 2019, he's already keen to try replicate what he's witnessed back home. "The entire clinical work environment here is driven towards research. I want to export appropriate systems!" he enthuses.
He'll spend at least a year at the cutting-edge MGH Centre for Translational Pain Research and see his role upon his return as holistically improving patients' quality of life through teaching, research, prevention, care and advocacy.
Dr Brian Allwood: Fellow 2017 – 2018
Pulmonologist Dr Brian Allwood says he can see how his MGH tenure is helping him save more lives. New procedures he's mastered, like right-heart catheterisations, are having a significant impact on patient care. He's now strategizing how to get more pulmonologists at the coal face to boost research and clinical care.
Since his return, he's organised the world's first post-TB symposium and workshop, attracting experts from around the world to grapple with this endemic and much-neglected societal problem.
Dr Salome Maswime: Fellow 2017 – 2018
Dr Salome Maswime is fast becoming one of South Africa's top experts on the contribution of HIV and the various triple ARV drug treatment combinations to the alarmingly high incidence of still-births.
She's also passionate about expanding research tailored to Africa, and since returning from Boston in May 2019, she's taken up an exciting newly created post as an Associate Professor of Global Surgery at the University of Cape Town
Dr Shrish Budree: Fellow 2014 – 2015
Paediatric gastroenterologist Dr Shrish Budree's advanced microbiome analytical skills, coupled with his rich, practical MGH experience, positions him ideally to help pioneer microbiome research in South Africa – with the aim of better addressing diseases that affect our unique population.
He recently launched the first global study of microbial transfer therapy in paediatric patients with stable severe acute malnutrition, and his ambition is to establish a paediatric gastroenterology and microbiology research laboratory at the University of Cape Town, and produce novel microbial therapies for Africa-specific diseases.
Dr Neliswa Gogela: Fellow 2012 – 2013
The trailblazer in Discovery's MGH Award, hepatologist Dr Neliswa Gogela graduated with an MPhil in Advanced Hepatology and Transplant, and is completing a PhD in liver disease. This will boost local knowledge on fatty liver disease, one of South Africa's most serious lifestyle diseases.
Reflecting sentiment among her colleagues, she concludes, "We should stop relying on the developed world's assumptions. Let the world hear from us, rather than coming to conclusions about us. I didn't believe it before Discovery gave me the opportunity at MGH, but I now I think to myself: 'We can do this! We just need more manpower."
Funding education at Harvard Medical School's teaching hospital
The Discovery Foundation MGH Fellowship Award was introduced in 2013 in partnership with the prestigious Massachusetts General Hospital (MGH). Based in Boston in the United States, MGH is a clinical service and biomedical research facility, as well as the Harvard Medical School's largest teaching hospital.
The award aims to develop the next generation of leaders in academic and clinical medicine in South Africa. It does so by enabling a talented specialist clinician and aspiring leader to experience the specialist clinical service and research environment at MGH, and to conduct cutting-edge clinical research in collaboration with colleagues at the hospital, over a one-year period. The award is valued at R2.1 million.
We're improving primary healthcare in needy communities
The Discovery Fund has an important goal: to improve the quality of life of South Africans by providing primary health services in communities that don't have access to mainstream healthcare. This aligns with Discovery's core purpose of making people healthier and enhancing and protecting their lives. Our focus areas include:
Maternal and child healthcare, to reduce maternal and infant mortality
Community health interventions that enable access to healthcare services to those in under-resourced and marginalised communities
Human capital and skills development to enhance the quality of public health services and increase the number of qualified public healthcare workers.
The Fund has an annual spend of around R30 million and currently works with approximately 40 partner organisations. Be inspired and learn more about the Discovery Fund here.