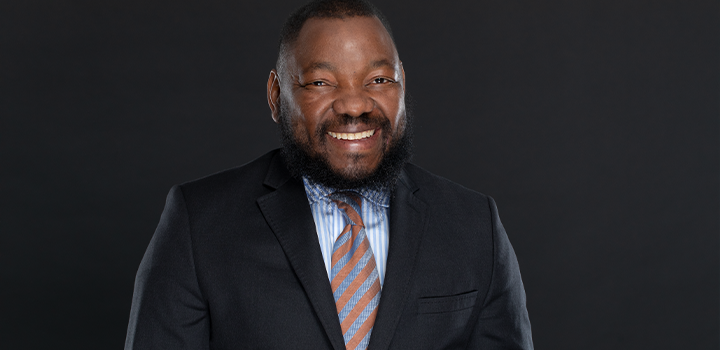 On 12 November 2020, we observed World Pneumonia Day, an annual event that aims to raise awareness and demand action in the fight against pneumonia. In South Africa, Dr Murimisi Mukansi is leading a unique study on community-acquired pneumonia and HIV.
In 2019, Dr Murimisi Mukansi received a Discovery Foundation Academic Fellowship Award to fund his two-year study on community-acquired pneumonia in people living with HIV.
From humble beginnings
His father, a mechanic at a bus depot, and his mother, a homemaker, were fiercely determined that their children would rise above their circumstances through education. "My parents were very intelligent and extremely strong on education but had few resources," Dr Mukansi shares.
Now Director of the Intensive Care Unit at Helen Joseph Hospital in Johannesburg where he has spent the past 26 years working as an Internal Medicine and Pulmonology consultant, Dr Mukansi says two additional influences proved seminal in his career choice of medicine and academia.
The first was attending the two week London International Youth Science Forum in 1982. A boarder at the Kheto Nxumayo Agricultural High School in Giyani, Limpopo, Dr Mukansi was the top black matriculant in South Africa and won the 1982 SA Science Olympiad.
He found himself revelling in the company of students from all over the world during a London visit. "It was very interesting and enjoyable, and people were so receptive. It inspired me to dream and have ambition, to realise how much better opportunities could be back home," he recalls. "I had the opportunity to visit the Royal Marsden and Middlesex hospitals during this stint."
The second was cultural. His paternal grandfather was a Tsonga/Shangaan traditional healer, the last in a long line of healers in the family. "I was named after him, so I believe that energy was channelled into me and my siblings going to medical school so we could move with the times," he says.
To leading a unique study
Today, he is leading a unique two-year study on community-acquired pneumonia in patients living with HIV.
According to Statistics South Africa, community-acquired pneumonia, which is classified as influenza and pneumonia, was the second highest cause of death in the country in 2015 among both HIV positive and HIV negative persons. Dr Mukansi explains that in both these groups, the most common manifestation of pneumonia is pneumococcal pneumonia, a type of pneumonia that is caused by bacteria and spread through coughing.
Most global predictive modelling of community-acquired pneumonia used in severity scores and biomarkers so far has excluded immunosuppressed people, including those living with HIV. Until now.
Research that is potentially game changing
The results of this study will help doctors in South Africa and in other countries with a high HIV prevalence to decide which patients with community-acquired pneumonia to admit and which to send home. By definition, community-acquired pneumonia is found in someone who has not been at a healthcare facility for the past three months – in other words, someone who contracts pneumonia in their community, as opposed to at a hospital or clinic.
Dr Mukansi says that according to the World Health Organization, an estimated two million people die of community-acquired pneumonia globally. He estimates that 60% of patients seen at Helen Joseph Hospital are HIV-positive, a proportion he believes similar to other state hospitals. The percentage is important, because HIV drives community-acquired pneumonia, he says.
A predictive model that is safe, accurate and easy to use
His work will build on published research showing that a user-friendly, severity-scoring predictive model is safe to use with excellent results in resource-constrained settings. Plus, it saves time and money.
"In previous research, we showed that the scoring model CRB-65 was every bit as effective as CURB-65, which requires urea measurement, an expensive and time consuming laboratory test for kidney function," he says. The CRB-65 score grades the severity of community-acquired pneumonia by taking into account confusion, respiratory rate, blood pressure and whether the patient is over the age of 65.
Dr Mukansi also has a Master of Business Leadership qualification, explaining that he wanted to enhance his understanding of financial management which is so necessary in modern medicine. Dr Mukansi's dream is to train more clinician researchers to have a greater contribution to society.
This article appeared in the 2019 Discovery Foundation Awards book and has been edited for length.
About the Discovery Foundation
Since 2006, the Discovery Foundation has invested over R256 million in grants to support academic medicine through research, development and training medical specialists in South Africa.
The Discovery Foundation is an independent trust with a clear focus – to strengthen the healthcare system – by making sure that more people have access to specialised healthcare services. Each year, the Discovery Foundation gives five different awards to outstanding individual and institutional awardees in the public healthcare sector.

Spotlight on the link between HIV and mental health conditions
There are common mental health conditions associated with HIV, but doctors do not always screen patients in mental health units for the virus. Dr Illana Links hopes that her research will help patients in mental health units and in community and HIV clinics.