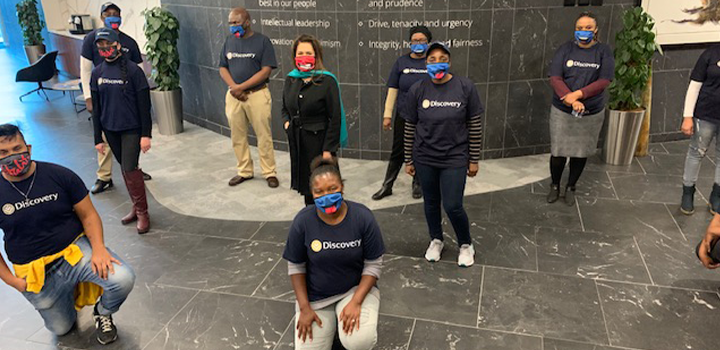 theforum@discovery has opened its kitchens and facilities to provide 800 meals a week to communities in the dire grips of hunger as a result of COVID-19. The executive events team has also started a second initiative to give essential items to people in need.
When a global pandemic puts a halt on all events and social gatherings, what's an events manager to do? Support families in crisis, of course.
At least, that's how Discovery executive events manager Shamim Pierre-Eugene sees it.
Since mid-May 2020, Shamim and her theforum@discovery team have used their kitchens and facilities to prepare and distribute 800 meals a week to hungry communities during COVID-19. So far, they've distributed 7 302 meals – and they're just getting started.
Discovery volunteers are working tirelessly to prepare and distribute meals to the hungry during COVID-19.
What is theforum@discovery?
Shamim explains. "I lead theforum@discovery's team which comprises 20 people. Our key purpose is to provide world-class conferencing that encompasses Discovery's core values. Our target audience are usually internal and external stakeholders, CEOs, brokers, doctors, media and international visitors."
Since the COVID-19 outbreak, Shamim has turned her team's focus to feeding the hungry. "The rationale is to get our team working and making use of the facilities that we have available, namely our kitchens, to aid the thousands of people who are struggling to feed and support their families during the crisis we are experiencing," Shamim says.
Eight hundred meals a week and counting
The team now distributes 800 meals a week to various organisations, including The Gathering, Lusemanzi Early Childhood Development, Stretford Community Health Centre in Orange Farm, Home of Hope for Girls, Shalom Faith Ministries, Heidelberg Society for the Aged, and to informal settlements and people who are homeless.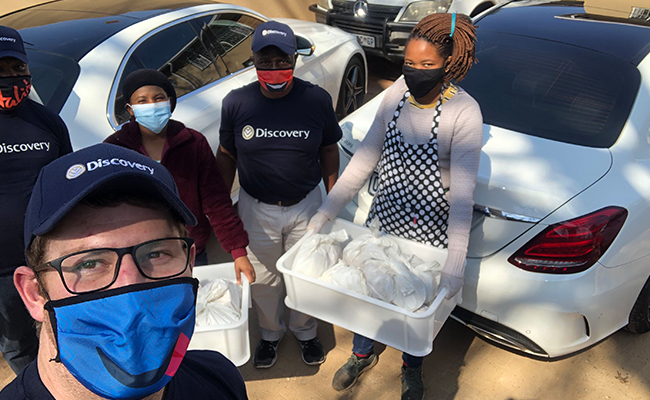 Discovery volunteers distribute 800 meals a week to various organisations.
"Meals are rotated, comprising soup and bread, pap, tomato gravy, spinach and chicken, and dumplings and soup," Shamim says. "Most of the organisations are collecting. For the ones that are unable to collect, food is distributed by Agrippa Khumalo and Aaron Seboyane."
Discovery volunteers make the initiative happen
Agrippa and Aaron are Discovery employees who have joined theforum@discovery volunteers to bring this initiative to life. "The volunteers are theforum@discovery team and Agrippa and Aaron, who have been instrumental in making this initiative happen. They have come together as a team and have been allocated various responsibilities from production to packaging and distribution and are doing a brilliant job," Shamim says.
"It would be impossible to do all this work without them; they are drivers and motivators. They have hardships of their own," she adds.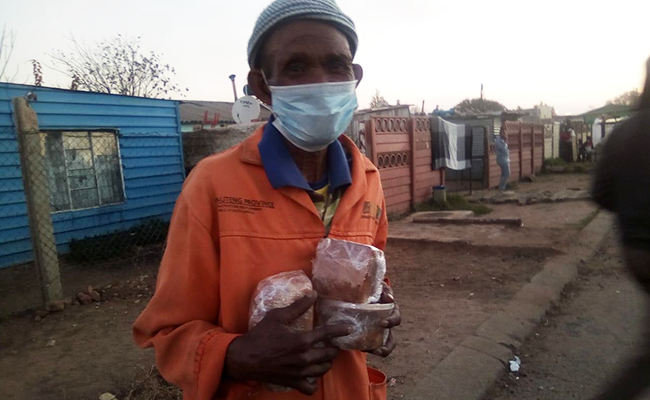 A lot of care goes into making and packing the meals before taking it to communities in need.
A second initiative kicks off
Shamim's team is also spearheading a second initiative, in partnership the Discovery CSI team, to collect and distribute essential goods to under-resourced communities.
"The second initiative is to collect essential goods from Discovery staff to distribute to the less fortunate. This will be done by stationing buckets around Discovery at the Park Atrium close to CNA where people can donate essential items," Shamim explains. "The rationale is to aid the thousands of people who are struggling to feed and support their families during this crisis."
These essentials items can be:
Soap
Mealie meal
Soft porridge such as Morvite
Jam
Toilet rolls
Toothpaste
Baked beans
Tinned fish
Sanitary pads
Funds – to be paid into Discovery CSI account
"As the season of winter is creeping upon us, any donations that will be received will aid in the fight against hunger and dealing with women's health," Shamim says. "I'm hoping that we will continue even when the lockdown is over, due to the millions of people that will be left jobless, if it's sustainable for the company."
"I hope to give people the opportunity to play their part in this initiative, with Discovery being a force for social good," she adds. "Making a donation is a great way to support others while staying safe during the COVID-19 outbreak."
"A meaningful life isn't found, but created through our actions"
What motivates Shamim to help people? "For me, helping others is an important aspect of living a good life. I have always been motivated to help others because I have faced some hardships in my own life and overcome them with the kindness of those who offered me a helping hand," she says.
"Leading these initiatives brings me satisfaction, knowing that we are making a real difference to the most vulnerable in society. It also gives me perspective. By looking at the challenges of others' lives, it makes me more grateful for what I have and accepting of the stress and hardships we all have to face. To know that my work means so much to someone else makes me understand the value that comes from helping other people and hopefully inspires my team to do the same. I firmly believe that a meaningful life isn't found, but created through our actions. And it starts with looking for ways to help others."
"This crisis has hit the most vulnerable the hardest," she concludes. "Giving connects us to each other, creating stronger communities and helping to build a happier society for everyone. However small your contribution is, it means the world to someone else."
About the Discovery Foundation
Each year, the Discovery Foundation gives five different awards to outstanding individual and institutional awardees in the public healthcare sector.
The Discovery Foundation is an independent trust with a clear focus to strengthen the healthcare system by making sure that more people have access to specialised healthcare services.
Since 2006, the Discovery Foundation has invested more than R230 million in training and support for more than 400 medical specialists and institutions. The grants support academic research and clinical science, sub-specialist training, rural medicine as well as programmes to develop public healthcare resources. For 2019, Discovery Foundation awarded 42 grants to medical specialists working in South Africa's healthcare sector to the value of R27 million.
Learn more and apply for the 2020 Discovery Foundation Awards.