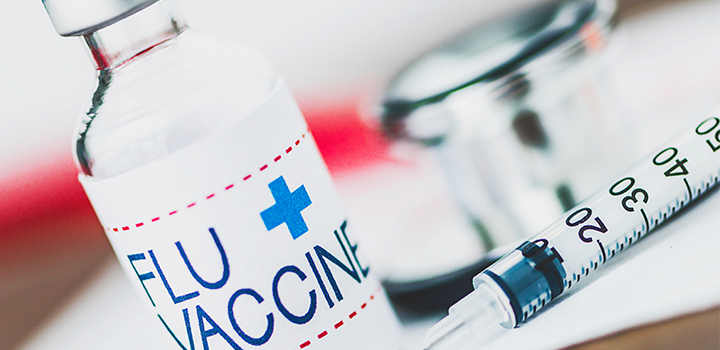 With signs and symptoms of the 2019 coronavirus being so similar to that of the influenza (flu) infection, many people have begun to wonder… Can the flu vaccine help to protect against developing COVID-19?
COVID-19 is a new viral disease that had never been detected in human populations before 2019. Because it is new strain, authorities have been strongly advising that no one can expect to be immune to COVID-19.
"The typical symptoms associated with the 2019 coronavirus are not too dissimilar to those of influenza," says Discovery Health's Head of the Centre for Clinical Excellence, Dr Noluthando Nematswerani.
"Since they are non-specific and so similar, it is easy to understand why people make an association with an existing preventative measure such as the flu vaccine, and believe that it is possible to prevent an infection simply by having a shot."
So, can you actually prevent COVID-19 with a simple flu shot?
Vaccinations, by design, are intended as a means of reducing the likelihood of a specific type of infection from exposure to an identified pathogen (like a virus, bacterium or other kind of microorganism). It is also a means to reduce the number of potential hospital admissions due to worsened symptoms or complications.
Could a flu shot be effective?
"First things first, influenza and COVID-19 are not part of the same virus family. While the symptoms may be similar, their origins are different," Dr Nematswerani points out. "Understanding this is important. It is entirely possible to be exposed to both viruses and then develop one or both of these illnesses," she adds.
The flu vaccination provides protection for the strain of flu that is expected in each year's flu season. It will not protect you against COVID-19. We don't yet have a vaccine for COVID-19.
Are there ways to tell the difference between the two infections?
Symptoms on their own aren't enough to diagnose either infection. "It's not all that easy to differentiate between the two based on symptomatic presentations alone," says Dr Nematswerani. You need to take into account other risk factors, namely recent travel or known exposure to someone with COVID-19.
A healthcare professional is likely to ask questions such as the following when assessing a patient:
Has a person with obvious signs and symptoms of infection recently travelled to an area known to be experiencing an outbreak of COVID-19?
Has a person been exposed to someone displaying symptoms recently?
Has a person been in the company of someone who has received a confirmed diagnosis of COVID-19?
Influenza has been around a lot longer than COVID-19. This means that a substantial amount of research has already been done to better understand its patterns, risk factors and how it can be prevented. This research allows scientists to develop a vaccine for each year's strains of flu.
With similar signs and symptoms, the general preventative measures for reducing the risk of spread and transmission of flu should also work for COVID-19.
So, if it can't prevent COVID-19, why should we all get a flu vaccination?
The flu shot won't protect you against COVID-19, but it will protect you against flu. Since the flu season and COVID-19 are likely to overlap, the National Institute for Communicable Diseases (NICD) in South Africa has recommended that every South African citizen receive a flu vaccination ahead of influenza season this year.
So far, coronavirus has proven to be more contagious than most strains of influenza.
If a person becomes unwell with any kind of viral infection, their immune systems typically become weakened for a while. This makes a person even more susceptible to any other infectious condition that may be prevalent at the time.
"By protecting yourself against one contagious infection – the flu – you should be able to reduce your level of risk somewhat against the other," says Dr Nematswerani. "The vaccination won't prevent COVID-19 infection, but it can help to ensure that your immune system is in a better state."
Also, getting the flu vaccine helps to ensure that healthcare professionals can better respond to treating COVID-19 infections because there would be fewer people that would need to be treated for flu during the upcoming months. Ultimately, fewer flu infections overall results in less of a burden on hospitals, and more time for doctors and hospitals to focus more on treating people infected with COVID-19.
Flu vaccines are generally available to the public from March or April every year and is available for the duration of the Winter season. It is advisable to receive a flu vaccination well before the flu season sets in but the vaccine will still be effective if received at any point during the winter months.
"It's important to remember that a flu vaccine is developed to be administered annually," explains Dr Nematswerani. "This is because whilst there are many different strains of the flu virus the most prominent ones may vary from year to year. The annual flu vaccine is therefore formulated to target the flu strains expected to be in circulation during the specific year and season." she adds.
Who should be getting a flu vaccine
"It is considered safe for pregnant women to have a vaccine administered during any stage of pregnancy. This will help to reduce risk of serious illness during pregnancy and also better protect a baby once he or she is born," she says.
People who are older than 65 or who have pre-existing health conditions should definitely receive a flu vaccine. Anyone with a weakened or compromised immune system is also vulnerable to the flu infection.
"Such individuals are considered at higher risk and should receive a flu shot ahead of the flu season this year," says Dr Nematswerani. "
Can I expect side effects after having a flu shot?
"Don't panic – side effects from the flu vaccine are rare. The most common side effect is a slight swelling and redness at the site of the injection. Otherwise more rarely you may experience a mild or low-grade fever, headache, muscle or joint discomfort or pain," she adds.
It is best to treat mild symptoms in the way you normally would for a bout of the flu or seasonal cold. If the symptoms concern you for any reason, it is best to seek the advice of a medical professional.
All medical information found on this website including content, graphics and images, is for educational and informational objectives only. Discovery Health publishes this content to help to protect and empower all South Africans by promoting a better understanding of COVID-19.
Find a healthcare professional near you
Find a doctor or hospital near you online or by using the Discovery app.

Outbreak of the 2019 novel coronavirus
The 2019 novel coronavirus (2019-nCoV) has caused an outbreak of fatal respiratory illness first detected in Wuhan, China. This is a completely new strain with no vaccines available. The best way to prevent infection is to avoid being exposed to this virus.


Novel Coronavirus - wash your hands of the threat
As toddlers, we learnt to wash our hands. But, did we ever master the skill to the extent that is needed to wash pathogens off our hands, and save lives? Multiple studies show people don't wash their hands at the right times, in the right way or for the right amount of time. We contaminate the things and people we touch with the germs we carry on our hands.