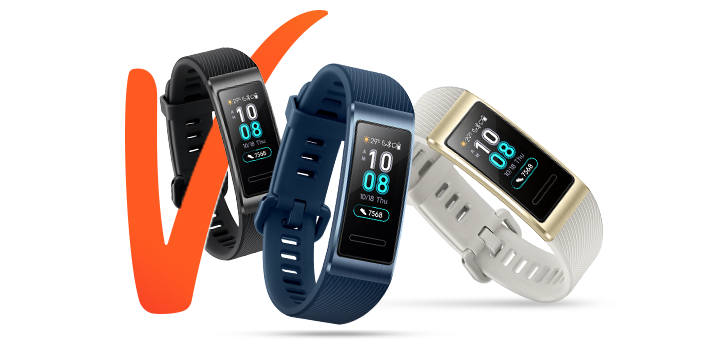 Vitality members can now get up to 100% cash back on a brand-new Huawei Band 3 Pro from Sportsmans Warehouse. Start getting active and rewarded today with a new, more cost-effective fitness device.
Get up to 100% cash back on a Huawei Band 3 Pro at Sportsmans Warehouse.
Vitality has joined forces with Huawei and together we have launched the Huawei Band 3 Pro Device Booster for all Vitality members. Now, you can get up to 100% cash back on a new Huawei Band 3 Pro at Sportsmans Warehouse – simply by getting active and achieving your exercise goals.
The Huawei Band 3 Pro is an affordable heart rate fitness device that is now even more cost-effective through Device Booster.
Your cash back is made up of:
A 25% upfront discount on the Huawei Band 3 Pro
Up to 25% cash back through the HealthyGear benefit when you choose Sportsmans Warehouse as your preferred partner.

Both the main member and spouse (where applicable) need to complete a Vitality Age Assessment and Vitality Fitness Assessment to earn up to 25% cash back at the preferred partner

Up to 50% cash back for achieving weekly Vitality Active Rewards goals over 24 consecutive months.
Activating the benefit is as easy as 1, 2, 3…
Step 1: Activate Device Booster under Vitality Active Rewards on the Discovery app > Vitality > Vitality Active Rewards > Benefit Boosters > Fitness Boosters > Device Booster.
Step 2: Find your HealthyGear number on the Device Booster screen in the Discovery app and SMS this number to 33015. We will then send you a wiCode to use instore for your 25% upfront discount. SMSes cost R1 and free SMSes do not apply.

Make sure that we have your updated contact details. You can update your details on www.discovery.co.za and changes can take up to an hour to reflect.

Step 3: Go to Sportsmans Warehouse and select the Huawei Band 3 Pro. Present both your wiCode that we SMSed to you and your HealthyGear number at the till to get your upfront discount. We will send you a HealthyGear cash back of up to 25% at the end of the first month.
Enjoying your cash back
To get the remaining cash back over the next 24 months:
Link your new device to Vitality through the Discovery app
Achieve your weekly Vitality Active Rewards exercise goals and earn Vitality fitness points. Each member can activate the Huawei Band 3 Pro Device Booster for only one qualifying fitness device in a 24-month period. This means that if both you and your spouse are Vitality members, each of you can get your own fitness device and can only use this benefit again after 24 months. You can visit your nearest Sportsmans Warehouse outlet or online store to check if the device is available.
Find out more about the Huawei Band 3 Pro Device Booster benefit.