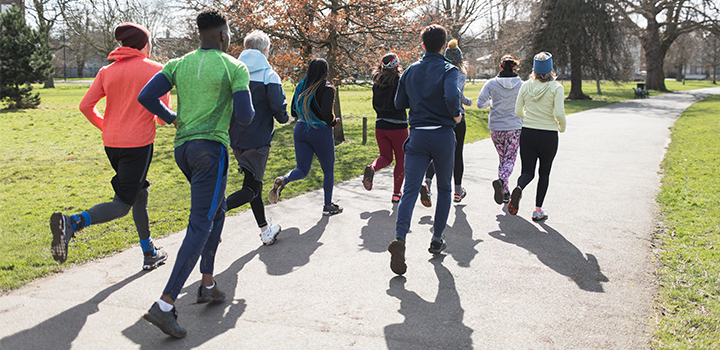 A refreshingly down-to-earth media personality, a thriving entrepreneur, a devoted family man and an 11-time Comrades runner – it's easy to see why Diamond Vitality member and myrun Brand Ambassador Kabelo Mabalane (42) makes for such a credible role model.
In 2018, multi-platinum-selling kwaito star Kabelo Mabelane (of TKZee fame) penned a memoir titled I Ran For My Life: My Story. In the book, co-written with Nechama Brodie, Kabelo delves into his upbringing, his successful music career and his hard-won battle with drug and alcohol abuse.
Running helped him turn his life around, and the book even contains training programmes and support for aspiring ultramarathon runners. It's no wonder then that Kabelo is relishing his role as a myrun Brand Ambassador, and the chance to encourage and inspire others to overcome their personal demons and to become more active and more resilient.
Q: Were you a sporty child?
A: Growing up, my parents set a great example – they were always active. Sports was also a big part of school life. I went to a sports-centric school and I gravitated towards tennis, rowing, rugby – I gravitated to sports because for me it was a chance to play!
Q: When did it all go awry?
A: Working in the music industry, I was always in the spotlight and lived under lots of scrutiny. I fell into that 'sex, drugs and roll 'n roll' lifestyle. It could have been worse, I could have ended up dead in a ditch in Hillbrow with a needle stuck in my arm, but I listened in time. People must have spoken to me about my behaviour a million times before that, but for some reason, that one time it sunk in. I changed my life around 180 degrees. That's why we should never stop reaching out to people who are struggling with substance abuse – you never know when that one time you speak out, it could hit home.
Q: More healthy role models are something South Africans need!
A: Yes, we all need that, and kids especially. Many grow up in communities where there is little access to sports resources and platforms. They need this, and they need a desire to get active. That's where running works so well – it's free and can do you so much good.
Q: You're a popular media personality – is being a myrun ambassador a way to help foster people's desire to become more fit?
A: Yes, *laughs* I need to be cool and make running cool! That's what I'm hoping to achieve in the coming year. myrun gives people the perfect opportunity to get active on a Sunday morning. There are 2.5km and 5km routes, to cater to people of all ages and fitness levels, and the venues across South Africa include parks, wine estates and nature reserves. We're working on launching many more venues this year. The best part is that myrun events are free of charge and you can earn Vitality points for them!
Q: What is it about running that appeals to you, personally?
A: I like the alone-time – just getting time to think and reflect as I run. It's meditative. But the aesthetic results of maintaining a runner's body motivate me too!
Q: You're married with two little ones. You obviously want your kids to grow up healthy – how would you go about teaching that?
A: Consistency. And encouraging through your deeds, not your words. Kids see that and learn for themselves what you prioritise and why. My little daughter sees me going out for runs, she hangs around watching me as I work out. In passing I can tell her why being healthy is important, but mostly it's by watching our example that kids learn.
Q: How would you encourage newbies to get fitter?
A: Firstly, don't expect it'll just happen. If something is important, you make time for it. If someone tells me they don't have time to exercise, I say, give me your diary, I'll find space for it in your day!
Apply the same principles you would in other aspects of your life, like your job, to healthy living – be determined, work hard, stay resilient. No one waltzes into a profession, so why would you expect to get fit overnight? Anything worth having comes at a price. Be patient with yourself. Start slow, start easy, just start. Set your own pace.
Exercise is contagious – so catch the fun at the Discovery 94.7 Rhythm Run
There are a number of studies that show people are drawn to the exercise behaviours of those around them, and the more time overweight people spend with their fit friends, the more weight they lose! Exploit the motivating effects of group exercise by joining hundreds of like-minded people at the Discovery 94.7 Rhythm Run on Saturday, 25 May.
Your many benefits of staying active with Vitality include up to 50% cash back on your entry fee if you belong to Team Vitality Running, as well as bonus Vitality points – a great way bump up your Vitality status and achieve (or maintain) the very best rewards for healthy living! It's almost time to #RuleTheRaceTrack and there are only a few spots left, so don't delay – sign up today.
#WalkToTheBeat of good vibes at this year's Discovery ECR Big Walk
The Discovery ECR Big Walk is a firm favourite on the KwaZulu-Natal social and sporting calendar, and this year the fun's all happening on Sunday, 19 May 2019. The event offers three walking routes (5km, 10km and 20km), as well as a 9km fun run, plus the chance to earn up to 1 100 Vitality points! En route, you can enjoy live entertainment, kids' attractions and ECR DJs making shout outs and playing songs voted for by you.
This is a family event that combines physical activity, good music and quality outdoor time with others – all along one of the most beautiful promenades in the country. For more, visit www.durbanbigwalk.co.za and sign up today to let the beat guide your feet at the #DurbanBigWalk this May!
6 tips to beat your personal best at a run
myruns, parkruns, Retro Runs, the Discovery 947 Rhythm Run, the Discovery East Coast Big Walk, the Discovery Jacaranda Spring Walk – there's no shortage of exciting weekly and annual races to join. Here are 6 tips on how to achieve your personal best in them.
How Kori found a running community and regained his health
In his twenties, Kori's poor lifestyle habits were keeping him from living every day to his potential. Then he joined Team Vitality's running club, found a community that's since become like family, and regained his health in the process. This is his story.