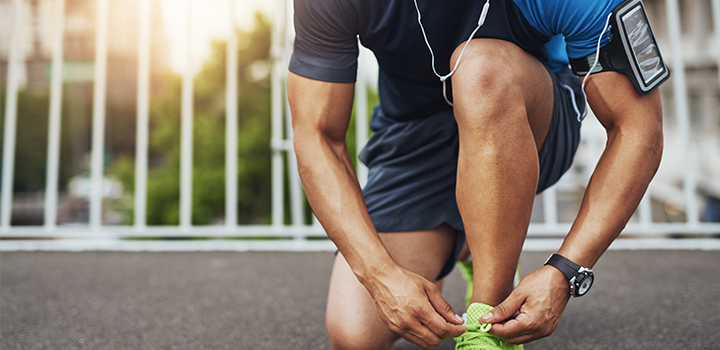 Starting your mornings with physical activity come with a host of compelling reasons, and can help you get your day off to an energising start. Here are 5 handy tips to help you get a morning exercise routine going.
We all know that fitting exercise into your day rarely works when it's a vague plan to 'see how your day pans out' and 'take it from there'. Once the day gets well and truly underway, your schedule fills up naturally and hours later, you go to bed feeling like you should have made time. This is where mornings – even if you don't think you're naturally a 'morning person' – can be ideal. Discovery Vitality biokineticist Mari Leach offers these three reasons to motivate you:
Exercise boosts your metabolism
A study that looked at the effects of a 45-minute vigorous intensity exercise session showed a significant elevation in post-exercise energy consumption that could last for up to 14 hours. This means that by putting in a solid exercise session in the morning, you'll burn more kilojoules throughout your day – which can help you lose weight faster.
Exercise can help develop consistency and self-discipline
Scheduling an exercise session in the afternoon or evening makes it easier to procrastinate or cancel entirely. Your day can fill up quickly – other priorities take preference or often it seems too tiring to train afterwards, especially if you want to get an early night in preparation for the work week ahead. When you work out in the morning, you prioritise your health, and exercise becomes one less thing on your to-do list for the rest of the day.
Exercise helps to lower stress and anxiety
Exercise can lift your spirits. When you start exerting yourself, your body releases hormones such as serotonin, dopamine and norepinephrine. These help to regulate your mood, energy, motivation and attention. Exercise also releases endorphins, which help relieve pain and stress.
"It's been proven that people who exercise on a regular basis have lower depression and anxiety levels than their less active counterparts. Studies have also found that people prone to high anxiety but who are very active are less likely to panic when compared to those with low activity levels." So hopefully, morning exercise can help you handle the rest of the weeks' stressors better, be it traffic or normal workday frustration.
5 tips to get a morning exercise routine going
It's obvious – but go to bed earlier. Lying in bed isn't good enough if you're still watching or reading something, even if your blue light filter is on. Ensure your bedroom is as dark and quiet as you can manage, try clear your mind, and take a few deep, full breaths to help you drift off faster.
Set out your exercise clothes the night before to make thigs easier and faster in the morning.
Don't snooze. Position your alarm on the other side of the room, forcing you to get up from bed to switch it off. When it wakes you, don't lie there debating whether or not to get up - the less you think about it, the better! Just heave yourself up and go - you'll feel much better afterwards.
Remember to do a proper warm-up at the start of your morning training session as your body temperature will be lower than in the afternoon.
Make your morning session something fun – like walking your dog, catching up with a buddy over a training or, on weekends, doing a parkrun or myrun with your entire family.
So why not give a morning exercise routine a go for a few weeks and you may surprise yourself with how quickly it becomes a happy norm. As author Brian Tracy once said, "You can make excuses, or you can make progress" – so resolve to make progress by setting that alarm this weekend!
Still looking for inspiration and motivation to get more active?
Find it in these remarkable member testimonies:
Exercise is contagious – so catch the fun at the Discovery 94.7 Rhythm Run
There are a number of studies that show people are drawn to the exercise behaviours of those around them, and the more time overweight people spend with their fit friends, people are drawn! Exploit the motivating effects of group exercise by joining hundreds of like-minded people at the Discovery 94.7 Rhythm Run on Saturday, 25 May.
Your many benefits of staying active with Vitality include up to 50% cash back on your entry fee if you belong to Team Vitality Running, as well as bonus Vitality points – a great way bump up your Vitality status and achieve (or maintain) the very best rewards for healthy living! It's almost time to #RuleTheRaceTrack and there are only a few spots left, so don't delay – sign up today.
#WalkToTheBeat of good vibes at this year's Discovery ECR Big Walk
The Discovery ECR Big Walk is a firm favourite on the KwaZulu-Natal social and sporting calendar, and this year the fun's all happening on Sunday, 19 May 2019. The event offers three walking routes (5km, 10km and 20km), as well as a 9km fun run, plus the chance to earn up to 1 100 Vitality points! En route, you can enjoy live entertainment, kids' attractions and ECR DJs making shout outs and playing songs voted for by you.
This is a family event that combines physical activity, good music and quality outdoor time with others – all along one of the most beautiful promenades in the country. For more, visit www.durbanbigwalk.co.za and sign up today to let the beat guide your feet at the #DurbanBigWalk this May!
6 tips to beat your personal best at a run
myruns, parkruns, Retro Runs, the Discovery 947 Rhythm Run, the Discovery East Coast Big Walk, the Discovery Jacaranda Spring Walk – there's no shortage of exciting weekly and annual races to join. Here are 6 tips on how to achieve your personal best in them.
How mountain biking can boost your memory
Are you back to the daily grind and feeling the need to up your game? Perhaps a memory upgrade would help! Studies show that your working memory – which helps you understand things and remember better – can be improved through dynamic exercises.