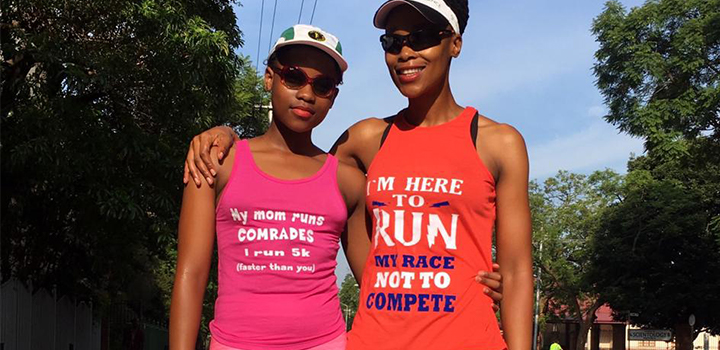 Nolo Skiti is a software consultant and Diamond Vitality member who's determined to maintain a healthy body weight, and to set a good example for her pre-teen daughter on how to stay fit and have a healthy body image. #10YearChallenge #WomensMonth
Pregnancy and motherhood is a wondrous thing, but as any mom will tell you, losing extra weight afterwards can be a bit of a struggle. In 2006, Nolo Skiti gave birth to beautiful little girl named Lathitha. Nolo started gaining weight after that, but she wasn't bothered at the time. A few years later, she felt it was time to claim back her body.
"I couldn't wear what I wanted because I had zero confidence. So in 2012, I started living a healthy lifestyle because I wanted to lose weight," says Nolo, a single working mother and self-proclaimed running addict. These days, she's gotten into the habit of going for morning runs at 4:30 am, because "if you really want something, you will make time for it!"
'I feel like I get value for my money'
Nolo has lost 25 kg from a combination of healthy eating habits and regular, fat-burning exercise. "Now I watch what I eat. I know what's not good for my body and I eat everything in moderation. My body has changed a lot, and I've gained confidence." She says she first joined Vitality because she wanted to get discounts at Virgin Active.I just make sure that I achieve my weekly Vitality Active Rewards targets and – voilá – I get cash back at the end of the month."
Making good health a family priority
Nolo strongly advocates the benefits of a healthy lifestyle. "In the long term, eating a balanced diet, exercising regularly and having a healthy body fat percentage can add years to your life and reduce the risk of certain diseases, including diabetes Type 2, cardiovascular disease, many cancers, osteoporosis and obesity," she says. "In the short term, it can make you feel and look your best, give you more energy and help you maintain a healthy weight."
This kind of lifestyle also keeps her family healthy and helps to create opportunities for Nolo to spend quality time with her daughter. We have a tradition, she explains: "I always run 5.6 km with my daughter at the Two Oceans, and then I do the 56 km ultra-marathon a day after that," says Nolo. "Lathitha is 12 now, and she's promised me that one day, she'll do the half marathon with me at the Two Oceans. The longest distance she has done at the moment is 7.5 km, and I'm very proud of her."
'It's important for me to be a healthy role model'
Lathitha is proud of her mom too: "She told me that her friends at school didn't believe I was her mother. They say I look like a model or her sister! She always tells them that her mom is a Comrades runner. It's important for me to be a healthy role model to my daughter because children naturally look up to their parents. I can't tell her to live a healthy lifestyle and do the opposite. I must practice what I preach."
As a role model for the benefits of physical activity, Nolo is an outstanding example of what should be a norm in the country. The 2016 Healthy Active Kids South Africa report states that, regional and provincial surveys show that just half of South African children are meeting global recommendations for physical activity and given the growing amount of sedentary time kids are spending in front of screens, special efforts are needed to promote physical activity in children, especially in girls and teens.
"I motivate my daughter to get more active because I want her to be healthy, have self-confidence and be comfortable in her own body. She knows I had low self-esteem when I was overweight, and I always tell her that I don't want to go back there – I don't want her to be like that. I also think encouraging her to be fit helps her develop a 'Never say die' attitude." Nolo often motivates others to embrace a healthy, balanced lifestyle. We asked what worked for her in getting more exercise in, and this is her advice:
Nolo's 4 golden rules to get more active
Have specific, measurable, time-based goals that are realistic and achievable: I used to be inactive over holidays, but ever since Vitality Active Rewards started, I make sure that I do at least a 30 minute-run each day for 4 days in a week to achieve my weekly target of 1 200. On weekends, I do long runs or races, with a long-term goal of doing 10 consecutive Comrades marathons.
Get a partner so that you can be accountable: Even if you don't feel like waking up early in the morning for a run, just because you know that there's someone waiting for you, you just kick the blankets and get up. Your running also improves because sometimes they set the pace for you.
Lean on your network to motivate you: My family supports my running. They stay in the Eastern Cape, and I'm in Gauteng. Last year in July, I did a 100 km for Mandela race in Mthatha, and they were on the road, supporting me. That can make all the difference.
Most important, have fun: Exercising must not feel like a chore. You must enjoy it. It's not season-based, it's a lifestyle, so keep trying things until you find something you like and can keep up regularly.
Nolo has plenty of encouragement for anyone who feel like they have a long way to go in their journey to get healthier. "When I started running, I couldn't even finish 1 km without stopping to walk," she says. "Look at me now, I'm a five-time Comrades marathon finisher!" Just commit to making a change for the better, and then take full advantage of the tools and incentives Vitality offers to make every day a tiny bit healthier.
Make Sunday run day with myrun
myrun is a weekly, timed Sunday run that takes place at different venues around the country. With myrun you can choose to run or walk a 2.5 km or a 5 km route, making it something anyone can do regardless of their fitness level. myrun will be launched at numerous venues within Gauteng and will roll out to other regions in the near future, so keep an eye out for a myrun venue near you. Learn more here.
Like to hit the gym? Save up to 75% on your monthly gym fees and boost your savings up to a 100% with Vitality Active Rewards Gym Booster, or head outdoor and earn points for walks and runs.
Join Team Vitality to enjoy a VIP club experience at races
Join Team Vitality and get up to 50% cash back on registration entry fees for selected events. You will also receive a Team Vitality starter pack with great race gear and vouchers. Even more rewarding is that you'll have access to our VIP hospitality at certain events on the Team Vitality race calendar, simply by wearing your Team Vitality race gear at these events. Get the full scoop and sign up here.
You could then boost your saving by up to 50% if you use a Discovery Card. Plus, you can pay for your stay using Discovery Miles! Learn more about Vitality's exciting travel benefits here.
Get up to 75% cash back on your Vitality-linked heart rate fitness device
Achieve your monthly Vitality Active Rewards goals to get cash back on a brand new fitness device. Activate Device Booster and get up to 75% total cash back on your qualifying heart rate fitness device purchased from your preferred HealthyGear partner: Sportsmans Warehouse or Totalsports.
Two decades on Vitality and feeling like a 20-something
Elize Sewell exudes vitality and confidence. Pursuit of adventure has taken her across the globe – and granted her enviable physical fitness as a result. We caught up with her to learn her healthy living secrets – which include cold water swimming!
Not active? It's not too late, says a new cancer study
A new study has found just how much longer cancer patients who engage in regular physical activity can live. Whether you're currently a patient, you're in remission or you want to lower your risk of ever getting cancer, exercise can help you.
How mountain biking can boost your memory
Are you back to the daily grind and feeling the need to up your game? Perhaps a memory upgrade would help! Studies show that your working memory – which helps you understand things and remember better – can be improved through dynamic exercises.