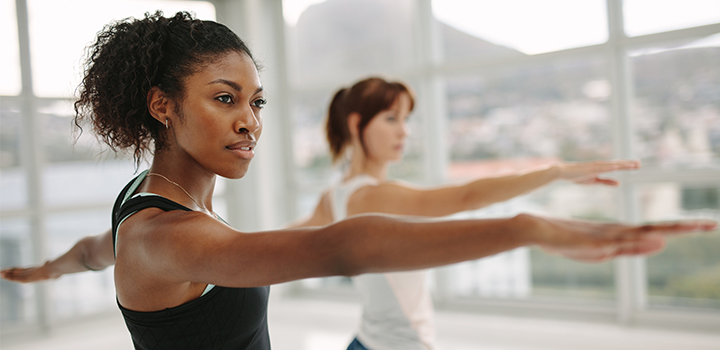 A new study has found just how much longer cancer patients who engage in regular physical activity can live. Whether you're currently a patient, you're in remission or you want to lower your risk of ever getting cancer, exercise can help you.
It's easy to take good health for granted when we have it, and we've all heard how important exercise is, but sometimes, it takes a big health scare to push people into changing their lifestyle. Unfortunately, for more and more South Africans, this wake-up call happens when they are diagnosed with cancer.
The 2017 Discovery Health Medical Scheme (DHMS) Oncology claims tracker reports that cancer causes more deaths than HIV/AIDS, tuberculosis and malaria combined, with the incidence of cancer among DHMS members rising by 10% in the last seven years.
The top 3 cancer types are influenced by lifestyle factors
According to the report, women are more likely to get cancer earlier in life: while more men aged 56 and older are diagnosed than women in the same age group, women in the age group 35 to 55 have a higher rate of cancer diagnosis than men. The three types of cancer most diagnosed in male DHMS members is prostate, colorectal and lung. For women, it's breast cancer, cervical/uterine cancer and lung cancer.
These findings highlight the importance of regular screenings and calls for South Africans to ramp up their efforts in taking preventive lifestyle measures, such as eating healthier (less meat, more fresh fruit, vegetables, legumes and grains), stopping smoking, and exercising regularly.
Why it's never too late to start moving
But there is good news, says Vitality biokineticist Mari Leach, referring to a recent study published in the journal Cancer Causes & Control. The large study showed that even cancer patients who only started exercising for the first time once being diagnosed improved their chances of survival significantly over those who stayed sedentary.
"Patients who reported never doing any type of exercise until they were faced with a cancer diagnosis cut their risk of death by 25% to 28%, compared to those who remained inactive," says Dr Rikki Cannioto, the epidemiologist and exercise science expert who led the study, demonstrating that it's never too late to start getting more active.
Active patients have much better clinical outcomes
"Our research also demonstrated that low-to-moderate weekly exercise is associated with significantly improved survival, which is particularly encouraging, given that cancer patients and survivors can be overwhelmed by the current recommendations of at least 30 minutes of daily moderate-to-intense physical activity," Cannioto adds.
The study analysed data from over 5 800 cancer patients and showed that patients who exercised three to four times a week both before and after their diagnosis had the greatest survival advantage – they were up to 40% less likely to die from the disease, and experienced far better quality of life.
Any regular physical activity is better than none
Even patients who exercised only one to two times a week had much better clinical outcomes compared to completely inactive patients. "Studies like this drive home the weight of the message that when it comes to exercise, any regular activity is better than none," says Leach.
This study is one of the first to examine the positive effect of regular exercise before and after a cancer diagnosis, and across many different cancer types. The strongest link between exercise and a lower risk of death was seen across eight types of cancer: breast, colon, prostate, ovarian, bladder, endometrial, oesophageal and skin cancer.
Exercise is always worth the effort
"What makes the results of this particular study so encouraging," Leach adds, "is that it helps to prove how worthwhile regular exercise is in preventing and treating cancer – regardless of your age, weight, smoking status, cancer type and even cancer stage. No matter where you are in life and what your health is like – being physically active as regularly as you can will lower your cancer risk and improve your quality of life."
If you're a cancer patient (or know one) and are looking for guidelines on how to exercise during and after your cancer treatment, check out Mari Leach's recommendations here.
All medical information found on this website including content, graphics and images, is for educational and informational objectives only. Discovery Health publishes this content to help to empower cancer patients and their families by promoting a better understanding of a cancer diagnosis. The views expressed by all of the contributing healthcare providers are their independent, professional medical opinions, aimed at supporting patients. These views do not necessarily constitute the views of Discovery Health.
Severe illness can be life-changing. Discovery is here for you
At Discovery, we understand that an illness like cancer affects many aspects of your life. If you're a Discovery Health Medical Scheme member who is diagnosed with cancer, you are covered by a comprehensive Oncology Programme. You'll also have access to a palliative care programme, which offers unlimited cover for approved care at home.
To protect you financially, Discovery Life offers the best dread disease product in the market for cancer cover, as awarded by the Independent Clinical Oncology Network. Our award-winning LifeTime Max 200% Severe Illness Benefit offers coverage across the full spectrum of severities and coverage for remission of a cancer. Contact us to learn more.
Whether you stroll, step or sprint – check out a parkrun near you!
Did you know that people of all ages and fitness levels can participate in a parkrun? These events are weekly timed 5 km walks or runs hosted at local venues around the country - and entry is free! They're great opportunities to get active with others in your community, or just to enjoy a beautiful Saturday morning in a park
Plus, Discovery Vitality members 18 years and older can earn up to 300 Vitality points for participating in a parkrun. So sign up on the parkrun website and remember to link your parkrun profile to your Vitality policy if you're a member. Find a parkrun event near you, and get your weekend off to a wonderful start!
Track your health with a fitness device
There's no shortage of health and fitness devices on offer that can help monitor all kinds of health data to keep you on track. Get up to 25% off a wide range of devices with Vitality's HealthyGear or HealthyCare benefits, and link your device to Vitality so you can earn fitness points on the go.
But there's more - soon you can get up to 75% cash back on a new fitness device with the Vitality Active Rewards Device Booster benefit, which launches next year. So sign up and get tech-savvy to start improving your health!
The Discovery Health Medical Scheme is an independent non-profit entity governed by the Medical Schemes Act, and regulated by the Council for Medical Schemes. It is administered by a separate company, Discovery Health (Pty) Ltd, an authorised financial services provider.
How mountain biking can boost your memory
Are you back to the daily grind and feeling the need to up your game? Perhaps a memory upgrade would help! Studies show that your working memory – which helps you understand things and remember better – can be improved through dynamic exercises.
7 decades strong and taking on the Discovery Duathlon
Molly Fabé, 70, had never exercised before when she inadvertently entered a competition to participate in the Discovery Triathlon World Cup. She couldn't even swim at the time. Here's her story of overcoming the odds – and repeating it for love.