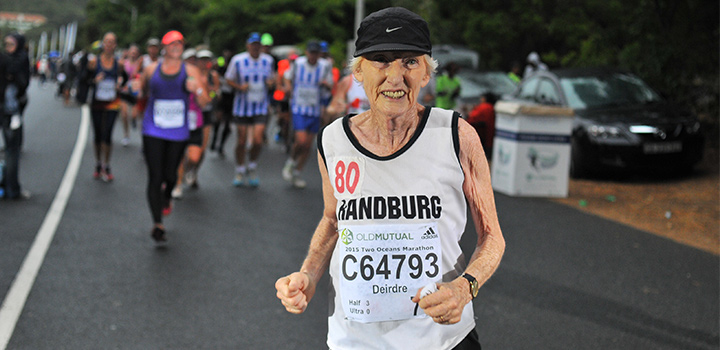 Deirdre Larkin first hit the road in 2009, and now, at 85 years old, is getting stronger and keener by the year. We caught up with 'Randburg's Grand Dame' to find out how her passion for running has given her a new lease on life.
Deirdre Larkin is no average octogenarian. She's accumulated over 500 running medals over the last eight years, and currently holds the half marathon world record in the 85+ age category. A mother of four, grandmother of five, and regular celeb at local racing events, she's appeared on televised news magazine show Carte Blanche, international news snippets and graced the cover of Modern Athlete. All in all, not too shabby for someone who first started running at the age of 78!
A former concert pianist, Deirdre is living proof that it's never too late to start getting active - and compelling new research shows just how much good it can do you. A recent paper titled Running as a Key Lifestyle Medicine for Longevity indicates that runners have a 30% - 50% reduced risk of cancer-related mortality, and a 45% - 70% lower risk of cardiovascular-related mortality, compared to non-runners. We chatted to Deirdre on how staying active keeps her healthy and gives her vigour.
Discovery: Research shows that runners live about three years longer than non-runners. Runners also tend to engage in other healthy behaviours that contribute to their increased longevity, like maintaining a healthy weight and not smoking. Can you attest to running improving your habits in other areas?
Deirdre: I found running after three years of looking for some exercise to prevent my osteoporosis developing further. I went to a dietician and she helped me with my vegetarian diet, and suggested exercise. I was never sporty at school, so I tried yoga, Pilates, gym, and so on, but I was not interested. Then I discovered The Fitness League. They offer one-hour classes to music, and exercise every part of one's body, but not too strenuously. I still do the classes every week. Then, when I was 78, I tried running, which my youngest son suggested, and my enthusiasm for it grew. The more I did it, the more I enjoyed it.
Are you on osteoporosis meds now or have you given them up completely?
I am not on any kind of medication. All the osteoporosis medications made me very ill. That is why I went to a dietician after four years of experimenting with doctor's suggestions of pills and patches and puffers and so on. Nowadays I take a variety of vitamins instead.
There's also evidence that running can help prevent neurological conditions such as Alzheimer's and Parkinson's disease. Has staying active affected your health, both physically and mentally?
Running makes me feel excited and happy. It takes me several hours after a 10 or 21 km race to recover from a most enjoyable 'Runner's High'. I'm not aware of the onset of Alzheimer's or any other disease - as of yet! And in the last 15 years I have only visited my doctor for relief from the flu. I go annually for check-ups and X-rays, but all seems ok so far.
Studies show that running participation declines 5% - 10% each decade, and less than 2% of people continue to run past 65 years of age. Many older people feel they need to "slow down" as they age, but you sound like you stay busy - what is it that keeps you going?
I think it is because I very much enjoy teaching the piano and, during the past eight years, have developed a passionate interest in running. I also appreciate adventures and like exploring new opportunities, such as running races.
I was a member of a piano trio for 16 years besides my regular music teaching job. We provided live music for weddings and functions, which meant a new exciting adventure every weekend. Running races has a similar appeal to me. My day now is divided into firstly running in the early morning, and then afternoons I teach piano at St Peter's College in Sunninghill.
What fitness regime do you follow each morning?
I run about 7 to 8 km a day at 5:30 am, at least four days a week. But first I always do about 45 minutes of strength and flexibility training before my morning run. I warm up, do donkey kicks and clams, and practice a variety of exercises I learnt from The Fitness League and from Runner's World magazines.
I also always do exercises to strengthen my back because, when I was 39, doctors discovered I was born minus a vertebra. Having had two children by then, my back was out of shape. I had a spinal fusion with a piece from my hip being inserted into my spine. Afterwards, I took a long time to recover and could not even lift a teacup for three months. But the operation was a great success. I've had no back problems since.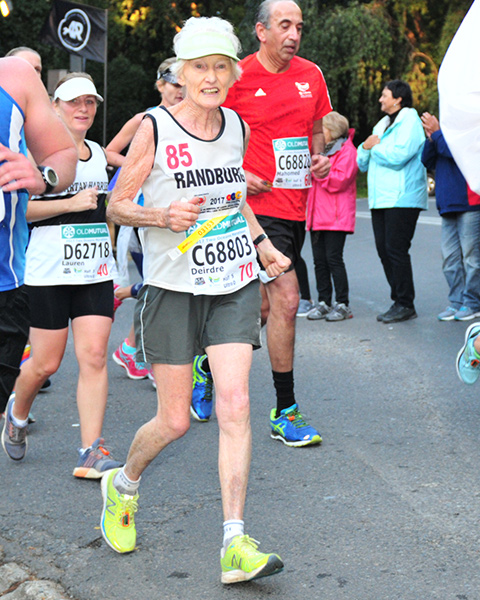 "There is a saying that goes, "Use it or lose it." It is so very true. If one does not move one's body, one's limbs become stiff and brittle."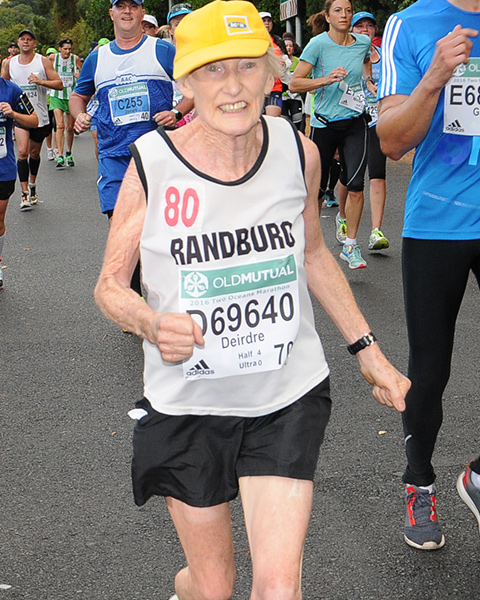 That's incredible! So, what encouragement would you give to someone who thinks they're too old or frail to run?
There is a saying that goes, "Use it or lose it." It is so very true. If one does not move one's body, one's limbs become stiff and brittle, hence liable to break. Keeping moving is vital to life. Frequent gentle movements are a good start for exercising, doing a little at a time. After a few weeks it is exciting to discover how much one has improved.
Some people suddenly start exercising and do too much, too soon. I frequently hear people saying "I can't do ..." To me this seems as though they have never even tried gently to "do". I believe, unless of course you have a permanent injury, that one can manage to do anything that you REALLY would like to do at whatever age. Most people who consider themselves "frail" or "too old" seem to be using that as an excuse in order to avoid "doing".
It is not necessary to go to gym classes or find a means of vigorous exercising to keep moving. Things like going for a walk, using stairs instead of lifts or escalators, carrying one's shopping (if it is not too heavy), simple movements such as leaning from side to side, turning one's upper body, moving one's neck, rising from one's chair without using one's arms, shrugging one's shoulders - all these can help to the body wake up. One is never "too old" to learn new skills.
What qualities do you think are key in this pursuit?
I think it is important as one grows older to find any kind of activity that interests one and that one can develop into a greater skill. Enthusiasm and perseverance in spite of obstacles are necessary. My life was always concerned with playing the piano and giving concerts, and this activity helped me to develop these two qualities.
Do you think about anything in specific while you run?
I like to concentrate on my stride, my posture, my effort, my hips, my arms and my balance. I also like to admire the scenery, especially the races around Irene, Hartbeespoort and Cape Town. Since my appearances on television in 2017, many people recognise and now chat to me as they're passing. I enjoy this diversion - and it makes me run quicker too!
What's coming up on your racing calendar?
I have entered several big races in the coming months, such as the Pick n Pay Half Marathon at Saheti School, Senderwood on 11 February, the Om die Dam Half Marathon in Hartbeespoort on 17 March and the Two Oceans Half Marathon in Cape Town on 31 March. This will be the seventh time I've run the Two Oceans 21.1 km event - I hope to eventually run 10 of them and to be awarded their Blue Card!
So if you're in the vicinity of any of these races, lace up those running shoes and join in the action - you may just get to see the inspiring Deirdre Larkin in person!
Run your way to new running shoes with Vitality Active Rewards Shoe Booster
Earn up to 100% cash back on a pair of running shoes with Vitality Active Rewards Shoe Booster and your preferred HealthyGear partner, Sportsmans Warehouse or Totalsports.
Remember, you can get up to 25% cash back on a wide range of fitness devices and sports gear at Sportsmans Warehouse or Totalsports. Activate your HealthyGear benefit today and increase your cash back by finding out your Vitality Age and going for a Vitality Fitness Assessment.
Not a Vitality member? Join Vitality today and get rewarded for living well.
Need more motivation? Become a winner by getting fitter!
Vitality Active Rewards encourages you to work out more frequently, wherever you are, by giving you weekly rewards for meeting your personalised physical activity goals. You can also earn exciting surprise rewards for achieving 3-in-a-row goal streaks!
Rewards range from drinks and snacks to retail rewards from partners like Cape Union Mart and Nando's, to weekends away and even dream international holidays. Become a winner by getting fitter: join Vitality today and activate Vitality Active Rewards on the latest version of the Discovery app.
How to become a morning exercise person
You don't have to catch worms to enjoy the merits of being an early bird. Exercising in the mornings has many advantages, so it's worth rearranging your daily schedule to fit it in. Here's why and how to give it a go.
Get ready to run - a beginner's guide
Busy? We understand. Haven't exercised in a while? Don't worry ? starting running (and sticking with it) is easier than you think. But first things first: you need to get your body and your mind prepared for running.