When you join Team Vitality,
you get

:
Team Vitality race kit
Brand-new premium running and cycling race kit every 2 years
50% OFF
of a Strava subscription
Why pay R600 when you can pay R300 a year with Team Vitality?
50% cash or Discovery Miles back
on some of South Africa's biggest race events
Amashova Durban Classic Race on your list? Pay R750 and get R375 back when you ride with Team Vitality.
Gearing up for the 947 Ride Joburg? Team Vitality members only pay R625 and get R312.50 paid back to go the distance.
Aiming to do marathons? Pay R700 and get R350 paid back for the Two Oceans. Plus, pay R1,200 and get R600 back for the Comrades.
Entering a Vitality Run Series for the first time? Pay R100 and get R50 paid back for that 5 km fun run.

Exclusive VIP Hospitality
Refuel, reset and relax at post-race VIP hospitality at selected events.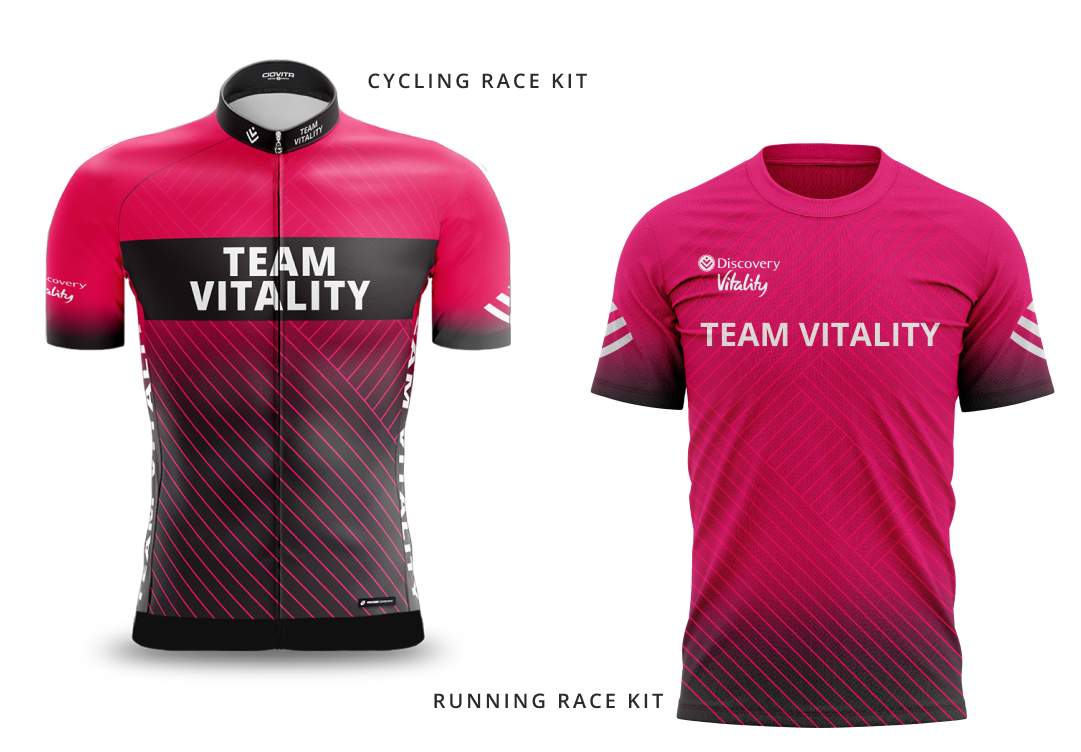 25% off an ICE ID Pro bracelet
Always have peace of mind with your emergency info on your wrist, when minutes matter.
Discounted access to Move My Bicycle
You get one free bicycle transport, plus a 15% discount afterwards with Move My Bicycle.
Level up your training with
Team Vitality

!

If you want to get active, get rewarded, earn Vitality points, and join a super supportive community of runners and cyclists, join our club today!

Running

Cycling
R1,100 for the whole year
Running + Cycling
R1,565 for the whole year
Activate or Renew
Team Vitality
If you don't have a Team Vitality membership yet, get it now by tapping on Accept and activate. Part of the club already? Renew your membership now.
JOIN THE CLUB
Junior
Team Vitality
Junior Team Vitality is a movement... If your child is between the ages of 16 and 18, sign them up to run with us!
Sign them up
Currently licence applications for running are only available in Central Gauteng, Gauteng North, KwaZulu Natal, South West District, Western Province and Eastern Province. We will let you know once licences are available in other regions. If you want to purchase a licence through Team Vitality and if you are part of an existing running club, you will need to end your membership with your current running club before you join Team Vitality. Please send us a copy of the clearance letter from your club and your Athletics South Africa application form so we can apply for your new licence on your behalf. To register or renew your cycling licence with CSA (Cycling South Africa), visit www.cyclingsa.com
TEAM VITALITY
events and activities

What is happening with TEAM VITALITY
Training programmes and resources
TEAM VITALITY
communities
Join the Team Vitality running and cycling communities on Facebook and Strava and get access to challenges, training tips, events and exclusive rewards just for you.

Central Gauteng
Discovery Store Sandton
First floor, 1 Discovery Place, corner of Katherine and Rivonia Road, Sandton
Mondays to Fridays from
08:00 to 17:00
Saturdays from
09:00 to 12:00

Central North
Discovery Store Menlyn Maine
Shop 35, 178 Bancor Avenue, Menlyn, Pretoria
Mondays to Fridays from
09:00 to 18:00
Saturdays from
09:00 to 13:00

Eastern Province
Sportsmans Warehouse,
Shop 4, Moffett Retail Park, William Moffett Expy, Fairview, Gqeberha, 6001
Tuesday and Thursdays only from 09:00 to 14:00

KwaZulu-Natal
Discovery Store Umhlanga
Shop 7, Granada Square, Umhlanga Strip, 16 Chartwell Drive and Ocean Way, Umhlanga
Mondays to Fridays from
08:00 to 17:00
Saturdays from
09:00 to 12:00

South West District
Sportsmans Warehouse, Shop 2, Eden Meander Lifestyle Centre, Cnr of Knysna Road and N2 Roads, George, Western Cape Tuesday and Thursday only
09:00 to 14:00

Western Province
Discovery Store Century City
Sable Park, Bridgeways, Century City, Cape Town, 7446
Mondays to Fridays from
08:00 to 17:00
Saturdays from
08:00 to 13:00
Sundays and public holidays from 08:00 to 13:00
Join today
75% saving
at Virgin Active or Planet Fitness.
25% back on Healthyfood
items at Pick n Pay or Woolworths.
25% back on personal care items
at Clicks or Dis-Chem with HealthyCare.
50% saving on fitness devices
and Nike performance gear and apparel.
35%
off your next holiday with the Vitality Travel Platform.
Half-price movies
at Ster-Kinekor.