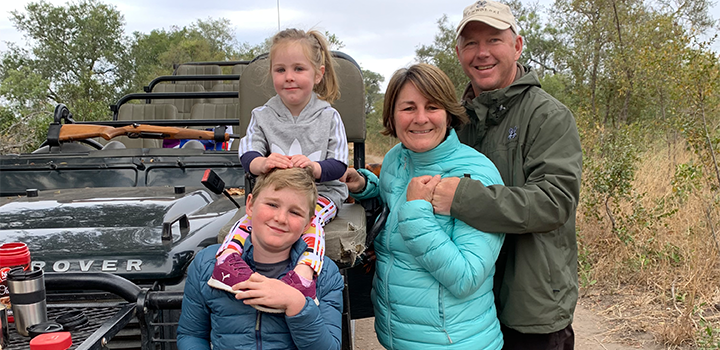 Fifteen years ago, Oliver Sinclair was diagnosed with multiple sclerosis at the young age of 29. Despite his condition, the husband and father of two is living proof that it is possible to live a healthy lifestyle and achieve Diamond Vitality status.
A sudden attack alters a young game ranger's life
"I woke up one day and half of my face was numb." Oliver Sinclair was on holiday in Scotland in December 2003 when he suffered an attack – with no idea what was happening to him.
At the time, Oliver was a game ranger at the Londolozi Private Game Reserve in Mpumalanga. After undergoing several tests in Nelspruit, Oliver flew to Johannesburg to see more specialists. The doctors told him that he could have multiple sclerosis, but they couldn't be certain unless he had another attack.
"I went back to the bush, but two weeks later I was back in Joburg. My eye sight had gone, my speech had gone, the use of everything from the waist down – my legs, my bladder – had gone."
Oliver had to stay in hospital on a cortisone drip for four days. "I paid for the first month's medicine, but ever since then, Discovery has paid every single cent of my medicine costs. If I have to have a scan, it gets approved. Whatever it is, it goes through. I've never been disappointed. It's been 15 years and I wouldn't be with anyone else; not with this condition, that's for sure."
"We'll make it the best 8 years of our lives."
Oliver was diagnosed with multiple sclerosis in February 2004. "I tried to work in the bush for the next year, but I'd become heat intolerant. I had to leave the bush, but first I proposed to my girlfriend Michelle – and she said yes. I told her I didn't know where we were going; I didn't know if I was even going to live for eight years. She said she didn't care; we'd make it the best eight years of our lives."
In January 2005, the Sinclairs joined Michelle's family's air-conditioning business in Durban. "For the first seven years, I thought I could live my life as I wanted and the medicine would sort everything out. Around the time my son Tyler was born in 2010, my condition started to deteriorate and I started to get paralysis on my right-hand side."
A WalkAide helps Oliver to stay walking
Oliver developed drop foot, a condition where the nerves from his brain to his foot no longer worked. He first used a rigid brace on his ankle to keep his foot up, but because his right leg wasn't doing any work the muscles atrophied. In 2014, he started using a WalkAide™. "I found a supplier in South Africa. It was R50 000, which I couldn't afford. The supplier said we'd submit the claim to Discovery. Once again, it went straight through!"
"The WalkAide has helped me stay walking the past five years," Oliver says. Watch the video where he and his two sweet narrators explain how the device works:
Oliver's biokineticist makes a huge impact
"When my son was born, I didn't have the strength to pick him up and I couldn't hold him. I was scared I was going to fall and drop him. I couldn't pick him up out of the cot, I couldn't change his nappy, I couldn't bath him," Oliver recalls.
So, he started seeing biokineticist Donavan Pillai. "In helping me keep active, he has been a hugely important part of my journey. Being active has kept me positive as well."
"When I met Donavan, I could only walk 100 metres on my own, unassisted. Two years after I met him, I walked the 5 km Discovery East Coast Radio Big Walk. Four years later, I rode the 35 km Amashova Cycle Race on an electrically fitted bicycle. Now, I've done the Tour Durban 40 km, the Amashova (twice) and a 24-hour relay on a hand cycle."
A #DiamondWarrior despite multiple sclerosis
Despite living with MS, Oliver has been on Diamond Vitality status for four years. In addition to the biokineticist, he also sees a physiotherapist and an occupational therapist. "Discovery pays for all of it. I don't have to wonder who's going to take care of my health. So, I need to do my part. I control my diet and eat healthy; I go to the gym and I swim in the pool. I do the hand cycling races … because I can! Because that's what you guys have given me. That's what I'm grateful for."
"What I've learned in the short 15 years is that I have to eat healthy, live healthy and exercise. While you have control of the muscles, keep them active, because once you lose control of them, they wither away really fast. And then it's very difficult to exercise or to work with them," he says.
In the Sinclair household, keeping active is a family affair. "We all exercise together. My daughter Sarah-Anne goes to the kiddies' area of the gym, while my son swims with me and rides mountain bike races. By living healthily, you develop a healthy mindset. I have a lovely wife; I have two lovely children. I might have MS, but I also have a lot more than many people have: happiness."
You are young and healthy. Why do you need medical aid?
Everyone needs some form of medical aid cover. Few of us could afford the costs of long hospital stays or care for serious injuries, surgery or chronic illnesses. Medical schemes help us finance life's curve balls when we can't do it alone.
Be like Oliver. Get to Diamond yourself!
Engage in Vitality to improve your health and earn Vitality points. The more points you earn, the higher your status. Not sure where to start? Check out the pointers on how to earn Vitality points throughout the year on Vitality's website and get to Diamond, fast!
A modern, medical miracle: Jean Slabbert
Contracting Neuromyelitis Optica was a bolt from the blue for Jean Slabbert. Globally, the illness occurs in only one in a million people. Jean has successfully fought this paralysing and blinding illness and lives to share his 'miracle' story.
Beating the kidney dialysis odds
Brian Anderson, is a minor walking miracle. He's had 93 operations, including two kidney transplants and been on intermittent dialysis for 22 years. He's passionate about raising awareness around Chronic Kidney Disease and organ donation.