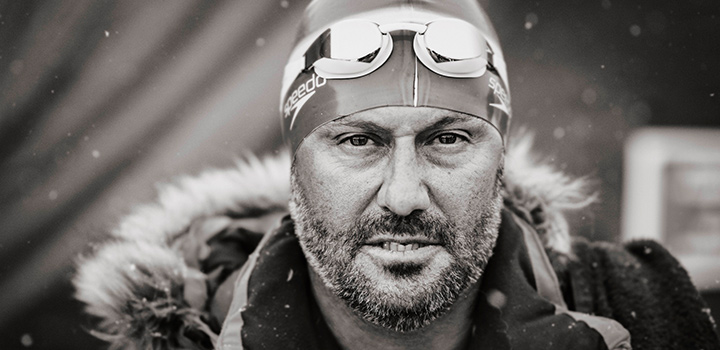 At 60-years-old, Ram Barkai is a world record holder in ice swimming. He says the extreme conditions foster humility and mental fortitude – two qualities he values highly. Here he shares more about his remarkable achievements.
"There's not much dignity in getting out on the ice in a speedo, disoriented and breathless," says Ram Barkai. But that doesn't stop him.
"Each December, I travel from Cape Town to Siberia to swim in water that's 0°C. I am humbled by the ice. Extreme sports is about humility, not arrogance," Ram says. "After five minutes of swimming it doesn't feel so bad, and for an all-too-few brief minutes, you feel like you can do it forever."
Israeli-born Ram is a former global financial services CEO, father of, as he calls them, "the fantastic four", world ice-swimming record holder and founder of the International Ice Swimming Association. He's also swum in the most extreme and hostile environments on earth: from Siberia to Antarctica to Cape Horn and the Arctic Svalbard. Each breathtakingly icy marathon is an official minimum of one kilometre.
I discovered the mental-strength element to swimming in cold water
When Ram moved to Cape Town in 1996, he joined a local swimming club and started entering competitions. "I was always drawn to open water. The sea is cold here. And I love a challenge. In the water, you begin at 0°C with no easing into the cold – and you have to swim. You learn what to anticipate and how to react."
Preparation for each swim and recovery from each swim are vital. "If you're not prepared and don't know what to do, you could panic," adds Ram. "You have to remember to breathe after each stroke and take it slowly. I discovered the significant mental-strength element to swimming in cold water. I'm more attracted to the power of the mind as opposed to the body, and using the mind to overcome adversity," he says.
Sharks – "not a bad way to go for an adventurer"!
In addition, he reflects, "The friendships created through my swimming are more valuable than any cent I've ever earned." Some days, good weather may prompt a group swim to Robben Island or around Cape Point, or a swim from outside his Camps Bay home to Clifton. On his adventures, he's encountered whales, dolphins, seals and bluebottles, but no sharks – even though he regularly swims in this notorious local domain of the Great White shark.
"I know the shark-encounter protocols: float vertically and keep still, but I'm really more concerned about the currents and the cold. I see the sharks in my mind all the time. If my time comes, that's not a bad way to go for an adventurer my age," he adds with a smile.
Integration offers cover significantly cheaper than the sum of its parts
With three of his four children now over the age of 18 and on their way to financial independence, his financial responsibilities have reduced, enabling him to consolidate his policies and healthcare cover.
Ram suffers from sport-induced asthma and a chronic sinusitis, common to many Olympic swimmers. The inhaler he uses twice daily is covered by his Discovery Health Medical Scheme plan. He has Discovery short-term insurance, a Platinum credit card and life insurance. In addition, he's on Gold Vitality status and says he most values his Vitality membership for the linked product and premium discounts.
Ram also has a Discovery Dollar Life Plan, which he uses for his 13-year-old daughter, so that her maintenance, school and health are looked after in case anything were to happen to him. "Discovery's various, integrated product offerings gives me access to cover that is quite significantly cheaper than the sum of the parts I had in the past."
"When you spread yourself across various companies, you have to shop around to find the cheapest one for everything. Plus, Discovery is very technologically switched-on, so I can go online and access everything," he says.
His craziest-ever swim?
"I guess it was swimming in Tyumen, central Siberia in 2012 when the air temperature was -33°C. As I swam, people were sweeping the water surface ahead of me to stop it freezing." Taking his clothes off fast enough in -33°C air temperatures to get into far 'warmer' 0°C water without suffering frost-bite was a major challenge, as was later getting out of that water and dressed.
He takes jovial issue with his friend Lewis Pugh's claim to be the toughest, southern-most ice swimmer. "My name is in the Guinness Book of Records as having done the standard 1km, most-southerly swim. Lewis claims to have broken it but only swam a few hundred metres, so Lewis needs to do a proper swim of at least 1km to get his record back," he adds laughing.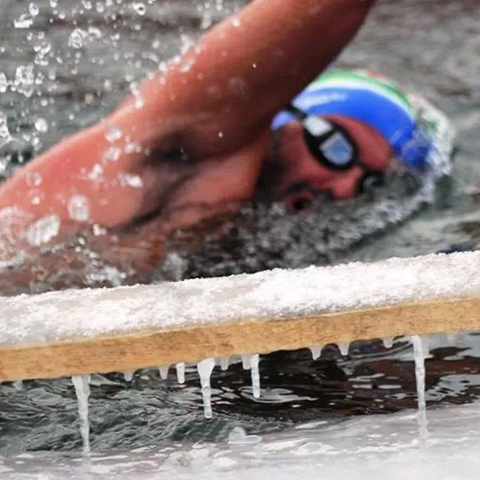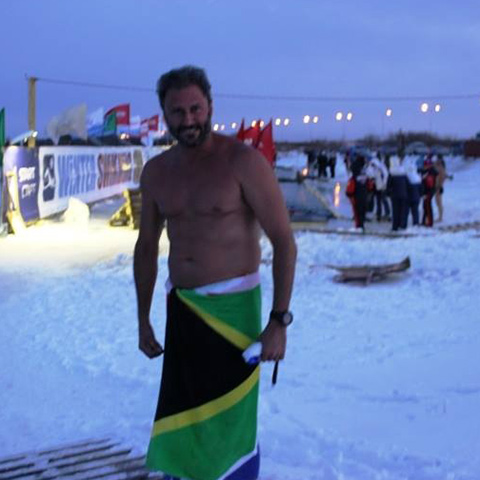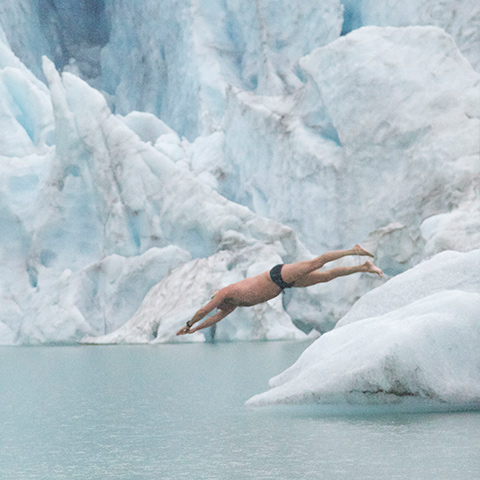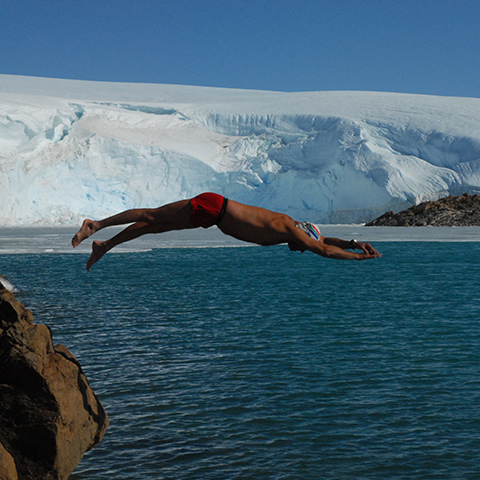 His dream: taking ice swimming to the Winter Olympics
Having retired from his financial services career in 2012, Ram spends his time focussing on quality time with his kids and organising international ice swimming full-time. He's liaising with members in 63 countries and currently preparing for the third World Ice Swimming Championships that will attract thousands of ice swimmers to Northern Russia in March 2019.
He's also taking 20 swimmers from around the world to Antarctica in November 2018 to stage the first-ever 1km ice-swimming competition in Antarctica. His dream is to take ice swimming to the winter Olympics, "It's a dream, no rush, I firmly believe we will get there," he says.
"We have a10-year track record of adventure and competition swimming and nobody's died so far. That speaks volumes about the meticulous safety and team standards we maintain," he says. "It's all about the safety of the adventure, so you can come back and share it."
This testimonial is meant only as information and should not be taken as financial advice. For tailored financial advice, please contact your financial adviser. The Discovery Dollar Life Plan is issued by Discovery Life International, the Guernsey branch of Discovery Life Limited (South Africa), licensed by the Guernsey Financial Services Commission under the Insurance Business (Bailiwick of Guernsey) Law 2002 to carry on long-term insurance business. The Discovery Dollar Life Plan is also subject to the South African Long Term Insurance Act of 1998. Discovery Life Limited. Registration number 1966/003901/06, is a registered long-term insurer, and an authorised financial services and registered credit provider, NCR Reg No. NCRCP3555.
Secure global protection with the enhanced Dollar Life Plan
The interconnectedness of the world today means that creating certainty requires a truly global approach. With Discovery Life's enhanced Dollar Life Plan, you can lock in a rand/dollar exchange rate for three years with the Exchange Rate Protector Benefit.
The Dollar Life Plan now also includes the enhanced Global Treatment Benefit and Cancer Exome Sequencing Benefit, as available on the Purple Life Plan. This means you'll have access to advanced medical treatment options outside of South Africa, should you need it.
Get up to 50% of your premiums back in cash for living a healthier life
By simply linking your Discovery Life Plan with your other Discovery products, you can receive a percentage of your premiums back every five years for managing your health and wellness.
Integration allows you to receive up to 50% of your premiums back every five years.
Boosting your retirement savings through shared-value life cover
Life cover that allows you to get a substantial portion of your premiums back by encouraging and helping you to get healthy and stay healthy lets you benefit while you are still alive. Here is how Benna Koorsten boosted his retirement savings by R2.7 million.
Taking care of business when a loved one passes away
Planning a funeral could see seen as a way to celebrate the life of the person who's passed on, but it can also add strain to an already emotional and stressful time. Here are some guidelines on what to do when a loved one passes.