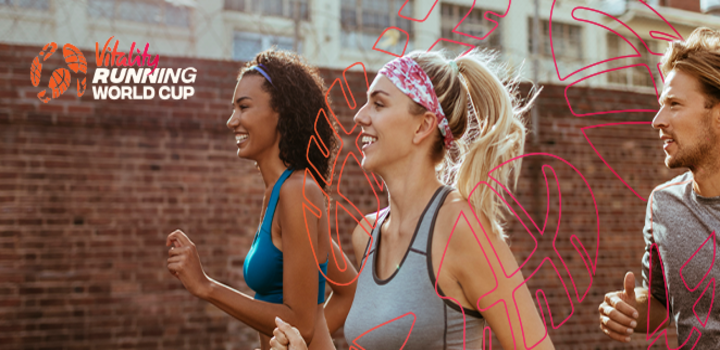 The Vitality Running World Cup has been postponed until further notice in light of the stricter COVID-19 measures implemented by governments worldwide.
As the outbreak of COVID-19 continues to spread across the world, stricter measures by governments and health authorities have been implemented to slow the spread. To ensure that we play our part and help flatten the curve, we have decided to postpone the Vitality Running World Cup until further notice.
While we understand that this may be disappointing news for many of you, the health and wellbeing of everyone taking part is our number one priority. Here's a look at South Africa's key moments during the tournament:
Maintained the #1 spot throughout the Qualifying stage, Round of 16 and Qualifying Round
Over 85 872 sign-ups
Over 63 196 personalised Vitality Running World Cup goals achieved
Over 1 000 000 km run during the tournament
Together with runners from across the world, your involvement has resulted in donations from Vitality to UNICEF to help vaccinate over 150 000 children.
Exciting prizes for participating
The following weekly running prizes will be awarded to the lucky South African participants that have won after completing the following tournament rounds:
Qualifying round: Huawei Band 2 Pro fitness devices
Round of 16: ASICS voucher for running shoes
Quarter Finals: Gym contracts with Virgin Active or Planet Fitness
In light of the Vitality Running World Cup postponement, the following prizes will not be awarded until the tournament resumes:
Semi-Finals: Totalsports vouchers valued at R2 000 to spend on fitness gear
Finals: Woolworths food voucher valued at R1 000
Grand prize: Trip to your dream destination valued at up to R150 000 to complete a run of your choice
For more information, view the tournament rules and rewards guide.
Have a question?
Visit the Vitality Running World Cup Help & Support page or speak to a member from the Running World Cup team through their chat icon.
Keep moving... from home
Considering restrictions on public gatherings, as well as social distancing, here is a guide on how to exercise safely, at home and continue earning Vitality Fitness points. Keep an eye on our help page and social media channels for the latest updates.