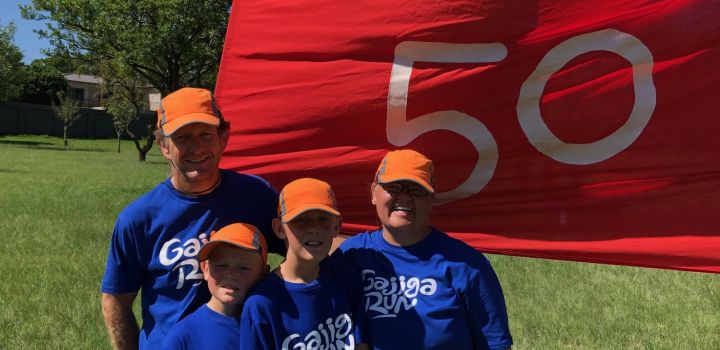 The truly inspirational story of how one family fought their way to health and wellness by getting active together.
Last year, Vitality reported on how Vitality Weight Loss Rewards saved Sean Venske's life. Sean had been a morbidly obese father of two who, through sheer grit and determination, lowered his weight from 132.8 kg to 79.6 kg between February 2017 and August 2018.
60 parkruns later...
But the Venske family - dad Sean, mom Lydia and sons Brandon (9) and Nicholas (12) - didn't stop there. They started their first parkrun in December 2017 and since October last year they've completed 60 parkruns to date.
And if that's not enough exercise, on Sundays the Venskes slip into their running shoes for myrun.
"I first started doing myruns alone in August as it fitted nicely into my training routine but my family soon decided they wanted to do the myrun as well," Sean says. "We currently have two regular weekly activities we do together as a family, parkrun and myrun. Our home parkrun is at Ebotse, Benoni, and our home myrun is at The Campus, Bryanston."
"I now have a zest for life"
Fit and healthy at 44, Sean has a new lease on life. "When I consider where my health was two years ago, the thing I feel is relief," he says. "Relief that I have made a positive change and given myself a chance to lead a longer, healthier life which was an unlikely outcome not so long ago. I now have a zest for life and I am working hard to make the best of every minute my health now has to offer."
Lydia enjoys going to Curves during the week in the evenings where she does 30-minute workouts to burn calories, get fit and elevate her heart rate. "I feel revitalised," she says. "I feel amazing. I find that I have more energy and can manage my stress better. I am less off work because I am not getting sick as our diet includes more fruit and vegetables. Therefore, we get all the required nutrients and our immune systems are boosted."
Lydia says her son Brandon likes joining her at Curves for mat workouts. "It helps him build muscle, improved his core strength and helps with fitness," she says. "He loves telling me afterward how he had to 'show' me how to do it properly."
In any health journey, getting started is the hardest part
"It all started when my wife Lydia decided she needed to improve her health and joined Curves. When I saw how much of a positive difference it was making in her life it was just the kick-start I needed," Sean explains.
He explains how exercise has helped his family become healthier. "Nicholas is fortunate not to have inherited any of our weight issues so he just enjoys the running and at our home myrun event he regularly finishes in the top two positions in the 2.5 km run. Brandon is slightly overweight for his age group but the regular exercise every week is making positive changes to his health."
Lydia shares what the journey has meant to her: "It has taught me that with hard work and determination all can be achieved, regardless of your age and the status of your health."
Making exercise a family affair
"Before we didn't do much, I would go to work, then go home and plant myself on the couch," Sean says. "We didn't go out much or even do any outdoor activities together so it caused a lot of stress on our family. Now we all look forward to the weekends and any chance to be active together."
"We motivate each other to never give up," Lydia says. We try harder and improve each week." She says they also work together to eat healthy food.
Sean and Lydia are proud of the changes they've seen in their boys.
"Nicholas enjoys the little challenges he and I have together when we race each other and he has won his fair share of these encounters," Sean says. "Brandon thoroughly enjoys volunteering at the myrun events and being able to help facilitate the runs and make new friends."
Lydia says Brandon has seen first-hand the benefits of exercise. "He can see he is toning and getting muscle and loves saying he has 'sexy legs'. It has been a huge confidence boost for him as he was being teased about his weight," she says. "Nicholas is more confident and relaxed since we started."
Loving the great outdoors
"I most enjoy the fact we are outdoors together doing something that is beneficial to our health and just as importantly, beneficial to our wellbeing as a family," Sean explains. "Last year we pushed right through the winter with our parkruns and I believe a great benefit of this was we didn't suffer the regular winter related illnesses."
Lydia agrees. "For me, being outdoors and out on the roads running makes me feel alive and I love the feeling of accomplishment I get after each race I finish," she says. "Even with training runs, the feeling of having achieved a goal is a great motivating factor to keep going."
They also give back by volunteering at myrun
In addition to parkrun and myrun, Sean and Lydia also run for Team Vitality. But that's not all - in October last year, the Venskes decided to volunteer at their home myrun.
"We haven't been able to volunteer at our home parkrun owing to other commitments straight afterwards every week so we all agreed that we would like to give back to the sport and to Discovery Vitality and become myrun volunteers," Sean explains.
"The greatest thing to see every week at our home myrun is the number of families out spending time together exercising on an early Sunday morning. For us being able to help facilitate the runs, spend time together, and get our exercise in makes volunteering at The Campus myrun one of the highlights of our week," he says.
"I am a much happier person"
Sean explains how the journey has improved his entire life. "My colleagues at work say I'm not quite as grumpy as I used to be, however they still look at me a bit strangely when I go for my hourly walk around the yard," Sean says. "My employer has commented how much more confident I am now. I used to intensely dislike going out before, feeling uncomfortable and insecure in public because of my size. Now I don't take life so seriously, I get out and about and feel good about myself and I don't have to worry anymore that I might be embarrassing my family."
"For both Lydia and I it has been a big confidence boost to be able to wear clothing that makes us both look and feel good about ourselves," he says. "Lydia and I took part in the Vitality Run Series Gauteng last year in the 10 km category and it gave us both a great feeling of accomplishment to finish the series."
What's next for the Venske family?
"Brandon wants us to volunteer at our home parkrun so next year we are planning on making some changes so he can help out at Ebotse. Nicholas is eager to do 10 km runs with his mom and dad so when he reaches 14 he can get his running licence and run with us," Sean says. "Lydia is looking forward to improving her 10 km times this year and as for me, I have a dream: Comrades. I would like to run the ultimate race before I hit 50."
If anyone can do it, the Venskes can.