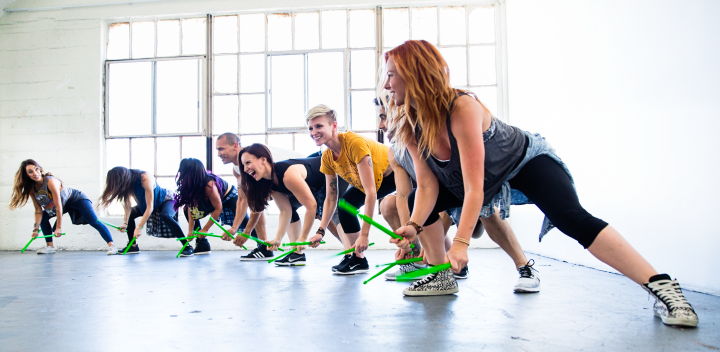 There's a sexy new fitness trend in town, and its name is Pound®! This high-intensity workout is a fusion of yoga and Pilates-inspired movements and drumming with lightly-weighted Ripstix. It's bound to have you shedding kilos and sculpting your body without you even realising it! PLUS, you can stand in line to win an all-expenses-paid trip to Los Angeles and rock out to a Pound® class with the founders!
Sound like fun? See for yourself!
How to win that trip of a lifetime to Los Angeles
Not only will you join the founders of Pound® in an inspiring workout session, you'll also get to experience one of the world's most exciting cities. Los Angeles is home to exceptional art collections, world-class venues, clubs and restaurants, and amazing fashion. Enjoy the beaches and boardwalks in Santa Monica, Venice and Malibu, or get yourself knee-deep in shopping bags when you visit Melrose and Robertson on Rodeo Drive. Los Angeles has it all!
All you need to do to enter yourself in the running is follow these steps:
Book a Pound® class at a Virgin Active near you.
Share a picture or short video of your wildest air-drumming moves on your Facebook or Instagram profile using the hashtag #VAPOUNDCHALLENGE.
That's it! Remember, the more classes you attend and the more posts you share, the greater your chance of winning.
Dance to the beat of your own drum with Virgin Active's Pound® class
We've long turned to music to motivate us when we're working out. But what is it about Pound® that makes it so effective?
By incorporating a cardio workout with the energising fun of air-drumming, you effectively turn an intense total-body workout into an exhilarating jam session. The full-body movements holding weighted Ripstix will get those calories burning faster than you imagine - with up to 500 calories burned on average in each 45-minute session.
This can make it easier to lose weight fast, and the aerobic training will tone your entire body. Even just two classes a week can get you to the recommended health guideline of 75 to 150 minutes of high to moderate-intensity exercise a week.
So book a Pound® class at Virgin Active today and sculpt that body while dancing to those drumbeats!