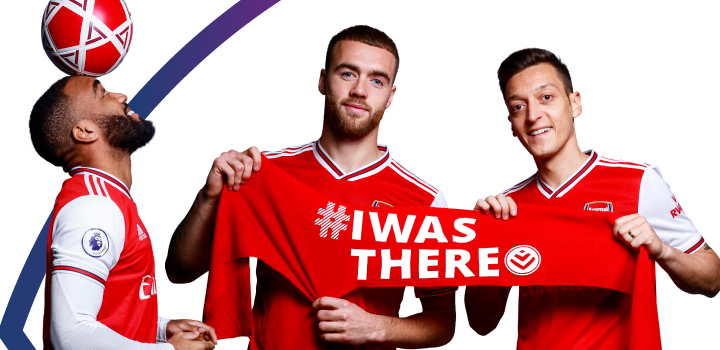 Can you think of a better way to #StartYourYearRight than an all-expenses-paid trip to watch a Premier League match live in London? If not, here's what you need to do to try your luck as the next #IWasThere winner!
"Discovery pulled out all stops. Most memorable was the opportunity to go pitch-side. You see the players up close and get to follow as they walk into the tunnel. The stadium is packed, and everyone's eyes are on you, like, "How did you make it there?!" That was really special!"
That's Werner Moolman's beaming summary of a once-in-a-lifetime trip to watch the New Year's Day clash between Arsenal and Manchester United.
Nireshma Reddy's, another #IWasThere winner, adds:
"The experience was magical. From the start to the very last day, Discovery really looked after us. I watched two legendary teams play live, including my favourite team, and I got to see another part of the world. For that, I will be forever grateful."
Nireshma and Werner were just two of five winners who, along with their partners, Discovery Vitality treated to the ultimate football experience: return flights to London, luxury accommodation in walking distance of Hyde Park, match tickets for The Gunners taking on The Red Devils,
plus £1 000 in spending money.
Want to #StartYourYearRight? Win BIG with Vitality
Vitality's goal is to help build a healthier world. As broadcast sponsor for the Premier League and Official Wellness Partner of Arsenal Football Club, we want to inspire all South Africans to make healthy lifestyle choices on and off the pitch.
If you got the chance to take a mate along to London, spend time with legendary footballers, tour the state-of-the-art Emirates Stadium, watch a nail-biting match live and experience the sights and delights of London in spring – what would you say?
There's only one way to find out! SMS 'Discovery' and your ID number to 44360 to stand a chance to watch Arsenal v Liverpool on 2 May 2020 – and you could join these winners in saying, #IWasThere!
Represent South Africa at the Vitality Running World Cup
Over 13? Have a smart phone or smart fitness device? Your country needs you and your friends for a chance to be crowned Vitality Running World Cup (VRWC) champions! Take part in the world's largest running event together or share your involvement to inspire others. Here's how to get started:
Sign up at www.runningworldcup.com.
Link an approved fitness app or fitness device to your profile.
Join in teams or build your running tribe.
Run or jog at least 3km within 30 minutes to run for your country.
Bonus -you'll receive a goody bag with over $100 worth of surprises and discounts after your 3km qualifying run in March! Join the #VRWC movement today.