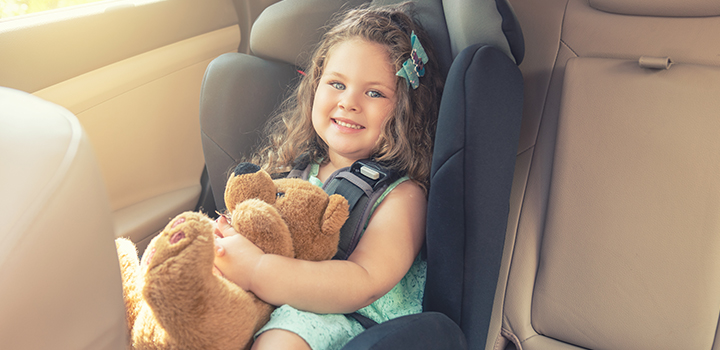 Distract your kids from distracting your driving with these six tips
As a parent, we're sure you already know how much your kids can distract you – be it during a serious conversation with your bestie, or while you're hastily trying to wrap up making dinner. The most dangerous of these distractions, however, is while you're driving.
Not to worry, we've got your back. Here are some tricks to keep them occupied so that you can focus on getting to your destination safely:
Invest in a proper child car seat
If you don't already have one, invest in a proper car seat. The biggest distraction you can have as a parent is when your child isn't secured and moves around in the car. Also make sure that the seat is properly secured and that your child cannot free themselves from the seat at all.
Make sure they're comfortable
Make sure you've seen to their basic needs first to avoid irritability. Dress them appropriately so they don't get too hot or too cold, have a comfy pillow and blankie in case they get tired and snacks and liquids at the ready. Also plan regular potty stops in advance.
Let them choose what to take with
Turn their space into a backseat playground with a backseat organiser. Let them select and pack their choice of books, colouring crayons and their favorite toys from home. Be sure to double check what they've packed to avoid noisy toys in the small confines of the car.
Surprise them
You can even set a surprise goodie bag up for them, which doesn't have to cost a fortune. Get a few snacks, simple toys and activities. Why not include a few healthy homemade snacks such as fruity muffins, seed and almond nut crackers or trail mix.
Consider an audio book
Select an audio book or two for kids that you could play through the cars sound system. These not only give them something entertaining to listen to, it also creates the opportunity for you to chat about the story afterwards.
Manage noise levels
Have a headset ready along with a device that can play music to manage noise levels. If you want to use a headset as the driver, rather consider ambient headsets that still allows you to hear your environment, such as hooting from the truck in the lane next.
If you are a Discovery Insure client with Vitality Drive, you can rest assured that if you were in an accident, your Vitality Drive sensor would immediately notify us through Impact Alert. This safety feature allows us to send emergency help to you.
Discovery Insure at Evelyn's side
Mom of two and insurance broker, Evelyn Sadler, was in a near-fatal accident when Impact Alert made sure that emergency help was dispatched to her when she needed it most.
Discovery drivers are improving SA's road stats
South African roads are among the most dangerous in the world, with almost 90% of accidents caused by bad driving. But Discovery drivers are improving these stats, one behaviour change at a time.