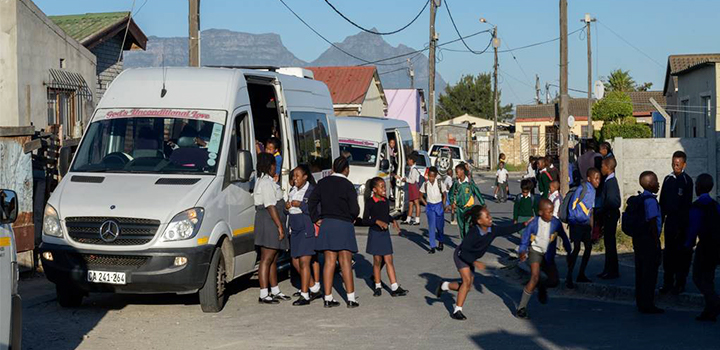 A globally-unique collaboration between Discovery and a paediatrician-initiated child safety NGO is making dramatic inroads on vehicle related trauma and mortality in the Western Cape.
The pilot project, promoting safe travel to school, has recorded no injuries or deaths among its Cape Peninsula pupil commuters for five years running. The transformative technology on which the project is based is the Discovery DQ Track device where data feedback enables drivers to dramatically improve their driving and safety awareness. Each driver's performance behind the wheel is monitored, recorded and analysed - and structured feedback offered. This is supplemented by defensive driving courses, ongoing eye-tests, health screenings and check-ups, and First Aid training.
The site of the NGO, called ChildSafe, is the Red Cross Children's War Memorial hospital in Rondebosch which admits 10 000 children annually for unintentional injuries, most of them car crash victims. It is one of seven tertiary or district State hospitals serving the Cape Peninsula.
According to the World Health Organisation, (WHO), global road traffic injuries world-wide were ninth-ranked in all-cause mortality ratings in 2004 and are projected to rise to the fifth highest cause of death by 2030, one notch higher than HIV/AIDS - if nothing effective is done to stop the scourge. The wider local context emerges from the latest Stats-SA figures – at least 20 million of South Africa's estimated 57 million population are children (aged 0-19).
Over 18,000 school children safely transported
The Safe Travel To School programme, (STTS), could not be more appropriate to South Africa whose roads are today ranked among the most dangerous world-wide. The program is one of several trauma-prevention and life-saving projects of the nationwide Child-Safe outfit, with plans to expand the Eastern Cape, and more populous metropoles in other provinces targeted to follow.
Financially and logistically underpinned by the Discovery Fund, the project came to life in in early 2014 and has grown in five years to more than 800 drivers ferrying 18 000 children between home and school daily. The drivers deliver children safely to mainly primary schools, as well as a few secondary schools for special needs children. Driver routes stretch from Ocean View near False Bay to Worcester 141 km away and encompass Stellenbosch, Paarl, Khayelitsha, Kraaifontein, Elim and Kuils River.
Every quarter, the Discovery Fund rewards the highest scoring drivers with substantial fuel vouchers. Annually, the two top-scorers and four runners-up win a brand new seven-seater transporter each and a total of R50 000 in petrol vouchers respectively. Drivers also benefit from Discovery Insure's relationship with Tiger Wheel and Tyre, securing significant discounts on wheels and shock-absorbers, as well as roadworthy tests.
DQ Tracker produces almost instant results
The results from the initial Safe Travel to School programme monitoring are impressive. A full 27% of drivers on STTS scored perfectly from their first day in the program – including top marks on acceleration, braking, cornering and speeding. This perfect score percentage rose to 37% within months, with 87,7% of drivers scoring above average South African drivers. The programme began in January 2014 with 17 drivers delivering 205 children to school and back home daily, rising by July 2017 to 495 drivers delivering 6 100 children to school and home daily. By early this year the driver numbers had risen to 800 transporting some 18 000 learners - still without a single recorded injury or death.
Tragic level crossing deaths a catalyst
Discovery Insure CEO, Anton Ossip, says the partnership was a perfect fit for the company's founding philosophy, namely to use its unique intellectual property (the DQ Tracker device) to benefit society's most vulnerable communities - in this case children - and to be a force for social good.
"We want to be the best insurer in the world, protecting people's health and improving their lives. If you help solve a real social problem, it's always good business. Assessing and quantifying driver behaviour before the use of driver telematics was always very subjective and much-debated – we've brought science and hard data to the table to enable solutions," Ossip adds.
The Safe Travel to School program will increasingly reduce vehicle-induced death and injury as it expands across the country, giving greater peace of mind to parents, teachers and their precious children.
Discovery Insure at Evelyn's side
Mom of two and insurance broker, Evelyn Sadler, was in a near-fatal accident when Impact Alert made sure that emergency help was dispatched to her when she needed it most.
Discovery drivers are improving SA's road stats
South African roads are among the most dangerous in the world, with almost 90% of accidents caused by bad driving. But Discovery drivers are improving these stats, one behaviour change at a time.