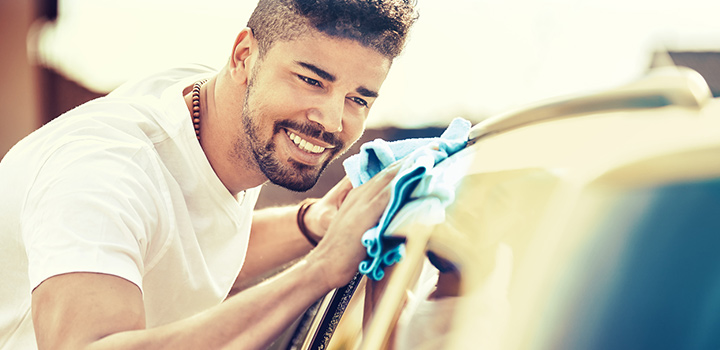 The new season doesn't just mean ushering in the fresh and new for yourself - help your car's health by sprucing it up for the warmer seasons.
Spring is here and it's time to get rid of the stale, and usher in the fresh! Not only is this true for your home, your exercise routine and your health, but also for your car. Winter might have taken its toll on your car's wellbeing, from cracking the windscreen wipers to affecting the battery life.
And, if you live in Gauteng or any other of our wet summer provinces, you'd know that summer means rain without warning. So be ready for the heat and rain by relooking your car's wellbeing this season.
Start with the basics
Although rejuvenating your car could (and should) start with a good clean - both inside and out - there's a little more you can start off with to make sure your car is in tip-top shape throughout the warmer seasons. When last did you get a car service? If not too recently, you might want to:
Check the oil. Completely lost? Just let your nearest fuel station check this for you next time you fill up. Or consider taking your car for an oil service check.
Get ready to have the aircon cranking. You probably didn't use your aircon much - if at all - during the winter. Now's the best time to have it checked.
Remember the battery. Did you know that by simply keeping your vehicle's battery free of debris you're already helping it live a bit longer? You can also have your battery checked by a professional, usually for free. A little bit of effort goes a long way to make sure you don't get stranded in the sweltering heat this summer.
In fact, why not pop in to Tiger Wheel & Tyre and complete their Annual MultiPoint check to make sure you're 100% ready for the road? For as little as R95, you can make sure your car is roadworthy. During this check, Tiger Wheel & Tyre will check your car's service history, tyres, windscreen and windscreen wipers, lights, indicators, seatbelts, steering wheel, hooter, shocks, spare, jack, locknut, wheel spanner and triangle.
Avoid the splatter
Also check on the condition of your car's mud flaps or invest in a set if you don't have already. These help prevent road spray from splattering the vehicle behind you.
Check your windshield wipers
Winter could have been quite harsh on your windscreen wipers, especially if you haven't been using them. It only takes a few minutes to change your wipers, but this simple task can save your life when a summer downpour strikes, so remember to check your wipers for cracks and general wear and tear. While you're at it, get some windshield solvent to help keep your windows clean when it's not raining.
Be tyred to swerve
The harsh dry cold from the winter season may have worn your tyres down without you noticing. Make sure that your tyres are in good condition, with more than 1mm of tread. Summer rains mean slippery roads and there's no better way to deal with this than with a good set of tyres and brakes.
A steer in the right direction
Speaking of dealing with summer rain, be sure to check your car's power-steering fluid since low steering fluid can make steering difficult. Keeping the fluid clean can also keep your power-steering system from failing altogether.
Knock your shocks off
You might take your suspension system for granted, but once again, a cold winter might have been quite harsh on these parts. Have these checked out - and along with a good set of tyres and brakes, your shock-absorbers will make a world of difference in being able to control your vehicle this summer.
Your safety is Discovery Insure's priority
If, despite all your precautions, you happen to be in an accident, Discovery Insure's ImpactAlert will come to your rescue. This safety feature detects when you're in an accident and alerts our 24-hour call centre immediately, allowing us to send emergency assistance to you.
Did you know? You get SMS warnings of approaching bad weather with Discovery Insure to help avoid getting stuck in a rain or hail storm this summer.