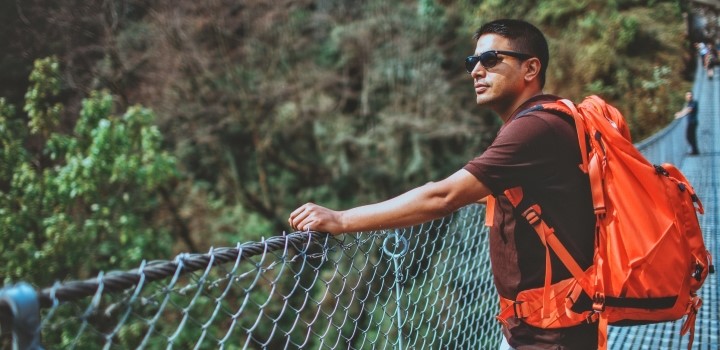 Joining and participating in Discovery's Diabetes Care Programme has helped Neil Packery to go from needing between 35 and 40 units of insulin a day to needing only 10 to 15 units a day to achieve healthy blood sugar levels. For someone who has lived with poorly controlled diabetes since age 22, this has given a significant boost to his health.
On 11 January 2020, Neil celebrated his 49th birthday with friends. "While we were having a few drinks I noticed that my left leg had begun to swell," he says.
Neil was admitted to hospital and three days later his left leg was amputated below the knee, due to a serious infection that he had acquired in his foot. Neil had lost feeling in his foot before the swelling started, which is typical of the damage to nerves (called peripheral neuropathy) that diabetes can cause in the feet and other areas of the body. Neil had not noticed any pain or other warning sign of the infection before the swelling started.
The International Diabetes Federation (IDF) reports that people with diabetes are at high risk of developing infections. Diabetic foot and lower limb complications affect between 40 and 60 million people who have diabetes globally. People with diabetes carry a risk of amputation that may be more than 25 times greater than that of people without diabetes.
According to the IDF in almost all high-income countries, diabetes is a leading cause of heart and artery disease, blindness, kidney failure, and lower limb amputation. Also, people who live with diabetes have an increased risk of developing a number of serious health problems as consistently high blood glucose levels can lead to serious diseases affecting the heart and blood vessels, eyes, kidneys, nerves and teeth.
"Fortunately the other foot is fine," Neil says. He injects himself with insulin every morning and every evening. He also quit smoking six months ago, which he feels has made a massive difference to his wellbeing, and to controlling his diabetes.
Neil joins the Discovery Health Diabetes Care programme
Once Discovery Health Medical Scheme members have registered their condition on the Chronic Illness Benefit, their Premier Plus GP can register them on the Diabetes Care Programme, which is designed to offer additional cover and support for people who have diabetes. This includes cover for:

One additional consultation with a dietitian each year (in addition to the consultation covered through the Chronic Illness Benefit)
One consultation with a biokineticist a year
A diabetes coach (for qualifying members)
And, on the Discovery app:

A personalised Diabetes Management Scorecard
Active Rewards – find out more about this
Neil's diabetes management begins to take a turn for the better
This year, Neil has managed to go from needing between 35 and 40 units of insulin a day to needing only 10 to 15 units a day to achieve healthy blood sugar levels.
"The Diabetes Care Programme has been very helpful in keeping me on track with visits to my GP. I last saw him in mid August and he has said I only need to see him again in six months' time as he is very happy with my blood sugar and cholesterol levels, which we have monitored for the past three months," says Neil.
"I feel good. I am at a healthy weight. I feel stronger than I did before my amputation and have enough energy to keep me going the whole day."
Neil does exercises given to him by his physiotherapist to strengthen the whole body for an hour every morning.
For years, Neil ignored the need to make serious lifestyle changes
Neil, who is based in Lenasia in Gauteng, works in a family business that manufactures components for bedding and mattresses. He was diagnosed with type 2 diabetes when he was 22 years old. He wasn't surprised by the diagnosis as his father, brother and sister and many members of his father's family all live with type 2 diabetes.
Just before his diagnosis, Neil had begun to experience blurred vision and constant thirst, typical symptoms of diabetes. He was officially diagnosed on a day when he began to feel very weak and was rushed to hospital. "My blood sugar was found to be extremely high," he says. "At first I was put onto oral medicine and later went onto twice-a-day (morning and evening) insulin injections.
What has having diabetes taught Neil?
Looking back on almost 30 years of dealing with the condition, he has this advice for others who might be putting themselves at risk of developing diabetes: "I knew that I had diabetes but ignored the fact that I needed to make serious lifestyle changes. I continued to work under extreme pressure and not take care of my stress levels. I smoked thousands of cigarettes and lived on coffee for years, and my diabetes worsened. I did change my diet somewhat and moved away from eating fried foods and curries and more towards baked and boiled foods but I didn't do enough overall. This ultimately led to me losing my leg."
"I urge others who are living lifestyles that put them at risk of type 2 diabetes to make the changes needed to reverse this trajectory. Diabetes is such a serious illness if uncontrolled. And for those who have been diagnosed with type 2 diabetes, I want to emphasise to immediately follow the rules – make changes to your diet, quit smoking, start exercising and lose weight and do it all immediately. You can choose between diabetes becoming a serious, unmanaged illness and perhaps losing a limb like I did, or turning into a manageable illness that you can live with and control through healthy habits. But you must not neglect yourself or your health."
Discovery Health Medical Scheme, registration number 1125, administered by Discovery Health (Pty) Ltd, registration number 1997/013480/07, an authorised financial services provider and administrator of medical schemes. Vitality is a separate wellness product, sold and administered by Discovery Vitality (Pty) Ltd, registration number 1999/007736/07. Limits, terms and conditions apply.
Here for you, here for your health
Feel reassured that you're not alone if you are living with diabetes. The Diabetes Care Programme gives you access to enhanced support and additional benefits to best manage your condition.
To learn more about the Diabetes Care Programme watch this video.


Diabetes Care gives you extra help for diabetes
If you have diabetes, you have to keep measuring your blood sugar and taking your medicine. The Chronic Illness Benefit helps with the basics, but Diabetes Care gives you and your Premier Plus GP access to more tools and benefits to give you the best support and health outcomes.