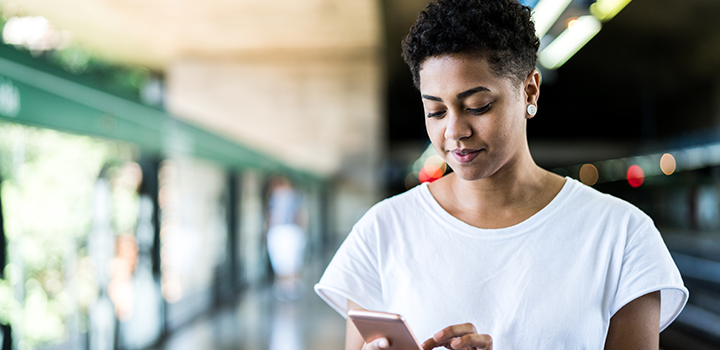 In today's tech-savvy world you want your medical aid to keep up with technology, your schedule, and how you prefer to do things. We've enhanced what our website and app can do for you for fast, convenient service, whenever and wherever you need it.
You can instantly submit claims and find a healthcare provider in our network. You can track your health and medicine, and check your symptoms if your doctor isn't available. If you're on the website, our "Ask Discovery" service bot can answer your questions, or take you to the information you need any time, day or night. We are bringing the digital healthcare journey to your fingertips.
Here are a few of the features that will make managing your health and your plan even more convenient for you:
What do you call a service agent who can find information for you and never needs to sleep? A service bot. On the website, Ask Discovery is always available to quickly answer your questions or help you find a document.
Find a healthcare provider
If you recently searched for a doctor or hospital in our network, or just the closest pharmacy, you might have noticed that this feature has a new look. It also does more. You can search for a doctor and see which ones are in our network, see doctors' practice information, and get directions to their offices.
Send your claims
You no longer need a scanner to scan your claim. The Scan function in the app now lets you use your smartphone's camera as your scanner. You can still send us a photo of the bill instead, if you prefer. You don't have to send us a claim if the healthcare provider is part of our network.
Track your health
Living healthier has never been more rewarding. Qualifying members get rewarded for achieving personal health goals such as going for recommended health checks, exercising and taking their medicine as directed.
Check your symptoms
DrConnect helps you to get trusted doctor's advice if you can't visit a GP right away. While this app has always used state-of-the-art technology, it now uses artificial intelligence to give possible diagnoses and treatment recommendations. It also lets you arrange a virtual consultation with participating doctors. DrConnect cannot replace visiting a doctor.
Track your medicine
Your chronic medicine works best if you take it every day at about the same time. Our medicine tracker helps you to remember to take your medicine, refill your prescription, and visit your doctor for a new script when your prescription runs out. This feature is only available on the Discovery app.
If you haven't yet, download the Discovery app today!
With the Discovery app you can do so much more such as giving healthcare providers consent to view your health records, requesting hospital preauthorisation, viewing your benefits and accessing important membership information.
Download the Discovery app today
The Discovery app is for anyone that has at least one active Discovery product. To use the app, you must be registered on the Discovery website. You will use the same username and password for this app as for the Discovery website. If you are not yet registered on the Discovery website, register now.
Download the app
Discovery Health Medical Scheme is an independent non-profit entity governed by the Medical Schemes Act and regulated by the Council for Medical Schemes. It is administered by a separate company, Discovery Health (Pty) Ltd, an authorised financial services provider.