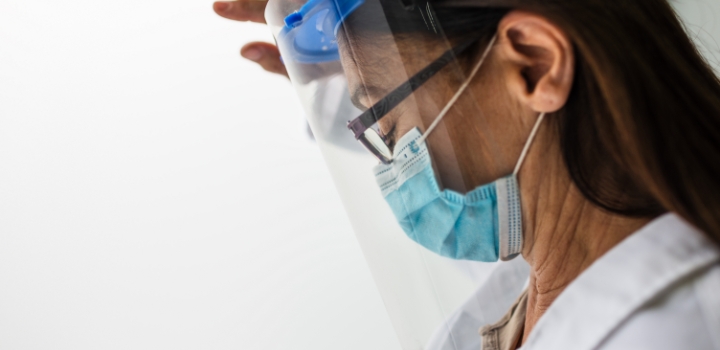 Healthcare workers, who are trained to ease suffering and save lives, feel hopeless when they see pain, distress and death daily and can do very little to help. After a while it's debilitating, and it can easily overwhelm them.
In this moving video, we see just how the COVID-19 pandemic has emotionally wounded and stressed healthcare workers, resulting in breakdowns and burnout. It also shows how a tight-knit group of compassionate colleagues pulled together to give pragmatic, mitigating care:
These frontline healthcare professionals know the toll that interactions with suffering, dying patients and grieving relatives can take. This is why they set up the Healthcare Workers Care Network (HCWCN), offering free counselling and advice to their colleagues.
The Healthcare Workers Care Network helps to fight breakdowns and burnout
Healthcare professionals found themselves drowning in the first wave of patients for whom effective treatment had yet to evolve, with dozens of patients dying before their eyes. They felt anxious and desperate when their efforts proved futile.
Dr Antoinette Miric, a psychiatrist coordinator with the HCWCN recalls, "Initially a lot of people were dying. And healthcare workers suffered the distress of having to deal with something that was out of their control."
Dr Caroline Lee, an anaesthetist who is a co-founder and national coordinator of the HCWCN, gets tearful remembering, "It's watching people dying and not being able to do anything about it. You almost build a wall around your heart so that you don't feel hurt every time, you know?"
Turning point in the crisis for Dr Lee
Here's what happened to instil a steely resolve in Dr Lee and address what was becoming a psychological crisis for her and her co-workers.
The pivotal moment came in early 2020 while trying to save her first, gasping COVID-19 ICU patient. She was busy intubating the patient (placing the patient on a ventilator) while struggling to make herself heard through her protective outfit - and the patient was trying to reply through his oxygen mask.
"There was all this noise. Eventually, I said to him, 'I'm sorry I can't hear you, but just know I will help you.' The last thing he said to me before dying was 'I can't breathe'. The next morning, I was told I'd actually worked with him for 21 years! I didn't even recognise him. That's how de-personalising being in ICU was. He was the first healthcare worker to die in our tent. Maybe it was a good introduction, because the rest of the way was just like that - every day," she confides.
Dr Lee adds, "I don't think I'd ever experienced anything like that. And then you have to keep going. But you know what? You get thrown in the deep end and you cry your heart out, you break down and then you realise: OK, I'm picking up the pieces, now I need to go on".
This was going to be a trauma that affected the entire community, but specifically the healthcare workers. I wanted to make a difference to the healthcare workers, because being on the front-line, I see the trauma they go through. I see the pain they go through. So, for me, it's almost even more important to make sure the healthcare workers are looked after."
Dr Alicia Porter, a psychiatrist and HCWCN coordinator, says there are three responses to a pandemic like COVID-19: economic, medical and psychological. The last often forgotten.
This is when mental healthcare professionals stepped up
Dr Miric says that the HCWCN initially ran training courses to help groups of people cope and develop resilience, but then realised that many people needed individual counselling. Dr Lee and her colleagues called around and within months, they had 500 volunteers. They had psychologists, psychiatrists and social workers offering their services for free.
"We've had over 300 healthcare workers reach out and have provided about 400 hours of therapy," she says proudly.
One volunteer, psychologist Nthopele Mabandla, says, "Day after day, healthcare workers are almost under siege or committing suicide, or they are suffering burnout, fatigue, anxiety and depression. It's the sheer horror of what the pandemic is doing to everybody."
Online courses were offered to the counsellors to help them understand the public healthcare model with theories of how to help, all based on a trauma model.
Dr Lee adds, "You not only spend so much time and love and give so much at work, you have to go home and look after your own family. There's so much pulling in all directions in their lives, I don't think any of us who are not in their shoes, really know."
Discovery Health wants to recognise and applaud all healthcare workers on the frontlines of the COVID-19 pandemic. Find more hope-giving examples of resilience, innovation and thought leadership in South Africa's healthcare sector here.