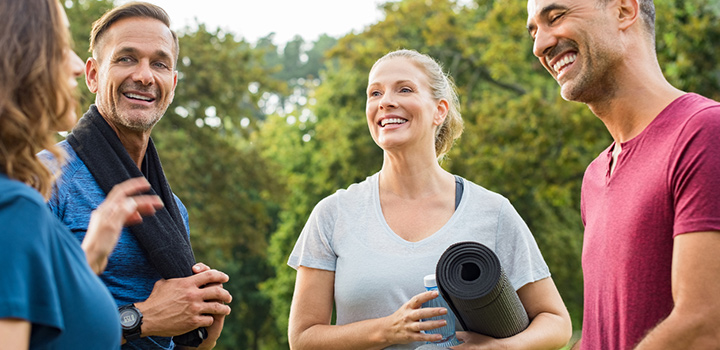 This June, we're celebrating Youth Day by encouraging youthfulness through a holistic approach to your wellbeing. Here's a 40-something's guide to managing your diet, exercise and health.
The American writer Harold Coffin once quipped, "Middle age is that awkward time when Father Time catches up with Mother Nature!" If you're settled enough to maintain healthy routines, that's great. But if you're feeling stuck in a rut - don't despair. Being adventurous in your diet and exercise regime could open up new and exciting vistas.
While it may take more planning and creativity than before, prioritising your health is well worth the effort in the long run. We asked some experts for guidelines on how to enjoy your best health in your 40s, and here's what they had to say.
Shop and eat smart as your energy needs lessen
"As you age, you're likely to pick up weight more easily because your energy needs lessen as you lose muscle mass, or because of hormonal changes" says Candice Smith, Head of Vitality's Nutrition Strategy. These are her diet tips for 40-somethings:
Control your intake by choosing nutrient-dense foods most of the time, and avoid processed foods high in saturated fats and added sugar.
Eat oily fish (such as salmon, mackerel, and sardines) at least twice a week to reduce your chances of developing heart disease and to slow down cognitive decline. Here's a delicious recipe from the Vitality HealthyFood Studio for Sicilian-style fish balls in tomato sauce.
Keep your salt intake to less than a teaspoon a day. Eating too much salt increases your risk for high blood pressure, and consequently for heart attacks and strokes. Cut down on sodium-rich foods, like cured meats, crisps and salty snacks, and opt for potassium-rich fruits and veggies instead, which support your kidneys and normalise blood pressure.
Shop smart by learning to read nutritional labels, as salt and sugar are often hidden in everyday items like bread, sauces, and ready-made meals.
If you're a woman and menopausal, include enough calcium-rich foods in your diet as you're at increased risk for developing osteoporosis (weak and brittle bones).
If you drink alcohol, moderation is key. Too much can lead to unwanted weight gain and increase your risk for developing high blood pressure, heart disease and certain cancers.
Exercise offers the energy and confidence to cope with stress
Changes in your hormones, a slower metabolism and fat gain (especially around the waist) is common in the 40s, says Mari Leach, a biokineticist at Discovery Vitality. Here are her top workout tips:
Weight-training should be done at least three times a week (even for women, as it becomes more important in preventing the onset of osteoporosis). Do 8 to 12 reps of multi-muscle exercises.
The risk of injury is higher in this age group, so make sure you have good form - even if it takes you longer. Allow adequate recovery between sessions.
Keep up cardiovascular training for 20 to 60 minutes per session, three times a week at a moderate to vigorous intensity.
Need an emotional boost? Make time in your calendar for regular sessions. Endorphins get released during exercise that can help with feelings of depression, anxiety and sadness.
If you're unfamiliar with a specific exercise, or are unsure of suitable exercises for your age, ask a biokineticist or personal trainer for assistance.
Leach adds, "Staying active can add years to your life. A combination of cardio, strength and balance training can help maintain muscle tone and make everyday tasks easier. Plus, with regular exercise, you'll likely have more energy, confidence and cope better with the daily stresses of life."
Keep an eye on your risk profile with preventive screenings
We asked Dr Deepak Patel, Principal Clinical Specialist at Discovery Vitality, how 40-somethings can keep an eye on their health status. He suggests the following screenings as some of the preventive measures you can take:
Recommended screening
Frequency
Top health tip
Dental check-up
Once a year
Your 40s are a time to consider your family history and risk profile, in case there are any health screenings you should start earlier than usual.
Women in their 40s can talk to their doctors about when to start breast cancer screenings and how often to get a mammogram.
Men at high risk (for example, those with a first-degree relatives who had prostate cancer at an early age) can also start screening in their mid-40s. Note that for reasons that aren't well understood, black men have a higher risk of developing and prostate cancer.
HIV test
Once a year
Flu vaccination
Once a year
Pap smear (women only)
Once every three years
Prostrate exam (men only)
Once every four years
Former First Lady in the US Eleanor Roosevelt once remarked, "Probably the happiest period in life most frequently is in middle age, when the eager passions of youth are cooled, and the infirmities of age not yet begun; as we see that the shadows, which are at morning and evening so large, almost entirely disappear at midday."
With that inspiration in mind, keep infirmity at bay and fully enjoy all this decade has to offer by prioritising your health and wellbeing!
Now have a look at these tips to stay healthy and youthful in any decade:
Your Vitality Age is a measure of how healthy you are relative to your actual age.
It measures all aspects of your wellness like exercise, nutrition and stress. Plus, completing the assessment can earn you 2 500 Vitality points!
By finding out your Vitality Age and doing a Vitality Health Check you will increase your cash back on HealthyFood at Pick n Pay or Woolworths and HealthyCare at Clicks or Dis-Chem. Find out today.
Age backwards with Vitality!
10 ways to eat better every day
Finding it difficult to keep up a healthy diet? Try these 10 easy-to-remember hacks to help make healthy eating consistently achievable and fun!