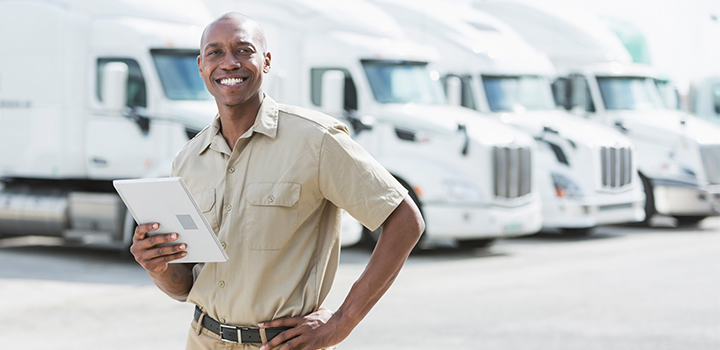 It makes perfect business sense to have in place a regularly run fleet maintenance management system. It has a direct influence on how smoothly a business can run – and that ultimately has an impact on the bottom line.
Fleet maintenance is all about preserving the condition of the vehicles you use for business purposes. Keeping these assets in tip-top condition is an integral part of maintaining business processes.
A maintenance hiccup (unscheduled downtime) could result in interruptions that ultimately cost your business valuable time and money. Such losses impede the ability for growth, so having a smoothly run fleet maintenance plan stands to benefit the overall productivity of a business.
So, what does fleet maintenance entail?
A maintenance management system should factor in two key areas – a proactive and reactive approach:
Proactive: Preventative maintenance needs
By regularly checking the condition of business vehicles, the likelihood of adhoc repairs or breakdowns can be reduced. This helps to minimise the need for emergency expenditures, which can become costly. Preventative maintenance can be conducted annually or according to vehicle mileage – whichever best serves a business's purposes while keeping vehicles in good condition.
Reactive: Immediate / emergency maintenance needs
This helps to take care of problems as they arise. Having a plan to take care of immediate needs allows for necessary fixing to be done as needed so that the usual flow of work can be resumed within a short period of time. Having regular preventative maintenance can help reduce the frequency of emergency maintenance and save money over the long term.
How regular fleet maintenance saves you in the long run
Fleet maintenance done well has the following benefits for a business:
Extends the lifespan of business vehicles
Proactive maintenance of the mechanical function of vehicles ensures that fewer breakdowns occur. This helps to reduce the need for repair downtime. The longer a vehicle is in for repair and not operating, the more opportunity is lost to conduct business and make money. Regular maintenance is like a health check for business vehicles – ensuring that they are always in roadworthy condition and perform as they are supposed to.
A well-maintained vehicle means that its lifespan can be extended and can better serve business objectives more often, without incurring additional, oftentimes unplanned, costs. Certain problems requiring attention can also be picked up early and repaired sooner. Preventative measures are thus a better investment for business, where money is spent productively without experiencing unnecessary losses.
Reduces operating costs
Vehicles that are well serviced and maintained are more roadworthy and thus, less likely to be involved in road accidents as a result of mechanical faults or electrical failure. This can quickly accumulate additional costs including vehicle repairs, legal expenses, productivity losses, medical care for staff or even property damage expenses and the cost of damaged products.
This, in turn, has an impact on car insurance cover as businesses with fewer claims can pay lower premiums and cover remains affordable for them.
Ensure safety of drivers
It goes without saying that vehicles in good working order are in a safer condition to be driven. By ensuring that vehicles are in their best operational condition, risk for mechanical or electrical related accidents can be significantly reduced.
Maintenance checks ensure that things like tyres are always in good condition too, thereby avoiding blowouts while on the road. Steering and suspension problems can also be avoided with regular checks, and this can avoid unnecessary road accidents and keep drivers safe. Such risks are, in essence, preventable.
Enhances business productivity
Interruptions to business operations means that requirements and objectives aren't fulfilled as needed. Deliveries or appointments which may be missed or have to be rescheduled due to interruption can have an impact on the overall product or service delivery of a business.
Failure to fulfil these obligations due to interruptions which could have been better prevented can ultimately impact customer relations and brand reputation.
Customer retention
If a business develops a reputation for non-delivery of product or service expectations, this can have a negative impact on its customer base. If customers or suppliers begin to distrust a business, they could look to competitors for better service.
Customers can become the fall-out consequence of poor maintenance operations if a business's focus is more consistently on "fixing what's broken" than establishing growth and a favourable reputation within its respective market.
How to save more with proper maintenance
Maintaining business vehicles doesn't come without a cost. The costs of replacing vehicle parts such as tyres can quickly add up. A proactive approach to vehicle maintenance minimises unnecessary business interruptions, but what if you could save on these costs by driving well?
Discovery Business Insurance clients with vehicles on the Vitality Drive for Business programme, can get up to 50% discount on any purchases at Tiger Wheel & Tyre such as tyres, batteries and wiper blades. This discount is limited to a maximum spend of R5 000 per vehicle.
Savings like this free up extra cash which can be better utilised for growing your business.
Read our information document for more details about this benefit.
Read more
About business insurance from Discovery
We understand that different businesses have different needs. That's why we give you comprehensive, yet flexible, insurance cover that is tailored to your business and considers the business risks you face in a modern, fast-paced world. You'll get business insurance that is driven by technology and built on a model that shares value for managing your business well. Through our partnership with Endeavor South Africa you'll have access to a diagnostic tool that will help you identify key areas of development so that you can grow your business. In addition, you will get access to service providers, at a preferential rate, who can help your business develop in the right direction. To find out more, speak to your broker or contact us and we will help you.