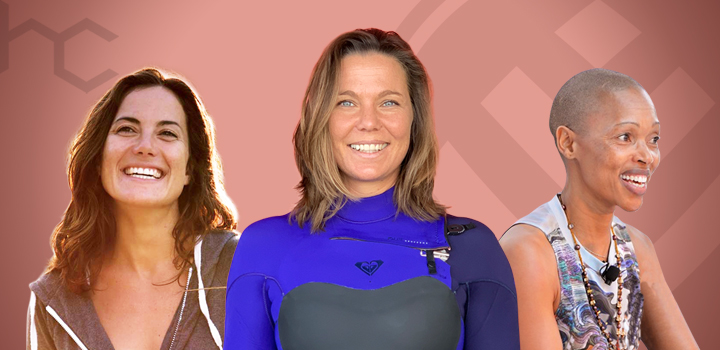 'Discovery Business Insurance and Heavy Chef are hosting a series of Inspire Sessions for entrepreneurs. Next up on our panel are three exceptional women, Roxy Davis, Hanli Prinsloo and Sizakele Marutlulle.
The latest learning experience for entrepreneurs will take place on 22 August 2019 at Workshop 17 at the V&A Waterfront in Cape Town. Under the theme: The Champions, you'll get to meet three women who will share more about their experiences in competitive sport and business to 'Inspire' further learning and development.
Meet the inspirational women
Roxy Davis is a nine-time South African Surfing Champion, professional surf coach, business owner, mother, and founder of the Roxy Davis Foundation.
Hanli Prinsloo is a competitive freediver and holder of 11 national freediving records.
Sizakele Marutlulle is the CEO and Founder of Marutlulle & Co, and an award-winning business pioneer.
You'll get to hear the inspiring stories of three champions as event host, Fred Roed, speaks to Roxy and Hanli about grit and what it takes to become a champion. Sizakele will also share her entrepreneurial journey that started in the early 90s. She will wrap up this session by leading a panel discussion with Hanli and Roxy as the three women take questions from the audience.
Book now to meet The Champions
Date: 22 August 2019, Thursday
Time: 18:00 to 20:30
Place: Workshop 17, 17 Dock Road, V&A Waterfront, Cape Town
Tickets are limited.
Don't miss this 'Inspire' session focused on extraordinary women, resilience and how to push through to business success.
About 'Inspire' sessions
We are inviting all innovators and disruptors to these evening experiences to see the greatest technologists, leaders and creatives in action. A limited number of tickets are available. For more information, visit Heavy Chef here.
Seats for events are limited. Books will be for sale at these events. A recording of each session will be available to watch after the event.
About business insurance from Discovery
We understand that different businesses have different needs. That's why we give you comprehensive, yet flexible, insurance cover that is tailored to your business and considers the business risks you face in a modern, fast-paced world. You'll get business insurance that is driven by technology and built on a model that shares value for managing your business well. Through our partnership with Endeavor South Africa you'll have access to a diagnostic tool that will help you identify key areas of development so that you can grow your business. In addition, you will get access to service providers, at a preferential rate, who can help your business develop in the right direction. To find out more, speak to your broker or contact us and we will help you.