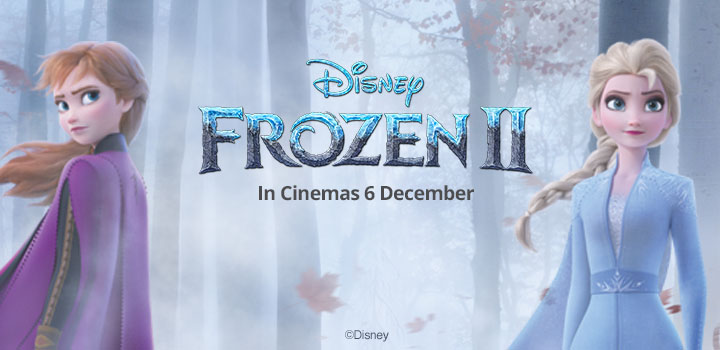 Inspired by Disney's Frozen 2, try these great tips and tricks for making healthy, nutritious meals using frozen ingredients. Discovery Vitality and Disney celebrating healthy, happy families.
Olaf's nose isn't the only part of his body that makes a healthy treat. Did you know frozen food can be healthy, too?
With summer beaming on the horizon, now is a great time to learn how to make healthy frozen treats, like frozen smoothies, fruity popsicles, healthy snow cones and more. It's also a good idea to stock up on healthy frozen ingredients for those lazy-crazy-hazy days of summer when you don't feel like cooking.
Eat healthily as a family and WIN with Disney's Frozen 2
This summer, Discovery Vitality and Disney are celebrating healthy, happy families by giving you a chance to win an avalanche of prizes in our final competition for 2019. Inspired by Disney's Frozen 2, you can stand a chance to win one of five Frozen 2 hampers to the value of R5 000 each or one magical Frozen 2 Castle also worth R5 000. To win, all you have to do is start eating more healthily as a family.
Dietitian-approved frozen food ideas for summer
Discovery Vitality dietitian Terry Harris says frozen meals can be healthy, as long as you use healthy ingredients. "The more whole, plant-based foods you can include in your diet, the better for your health," she says.
If you're ready to embrace healthy eating this summer, try Terry's simple ideas on how to make nutritious meals and treats using frozen ingredients.
Fruit and vegetables
"If you have a blender and like making your own smoothies, try mixing in more whole vegetables to boost the health benefits. Steam carrots, beetroot, baby spinach or kale and freeze in ice trays. Add a few of blocks of frozen vegetables in with your favourite fruit smoothie," Terry says.
"Breakfast isn't breakfast without fruit! The next time you make oats, top it with a handful of frozen berries or prepare a smoothie with a ripe frozen banana and plain yoghurt," she adds.
Her other tips include:
Keep frozen veggies at hand for a healthy addition to a meal.
Favour fruit-filled desserts - ones made with fresh fruits, not syrup-laden ones from a can. Healthier dessert ideas include frozen grapes and a few pieces of dark chocolate or serve frozen berries stirred through plain smooth cottage cheese and a few drops of vanilla essence.
Legumes and pulses
"Legumes and pulses are hailed as planet-friendly nutrition powerhouses, but let's face it - they can be very time consuming to prepare," Terry says.
To freeze cooked beans for later use, immerse them in cold water until cool, then drain well and freeze.
Freeze puréed beans in ice trays and use to thicken soups or stews.
Cooked beans can be refrigerated for at least four days and frozen for up to a year without loss of quality.
Whole grains, nuts and seeds
Terry's advice is to buy whole grains, nuts and seeds in bulk:
Cook quinoa, bulgur wheat and brown rice in advance and freeze in small portions to add to a meal.
Prepare soups and stews with a handful of barley or quinoa in bulk and freeze.
Store nuts and seeds in an airtight container in the freezer to keep them fresh.
"You will always have healthy ingredients at hand to top your roasted veggies with, such as whole wheat couscous, pumpkin seeds and sunflower seeds," she says. "Sprinkle sesame seeds over your Asian-style salads, add poppy and flax seeds in homemade muffins and breads, and make simple chia-seed puddings for breakfast. Put cashew nuts in Indian-style curries and biriyanis, chopped walnuts, hazelnuts and pecan nuts over your porridge, and all of it in your granola mix or snack box!"
"There are many ways to make meals healthier in little ways, without changing things too drastically, but the more you practise tips like these, the more natural it'll become - and the healthier your meals will be," Terry concludes. "So, stock up on plant-based ingredients, ponder these ideas, and let your creativity run free!"
Hot ideas for frozen treats from around the web
Feeling adventurous? Why not try making these yummy, healthy recipes for frozen meals and treats at home?
Why your kids need healthier options when eating out
The typical kids meal at restaurants is generally just one that's half the portion size of an adult meal, with a fruit juice and occasional plastic toy thrown in. But with obesity rates of South African kids rising, here's why that needs to change.