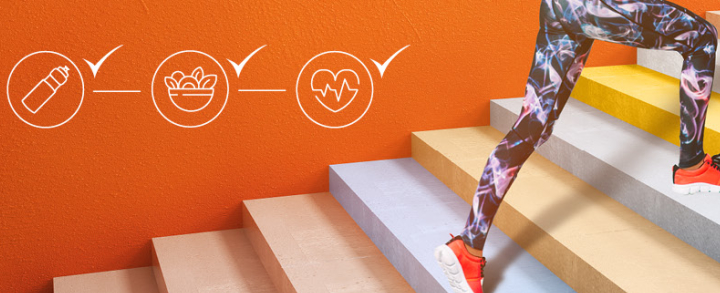 The Vitality health programme encourages and rewards you for living well. Here are your contributions for 2019, as well as general updates for next year.
Your contributions for 2019
The Vitality / KeyFIT monthly membership contributions for next year are as follows:
Vitality
Member
R285
Member +1
R342
Member +2
R385
Other Vitality rates
Gym activation fee
TThe once-off activation fee will be R799 until the end of March 2019. Thereafter, you will pay one months' retail rate equivalent to your membership contract. This rate will change depending on which Virgin Active or Planet Fitness health club you choose to join.
Vitality Health Check
Up to R229
Vitality Fitness Assessment
R425
Vitality High Performance Fitness Assessment
R425
Team Vitality

Team Vitality running membership: R375
Team Vitality running membership including a licence: R475
Team Vitality cycling membership: R850
Running and cycling membership: R1 225
Running and cycling membership including a running licence: R1 325

Booster benefits

Shoe Booster activation fee: R375
Bike Booster activation fee: R850
Device Booster activation fee: FREE

Discovery flight booking fees

Local and regional flights with British Airways (Operated by Comair) and kulula.com:
21 days + in advance: R55
7-20 days in advance: R80 (unless your Vitality saving is less than R80, in which case we will lower the booking fee)
Less than 7 days in advance: R99 (unless your Vitality saving is less than R99, in which case we will lower the booking fee)
International flights with Emirates, British Airways International and Qantas: R385
Product Updates
Here are some updates you need to be aware of for 2019:
1: Points for tracking step activity
From January, you will earn up to 1 200 Vitality points every month by tracking step activity. All step activity will continue to count towards your Vitality Active Rewards goals. You can also earn Vitality points for fitness activities by participating in a free parkrun or myrun, going to gym and tracking activity with a fitness device.
2: Device updates
To ensure we offer you a seamless experience when earning Vitality fitness points by getting active we are discontinuing integration with iHealth, Misfit and TomTom from the Vitality programme. This will be effective from January 2019.
If you are currently linked to one of these devices we will continue to allocate points for your workout data but no new users will be able to link their accounts to Discovery Vitality from January.
4: Travel updates
From 01 January 2019, Discovery Vitality members with a Discovery credit card will no longer be able to convert their Discovery Miles into British Airways Avios or SAA Voyager Miles. Credit cardholders will still be able to use their Discovery Miles to pay for flights, accommodation and car hire. We also have some exciting travel updates for 2019. You can find out more here.
5: Vitality Baby 10% discount partners
Next year, Vitality Baby members will continue to enjoy a 10% discount on selected items at Toys R Us and Babies R Us, as well as up to 25% back on selected nappies and other baby essentials with the HealthyCare benefit at Clicks and Dis-Chem. Members will no longer receive the 10% discount on selected items at AZee baby, Born Fabulous and takealot.com.
6: Rewards for stopping smoking
From 1 January you will earn up to 25% back when participating in our new smoking cessation programme, GoSmokeFree, through selected Clicks or Dis-Chem pharmacies. The programme as well as certain smoking cessation aids will be included as part of the HealthyCare catalogue. You can still enjoy an 80% discount for participating in Allan Carr's Easyway to Stop Smoking programme.
7: Earning points with Run/Walk For Life
The Vitality Run/Walk For Life benefit will come to an end on 31 December 2018 as both companies pursue their individual strategies. From 1 January 2019, you can still earn up to 300 Vitality points for every Run/Walk For Life event you complete, however, you'll have to join Run/Walk For Life as a self-paid member to qualify.
Some of these rates may change during the course of 2019. You will be advised before this happens. Please keep visiting the website to stay up to date on specific 2019 rates and updates.