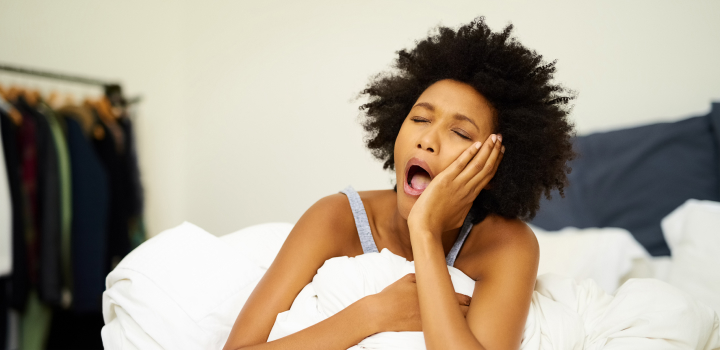 Running World Cup or morning cuppa? Whatever your reason is for running, here are five handy tips from a Vitality fitness expert to help you get into a morning routine that works for you, just in time for the Vitality Running World Cup.
We all know that fitting exercise into your day rarely works when it's a vague plan to "see how the day pans out" and "take it from there". Once your day gets going, your schedule fills up naturally and hours later, you go to bed feeling like you should have made time to exercise.
Even if you don't think you're a morning person, getting your exercise done first thing is the best way to create positive habits that'll last a lifetime. Ask anyone who's risen early on a Saturday or Sunday to do a parkrun or myrun or compete in the Vitality Run Series. They'll quickly tell you how amazing they feel after conquering a run early in the morning.
There's even more. Vitality members who complete the parkrun and myrun get 300 Vitality points per event and for the Vitality Run Series, members get the usual race event points as well as 500 bonus points. Learn more about Vitality points here.
3 benefits to training in the morning
Discovery Vitality biokineticist Mari Leach says exercise boosts your metabolism. "When you put in a solid exercise session in the morning, you'll burn more kilojoules throughout your day which can help you lose weight faster."
It also helps you develop self-discipline. "Scheduling a workout session in the afternoon or evening makes it easier to procrastinate or cancel; your day can fill up quickly and other priorities take preference," Mari says. "When you work out in the morning, you prioritise your health, and exercise becomes one less thing on your to-do list that day."
What's more, exercise helps lower stress and anxiety. "Exercise can lift your spirits," Mari explains. "When you start exerting yourself, your body releases hormones that regulate your mood, energy, motivation and attention. It also releases endorphins, which help relieve pain, stress and anxiety."
Sold on the benefits of running in the morning? Try Mari's advice on how to develop a morning exercise routine.
5 tips to get running in the morning
Go to bed earlier. Lying in bed isn't good enough if you're still watching or reading something, even if your blue light filter is on. Make sure your bedroom is as dark and quiet as you can manage, try clear your mind, and take a few deep, full breaths to help you drift off faster.
Set out your exercise clothes the night before to get going more quickly in the morning.
Don't snooze. Put your alarm on the other side of the room, forcing you to get up from bed to switch it off. When it wakes you, don't lie there debating whether or not to get up. The less you think about it, the better! Just heave yourself up and go, you'll feel much better afterwards.
Warm up properly at the start of your morning training session as your body temperature will be lower than in the afternoon.
Make your morning session something fun like running with a friend or in a group, walking your dog, or doing a parkrun or myrun on weekends with your entire family (or your dog).
Plus, when you join a community of runners, you'll be more motivated to get up and run in the mornings. Groups support and hold each other accountable, come rain or shine, and celebrate the good times together. Runners can even become family, as Kori Seshoene found when he joined Team Vitality.
So, give a morning routine a shot for three months and surprise yourself with how quickly it becomes a happy norm. If you're still looking for motivation to get moving, why not join the Vitality Running World Cup?
You can help SA win the Vitality Running World Cup
The Vitality Running World Cup is an annual free-to-enter, knockout, global running competition that gives everyone the chance to represent their country. It starts on 5 March 2020 and is open to everyone over 13, whoever you are, wherever you are, whatever your fitness level.
To sign up for FREE, go to www.runningworldcup.com.
Link an approved fitness app or fitness device to your profile.
Join in teams or build your running tribe.
Run or jog at least 3 km within 30 minutes to run for your country to qualify and earn yourself a goody bag with over $100 worth of surprises and discounts.
You don't need to be a Discovery client or Vitality member to join. The Vitality Running World Cup is about mass participation and everyone is welcome – so sign up to start your mornings with national pride by running for South Africa this year!
Are you a social runner, enthusiast, or keen to become either one?
Team Vitality is South Africa's most popular running community and club. We help you get fit, save money and connect with like-minded people, whether you're a seasoned veteran, or just starting out.
Join Team Vitality and get 50% cash back on registration entry fees for selected events, PLUS, you'll have access to our VIP hospitality at certain events on the Team Vitality race calendar!