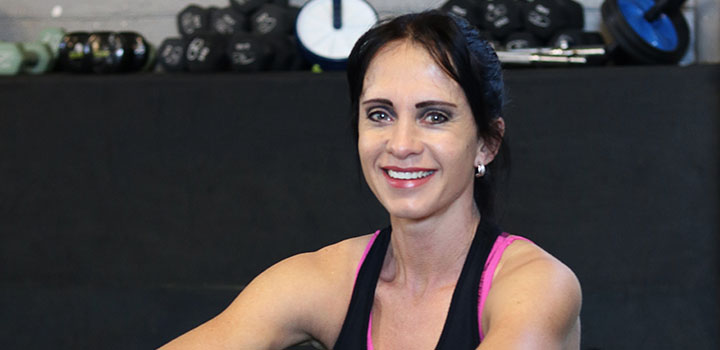 Dr Isstelle Joubert's passion is her patients and their long-term quality of life and health, helping them to identify possible obstacles and choosing better options
My passion is my patients and their long-term quality of life and health. I especially aim to decrease their health risks by identifying possible obstacles and helping them choose better options.
She's convinced we're our own biggest obstacles – and that equally, we're the pathfinders to our own success. Isstelle models this philosophy for her patients in her health, diet and attitude. A member of Vitality Active Rewards for Doctors, since 2017, she has strongly bought into the motivation for this unique Discovery doctors' program. "A colleague of mine gave me all the tools, but I still had to implement them myself. I'm excited and inspired by Discovery's vision; they have the ultimate successful plan – to change lives by making people healthier. I've realized that as a GP I have to be the healthy patient I want my patients to be – if I walk the talk, I can be the difference I want to see in my practice," she says. Wellness and fitness are one of the most powerful means of stemming the tsunami of non-communicable (lifestyle) diseases in South Africa, she believes – and she's built a Vitality-accredited gym to prove it. A growing body of evidence shows that doctors who themselves are fitter and eat healthily, while not smoking at all or drinking excessively, are far more effective in prescribing wellness to their patients. Isstelle has gone further; about 85 of her local townsfolk attend her gym during the course of any given week, earning Vitality points and staying fit.
Winning the mind battle is crucial
Says Isstelle; "The battlefield is your mind. I aim to help my patients make a mind-shift. It isn't the lower kg's on the bathroom scale or the smaller size number of your jeans that count, it is the holistic value of being healthy – in appearance and in the medical conditions and vital signs. Exercise is one of the "vital signs" I give attention to during my consultations,'' she quips.
This mother-of-two is the oldest of three daughters and grew up in South Africa's richest maize producing region, choosing to stay close to her parents in Hoopstad, home to 20 000 souls. She works out in her own gym five to six times a week after work, tandem skydives with friends over weekends and plays tennis with her son, FC, 15, and daughter, Sane' ,12-and-a-half years old.
Living her health dream
Having added a Masters' degree in Sports Medicine in 2014 to her MBChB degree acquired 14 years earlier, (both at the University of the Free State), she reckons she's living the ultimate dream, centered on her one-woman dispensing practice.
"I have a beautiful practice, my passion is my patients and their long-term quality of life and health. I especially aim to decrease their health risks by identifying possible obstacles and helping them choose better options. Not by telling them to do so, but by giving them living proof from my personal experience." She and her staff enjoy what Isstelle terms, "small-town luxury." To her this is her Discovery Vitality-accredited gym, a Pathcare Laboratories depot on the premises, and a gynaecologist, biokineticist and psychologist who regularly visit for consultations.
She has a dietician linked to her practice and a kidney dialysis unit close by, while a diabetes educator visits her once a month to provide free advice to relevant patients. Isstelle has also taken started up and registered Hoopstad's first-ever Vitality Parkrun, which she expects to soon become a part of the town's weekend social life. Her home-gym members, meanwhile, all have different motivations, backgrounds and medical histories.
Isstelle adds; "However, among them I've discovered a few strong common characteristics -enthusiasm and persistence. There's just one catch though; compliance and commitment from the patient," she emphasises. "When I give advice to my patients, I consider their family lives, their jobs and their social lives: if they have small kids, I say play with them – give them attention while doing exercises in the house or garden; if they have too long working hours, walk briskly instead of slowly; if they don't have a gym – they have a floor in the house to do sit-ups, push-ups, jumping – and pick up some heavy-ish things for weight training."
Isstelle's own health regime
Isstelle sports an iWatch which her Vitality points helped pay off and confesses to being, "totally addicted to the numbers and regular positive (and sometimes negative) feedback from the device. I'm motivated to improve daily," she says. In her personal fitness journey, she describes herself as having been unhealthy with a too low a Body Mass Index. "It's as hard to gain weight as it is to lose it," she asserts. She sticks to her scientific 40:30:30 ratio of proteins-to-carbs-to-fat formula, taking in 2000 calories per day, allowing herself two "cheat meals," a week. "I really struggled with having enough time for all this, but then I decided to stop and think about my future, my health and who's going to look after me in my old age. I suddenly found the time! It's not always easy being on call 24/7, 365 days a year – plus studying or having family responsibilities," she adds.