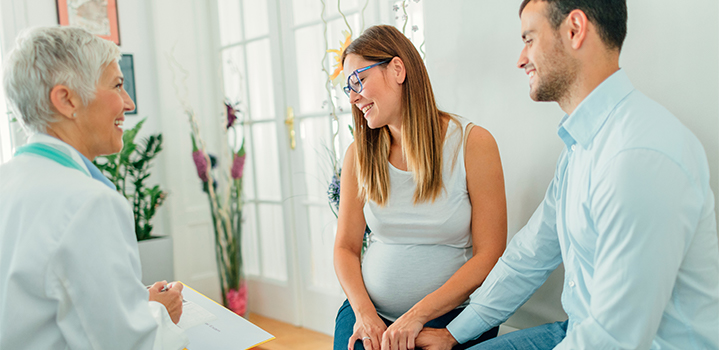 If you're one of the increasing numbers of newly diagnosed young cancer patients, one of the most important survivorship issues you need to consider before embarking on your treatment journey is your future ability to have children.
While cancer survival is on the increase, successful treatment in younger patients often leads to reduced fertility, explains Dr Merwyn Jacobson, a Specialist in Reproductive Medicine.
"Unfortunately more and more men and women under the age of 40 are being diagnosed with cancer today, and although there are excellent prospects for survival (the current five-year survival rate is 90%+ for testicular cancer, blood malignancies, breast cancer and other cancers affecting young patients) one of the biggest side effects of the available treatment options is an inability to have children. All of the main cancer therapies - chemotherapy, radiation, hormone therapy and surgery - do affect fertility."
Dr Jacobson continues, "The side effects for women include damage or destruction of your eggs, going into early menopause and a compromised ability to carry a baby to term, while men are faced with problems with sperm production as well as sperm quality and quantity. Although many oncology professionals are sensitive to these issues, some tend to focus more on providing the most effective treatment for you and how to prolong your life. That's why it's essential for you to take control right from the start by discussing your future family plans and fertility preservation options with your medical team before beginning treatment."
How to empower yourself
There are three important fertility-related questions that you should ask upfront:
How will the treatment affect my ability to have children?
Will I ever be able to conceive – are the side effects permanent or temporary?
What are my best fertility options given my diagnosis and treatment regime?
The good news is that commencing cancer treatment does not automatically signify the end of your parenting plans - as long as this issue is discussed with your doctors. "However when it comes to any form of fertility preservation," says Dr Jacobson, "it's essential to consult a reproductive specialist because every case needs to be carefully individualised. The main role of the specialist is to provide counselling and to discuss your options in terms of preservation of eggs, sperm, embryos or gonadal tissue (bits of ovary or testis) for use at a future time," he explains.
Going this route sometimes does end up simply being a good insurance policy because you may fall pregnant naturally, or in some instances, may need to consider using donor eggs or embryos or having a child via surrogacy or adoption. Your specialist will determine what will work best for you by considering the following factors:
the type of cancer you have
the type of treatment that's been prescribed
the dosage of chemotherapy and/or radiation you'll be receiving
the time available before the commencement of your treatment
your age now, and at the anticipated end of treatment (this is to assess, for example, if you're prescribed a 5 to10 year hormone therapy regime to prevent reoccurrence, where you'll be in the normal age-related decline-of-fertility life stage, by then)
your marital/partnership status.
The different fertility preservation options
There are four main fertility preservation options all of which need to be carried out prior to commencing your cancer treatment:
Egg freezing is the option for single women. You'll need to undergo ovarian stimulation to produce a large number of eggs which are then retrieved and frozen. (If your plan is to have two babies, you'll need to preserve 20 eggs if you're under the age of 32; 30 if you're between 32 and 38; and 40 if you're over 38)
Sperm freezing is offered to single men
Embryo freezing is the option for couples when one partner is diagnosed with cancer. You'll need to undergo a cycle of in vitro fertilisation (IVF) in order to create embryos for later use
Ovarian transposition surgery, where your ovaries are moved or suspended - is a good option if you require pelvic or abdominal radiation, or if you have cervical or ovarian cancer.
It takes about two weeks to freeze specimens in order to preserve your ability to have a child when you've been given the go-ahead to do so by your medical team. According to Dr Jacobson, long-term storage (10 years and more) has no adverse effect on the quality of eggs, sperm or embryos, and there's a 97% success rate of these surviving the thawing process. Remember that if your sperm, eggs, embryos or gonadal tissues are stored to preserve fertility, you need to ensure that their future use, disposal or donation to research options are clearly explained and confirmed in writing.
Severe illness can be life-changing. Discovery is here for you
At Discovery, we understand that an illness like cancer affects many aspects of your life. If you're a Discovery Health Medical Scheme member who is diagnosed with cancer, you are covered by a comprehensive Oncology Programme. You'll also have access to a palliative care programme, which offers unlimited cover for approved care at home.
To protect you financially, Discovery Life offers the best dread disease product in the market for cancer cover, as awarded by the Independent Clinical Oncology Network. Our award-winning LifeTime Max 200% Severe Illness Benefit offers coverage across the full spectrum of severities and coverage for remission of a cancer. Contact us to learn more.
The Discovery Health Medical Scheme is an independent non-profit entity governed by the Medical Schemes Act, and regulated by the Council for Medical Schemes. It is administered by a separate company, Discovery Health (Pty) Ltd, an authorised financial services provider.
Playing your part during treatment
Everyone's cancer journey is unique so your multidisciplinary team will work together to come up with a treatment plan determined by your needs. You can help by listening to their advice and by following their instructions implicitly.
Cancer diagnosis? Make a plan and take control!
Linda Greeff, an oncology social worker and cancer survivor herself, believes that a patient's long-term survival is most impacted by the first treatment intervention. She shares her insight from her own experience with being diagnosed with ovarian cancer.