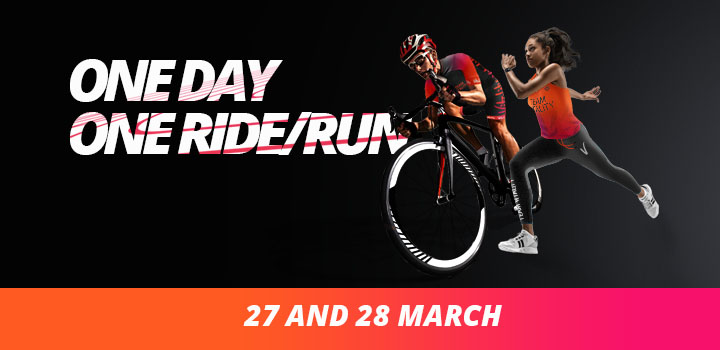 The first Team Vitality challenge for 2021 has arrived - One day One Ride/Run, and one opportunity to earn your very first badge, Vitality points and discounted Team Vitality training kit. You've got to be quick! Lace up or get in that saddle and let's get moving for the One Day One Run/Ride challenge.
Show us what you've got and earn those challenge badges
Every quarter we will be running a Team Vitality running and cycling challenge. All you have to do is register and complete each event and you will be zooming away with a unique Team Vitality challenge badge, 300 Vitality points in the bag and a discounted personalised Team Vitality training kit. The best part? You can show the world what you're made of by having your badge printed on your brand new training kit- you've earned it!
So, are you ready to conquer the challenge?
Cyclists, get into gear for the One Day One Ride: 30 km or 80 km cycling challenge
The challenge: Cycle either 30 km or 80km over one day on 27 or 28 March
When: 27 or 28 March 2021
Entry fee: Free
Runners, get your move on with the first One Day One Run: 5 km/10 km/21 km running challenge
The challenge: You have a choice between 5 km, 10 km or 21km to complete on 27 or 28 March
When: 27 or 28 March 2021
Entry fee: Free
Runners, you could be sprinting away with a brand new Garmin Forerunner 245 Music. You do the running. This GPS running smartwatch does the thinking. It even gets to know you, mile after mile and song after song. (T&Cs)
For our cyclists, you could stand the chance of winning a Garmin EdgeŽ 130 Plus. Never stop cycling with this compact GPS bike computer. Whether you ride to explore new trails or to save the planet in your daily commute, you could keep going with Edge 130 Plus. (T&Cs)
PLUS, the first 2 500 lucky cyclists and runners to enter and complete the One Day One Ride/Run challenge, will get a voucher for R20 off a fresh and healthy Nando's Grande salad. Yum! (T&Cs)
Don't forget to track your workout!
Vitality members will earn 300 Vitality points* for tracking their run or ride on a qualifying fitness device or on the Strava app.
*Please note that Vitality points may take up to 5 days to reflect.
Download the Strava app and join the Team Vitality communities today.
You can download the Strava app from the App Store or Google Play. Register your profile or log in to your existing account, then make sure to link Strava to your Discovery app.
Once you are on the Strava homepage, you can join the Team Vitality communities for free. Please note, usage of the Strava application may be subject to data charges as determined by your mobile service provider.
Select Explore and then select Clubs
Search for Team Vitality Running or Team Vitality Cycling
Select Join, and build our Team Vitality community with us
You'll know it's us by our official Team Vitality running and Team Vitality cycling indicators.
Click below to join the communities
Join the Team Vitality Club and get 50% off your Strava subscription
For a VIP club experience like no other, join the Team Vitality Club and save 50% on a Strava subscription, allowing you to do so much more:
Plan and discover new routes
Compete on favourite routes and access segmented leaderboards
Analyse your recent efforts with advanced performance metrics
Train smarter and more effectively
Give friends and family peace of mind through the safety features
As always, you'll get access to premium, personalised Team Vitality running or cycling kit, exclusive VIP hospitality at races, and up to 50% back on select race entry fees.
Plus, join Team Vitality before 31 March 2021 and you could win a personalised 12-week training programme from 9-time Comrade winner Bruce Fordyce or cycling superstar Nic White.
So, what are you waiting for?