Stay informed and stay healthy
With so much information (and misinformation) out there about healthy living, we're here to help you make sense of it all. Get access to expert advice and cutting-edge insights on nutrition, exercise, and more. Plus, access tips on how to maximise your Vitality benefits. Live your healthiest life yet, with Vitality.
Sign up for upcoming webinars
Make sure you don't miss the next one! Keep an eye on this page to be the first to find out about future webinars.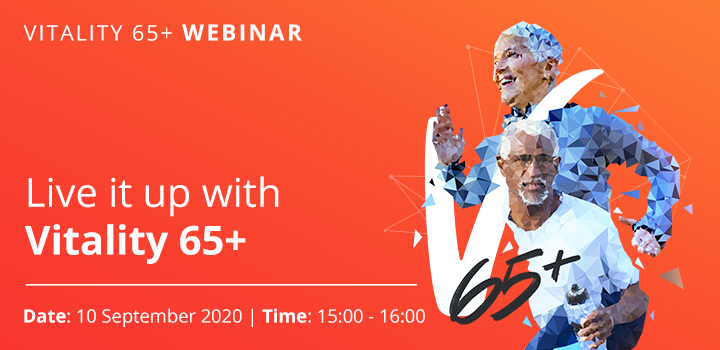 Learn the secrets to a long, healthy life with the Vitality 65+ webinar!
Learn everything you want to know about ageing healthily.
Get guidance on age-appropriate workouts, additional health screenings and special benefits specifically for members 65 or over.
Catch up on past webinars
EXERCISE
Importance of exercise during COVID-19
With Professor of Sports Medicine, Jon Patricios & Vitality Head of Wellness, Dr Mosima Mabunda.
VITALITY BENEFITS
How to get the most out of your Vitality benefits
With triple Diamond Vitality member, Mims Ndhlovu, and special guests Kabelo Mabalane and Danny K.
NUTRITION
See how lockdown has impacted our eating habits (and waistlines!)
With Vitality dietitian Terry Harris, Professor Felice Jacka, founder of the International Society for Nutritional Psychiatry Research and local celebrity chef, The Lazy Makoti, Mogau Seshoene.
Not a Vitality member? Join today and get rewarded for staying healthy.
Call us on 0860 000 628 or leave your details and we will call you back. You can also log in to activate Vitality yourself.