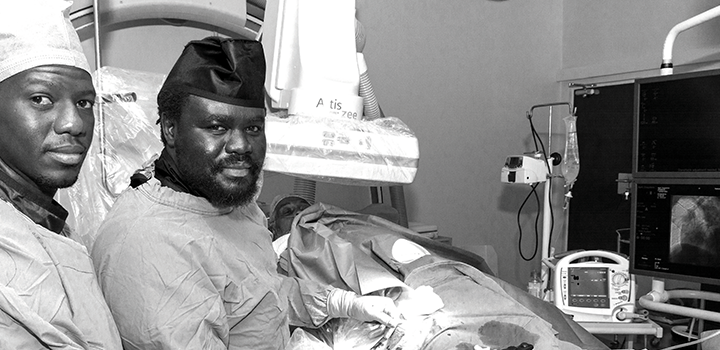 In 2019, Dr Khulile Moeketsi received a Discovery Foundation Rural Institutional Award to help implement a project to train medical doctors in rural hospitals in basic cardiology skills and to give bedside teaching on cardiology clinical signs and symptoms.
Dr Khulile Moeketsi, the cardiology chief at Nelson Mandela Academic Hospital in Mthatha, is passionate about reducing the large burden of heart disease in the Eastern Cape.
He has devoted most of his medical career to researching heart disease and building up appropriate and sustainable care for locals suffering from the most prevalent heart conditions.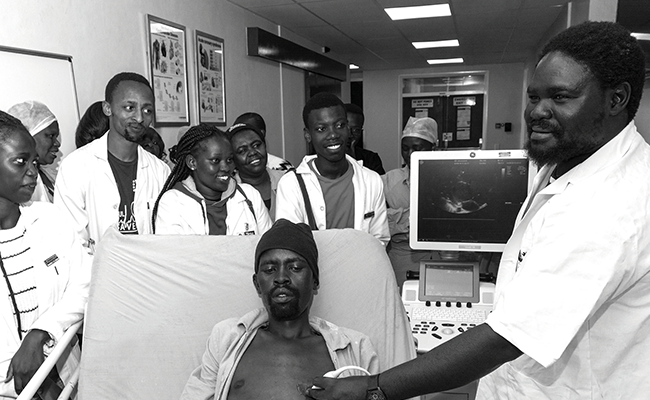 Backbone of the region's cardiology service
Dr Moeketsi is a national leader of a multicentre clinical randomised trial of pericarditis – an inflammation of the pericardium, the thin, sac-like membrane around the heart – funded by the South African Medical Research Council.
Nelson Mandela Academic Hospital serves the needs of 3.2 million people in the OR Tambo region, while its cardiology services extend to Cecilia Makiwane Hospital and Frere Provincial Hospital in the Amathole region. The local principal investigator on rheumatic heart disease in the Nelson Mandela Academic Hospital, Dr Moeketsi is working alongside two specialist physicians, Prof MB Thomas and Dr Kandathil Thomas. Using the local, inter-provincial and national relationships he's developed over his 13 year association with Nelson Mandela Academic Hospital, Dr Moeketsi has built his tertiary cardiology unit from scratch. He is also a National Institute of Health grant holder through collaboration with the University of Cape Town for pericarditis research.
As part of this research, he sourced funding and then coordinated, co-designed and directed the installation of a R30-million catheter laboratory with the help of Nelson Mandela Academic Hospital's CEO, Nomalanga Makwedini. The catheter laboratory is now the backbone of the region's cardiology service.
Basic cardiology skills-building programme
The Discovery Foundation elected Dr Moeketsi as a Top Emerging Young Leader in the South African cardiology community under the age of 40 in 2019. Passionate about mentorship and capacity building, he teaches undergraduate medical students at Walter Sisulu University and is the course convenor of the MBChB sixth-year programme. He is also involved in training specialist physicians in the Eastern Cape.
As part of capacity building, his latest initiative includes using an existing teaching platform as an outreach and in-reach basic cardiology skills-building programme that will include all 12 district and regional hospitals in the Eastern Cape.
Using three vital new echocardiograph machines, Dr Moeketsi and a technologist will travel to offer on site training on how to use the machines. They will also provide direly needed teaching on cardiology clinical signs and symptoms to improve diagnosis, treatment and referrals.
"There's a growing burden of cardiovascular disease in rural Eastern Cape, the most common being hypertensive heart disease, valvular heart disease and cardiomyopathy. More people are suffering heart attacks, which was rare 20 years ago," Dr Moeketsi says.
Why is heart disease increasing in the Eastern Cape? "Clearly there's a lot of urbanisation with the accompanying diets and less healthy habits, along with significant obesity and diabetes. HIV increases the risk of coronary artery disease," he says.
Empowering doctors with cardiology skills
Dr Moeketsi's training team will prioritise district hospitals with consistently high numbers of cardiology patients and the least echocardiograph training.
"We know the high and low risk districts because they all refer patients to us. Staff at some well developed district hospitals know how to do basic echocardiography, so they're not a priority. We'll still get to them to upskill their doctors sufficiently to pick up the more complex cases, which they may not be doing," he adds. "The problem is that medical officers tend to leave. So, for training, we'll identify those medical officers likely to stick around. Once they're properly trained, it's amazing how quickly they become enthusiastic and far more dynamic." Starting in 2019, Dr Moeketsi's team planned to schedule regular visits to three or four district hospitals a year for three years, eventually covering all of them.
How will they achieve these goals during COVID-19? Dr Moeketsi says medical students already attend Nelson Mandela Academic Hospital's inpatient and outpatient echocardiography service. "The new programme builds on this." For now, they piggyback on a community clerkship programme that is running between Walter Sisulu University and Nelson Mandela Academic Hospital for fifth year medical students and Cuban trained doctors spending six months at a time in district hospitals. "All we need to do is put the mobile echo machine in the boot," Dr Moeketsi says.
Relationship building and onward referral can prevent a crisis
Dr Moeketsi's unit offers diagnostic coronary angiography (imaging of the blood vessels), percutaneous coronary intervention (stent implants) and inserts pacemakers. All adult patients who need cardiac surgery are referred to the Inkosi Albert Luthuli Central Hospital in Durban, and heart transplant patients are referred to Groote Schuur Hospital in Cape Town.
"We have patients being transferred by ambulance to Durban for review for cardiothoracic surgery service almost every second day. Without Inkosi Albert Luthuli Hospital's sterling support, we'd probably have a crisis. Emergency surgeries are usually done there within a week," he says.
Dr Moeketsi has started a WhatsApp group with emergency medical services, the district hospitals and his unit, which has significantly improved scheduling and transporting patients.
The late Professor Bongani Mayosi was his biggest inspiration. "He was meticulous, his passion and love for patients and medicine, his humility and most importantly his integrity, all impacted me hugely," he says. Dr Moeketsi, with the selfless collaboration of the decorated and globally celebrated cardiologist, initiated ground breaking clinical cardiology trials.
One was the world's largest study of pericarditis (IMPI 1). In this multicentre trial, the largest patient cohort was drawn from the OR Tambo region. It probed the use of prednisone, a steroid, for the treatment of constrictive TB related pericarditis.
"The Medical Research Council flagship grant trial (IMPI 2) will provide vital data on new potential strategies to treat constrictive pericarditis and re-accumulation of cardiac tamponade. We also hope the new strategy will reduce mortality and morbidity of pericardial disease," he adds.
Born in Mthatha, Dr Moeketsi initially studied chemical engineering. He received six distinctions before falling in love with medicine through interaction with medical students. He says his teacher parents backed his change in direction.
Besides having invested four difficult years in setting up the Nelson Mandela Academic Hospital cath lab, his other dream is to see rural cardiac patients getting the healthcare they deserve "and no longer sleeping in corridors and on chairs". As his colleague Dr Ben Gaunt, Principal Medical Officer at the exemplary Zithulele Hospital, is so fond of saying: "If you don't have a dream, how can you ever have a dream come true?"
About the Discovery Foundation
Since 2006, the Discovery Foundation has invested over R256 million in grants to support academic medicine through research, development and training medical specialists in South Africa.
The Discovery Foundation is an independent trust with a clear focus – to strengthen the healthcare system – by making sure that more people have access to specialised healthcare services. Each year, the Discovery Foundation gives five different awards to outstanding individual and institutional awardees in the public healthcare sector.