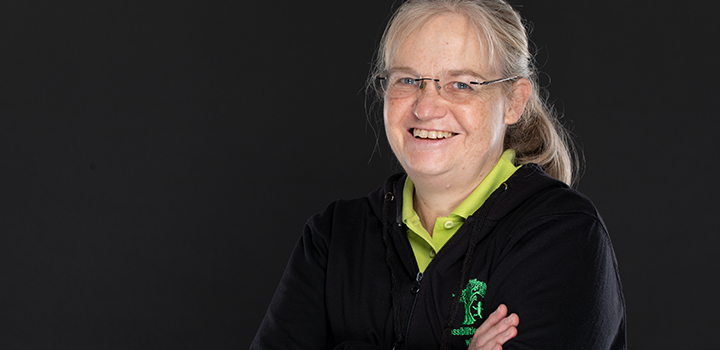 In 2019, Malamulele Onward founder Dr Gillian Saloojee received a Discovery Foundation Distinguished Visitor Award to help improve the outcomes of people with disabilities at Manguzi District Hospital in northern KwaZulu-Natal.
The Manguzi Rehabilitation team follows two fundamental human truths:
Nobody knows a child better than their own parents.
Nobody can empathise, understand or win the trust of a person with a disability like another person with that same disability.
Adri Cronje, an occupational therapist at Manguzi District Hospital in northern KwaZulu-Natal, has devoted the past 12 years of her life to working with children with cerebral palsy and more recently, training and counselling their caregivers.
The community of Kwa-Ngwanase has grown to trust and love Adri. She quotes a grandmother at a recent peer training workshop, "The Gogo said to me, 'this is nothing you haven't told us, but we couldn't believe you because you're not the mother of the child. You have all this book knowledge and theory and experience but mothers relate to mothers'."
This experience cemented Adri's belief that training primary caregivers, especially mothers, significantly improves the quality of life and longevity of their patients. "I realised my job was to guide and supervise, and let them get on with it by teaching and supporting each other. We believe they're the ultimate therapists."
Sustained peer supporter training kicks off
Physiotherapist and founder of Malamulele Onward, Dr Gillian Saloojee, began to visit Manguzi Hospital in August 2019. Malamulele Onward is a non-profit organisation that works with children with disabilities, in particular children with cerebral palsy living in rural, resource-constrained settings.
The team planned to make six one week-long visits over 18 months to improve outcomes in children and adults with moderate to severe disabilities and enable peer-support services in Manguzi to evolve into parent-led services. Parent facilitator trainer Lydia Ngwana and monitoring and evaluation specialist Vutomi Ringane would accompany the team.
They completed two site visits in 2019 where they gave on-site training for peer supporters and therapists of children with cerebral palsy on how to run a residential five-day intensive therapy programme.
Following the second site visit in October 2019, a five-day intensive training and therapy programme kicked off. "The MEC for Health made an unexpected visit to Manguzi Hospital in February 2020 which happened to coincide with the week that the residential programme was running," Dr Saloojee says. "After speaking to the caregivers and watching the programme in action, she commented, 'This programme is so amazing, it should be done throughout the province'."
Since COVID-19 began, the team has adapted their programme as follows:
They've replaced on-site visits with remote support through Zoom meetings and webinars.
Peer supporters offer remote support via cell phone, using a standardised questionnaire.
They've developed an app to assist with monitoring and evaluation of the peer support services off-site.
Young adults with cerebral palsy – an invisible population
Dr Saloojee's research in the Nquthu district of KwaZulu-Natal revealed a high mortality rate of 79 in 1 000 children and adolescents with cerebral palsy. Additionally, only half the children needing rehabilitation were accessing it, while no teenager or young adult was receiving any kind of support. "Teenagers and young adults living with cerebral palsy are an invisible population," she says.
Dr Saloojee used to run the cerebral palsy clinic at Chris Hani Baragwanath Hospital in Johannesburg where she saw 300 children a month. "I had to wonder what real difference I was making with so many kids and so few resources," she says. "I spent two years interviewing parents attending public service hospitals throughout Gauteng and Limpopo, and saw how desperate mothers were for services and support."
She started Malamulele Onward to find innovative solutions and ways of providing effective rehabilitation for children with disabilities. The organisation was named after Malamulele in Limpopo where the project first piloted and means 'the rescuer' in Shangaan. Much has changed since this first outreach with nine volunteer therapists who worked with 27 children over five days.
"We've learnt that while therapy can result in amazing improvements over a short time, we cannot make a lasting difference unless we adopt a comprehensive and holistic approach to create a nurturing and supportive environment. This includes the child's mother, family and local rehabilitation services," she says.
Unleashing skilled "mom power"
Dr Saloojee says, "Cerebral palsy is for life and caring for a child needs to become a way of life. The ultimate therapist is the child's mother and we need to give her the skills, knowledge and confidence to understand and bond with her child, to do everyday things in a helpful way, and to feel prepared for a lifetime of caring.
"We have discovered that the best way to do this is to train mothers as parent facilitators or as peer supporters to help train and support other mothers in their communities. A mother with the experience of caring for a child with a disability is a powerful game changer – she speaks from her own experience and instantly connects with other mothers in a way that therapists will never be able to."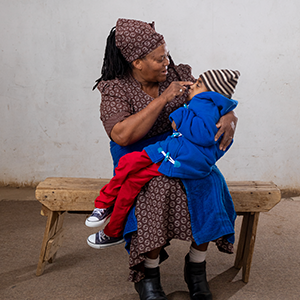 "Rural women are amazingly resilient and strong, and hold their families together. We want to turn them into leaders in their communities and unleash a huge amount of power. Generally, a child with cerebral palsy in the public sector gets 35 hours of therapy in their lifetime. In the private sector it's 90 to 100 hours a year. Without increasing resources, we've found a way of tripling the therapy time in a public sector setting."
Caring for patients with spinal cord injury
Manguzi's rehabilitation chief and physiotherapist Maryke Bezuidenhout runs the spinal cord injury service. "Not enough is known about the inputs, outputs and impact of peer-support work in rural areas and Dr Saloojee and her team will begin to address this," she explains.
Maryke skilfully negotiates the 16 km of sand-dune roads from her home to the hospital on her scrambler motorbike, and uses it to conduct outreach visits. "The other day, some guys with spinal-cord injuries asked me if they could use a bike like mine to get around. I told them it would be physically impossible. But now I'm on a four-by-four quad bike fundraising mission, because that would transform their lives," she laughs.
Dr Saloojee adds, "Maryke successfully raised the funding needed for an off-road adapted quad bike that all peer supporters could use to see their clients at home. This was a major achievement in making the peer supporters less dependent on the Manguzi Rehabilitation team for transport and to enable them to visit their clients on their own."
She hopes to do at least two more site visits to Manguzi Hospital once interprovincial travel is possible. "The goals of the Discovery Foundation Distinguished Visitor programme remain the same," she says. "To improve outcomes of children and adults with disabilities; to strengthen and build capacity in the peer supporter services; and to design and implement a monitoring and evaluation tool for a smartphone."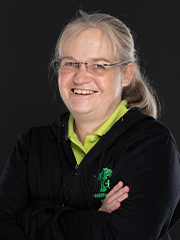 Dr Gillian Saloojee, founder of the pioneering Malamulele Onward non profit organisation that works with children with disabilities.
Monitoring and evaluation specialist Vutomi Ringane is part of the Manguzi Rehabilitation team.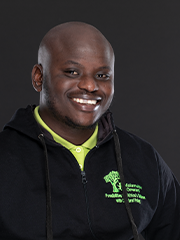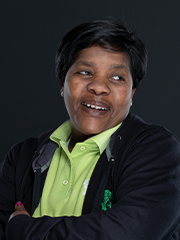 Parent facilitator trainer Lydia Ngwana is part of the Manguzi Rehabilitation team.
The images on this page were taken leading up to the 2019 Discovery Foundation Awards before COVID-19 reached South Africa. Stay healthy. Stay home.
About the Discovery Foundation
Since 2006, the Discovery Foundation has invested over R256 million in grants to support academic medicine through research, development and training medical specialists in South Africa.
The Discovery Foundation is an independent trust with a clear focus – to strengthen the healthcare system – by making sure that more people have access to specialised healthcare services. Each year, the Discovery Foundation gives five different awards to outstanding individual and institutional awardees in the public healthcare sector.