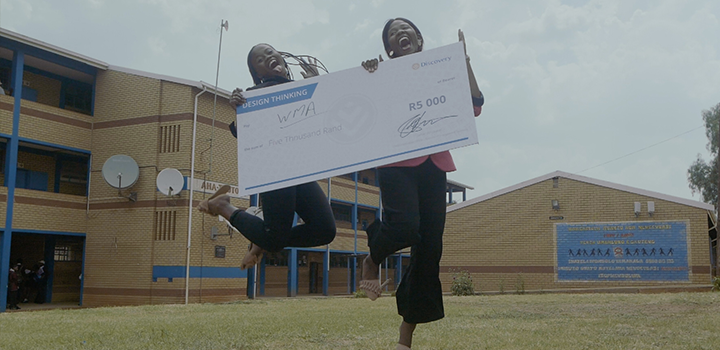 In 2018, Discovery volunteers taught 60 learners from Aha Thuto Secondary School in Orange Farm how to solve problems using design thinking. This year, Discovery visited 10 learners who had come up with innovative solutions to address food security.
World Mission Accomplishers. Pioneers. The Foundation. Happy Helpers Superstars. These are the four teams of high school learners from Aha Thuto Secondary School in Orange Farm who entered the Discovery Design-a-Garden competition in 2019 and walked away with prizes to the value of R11 000 this year.
In 2018, Discovery senior usability analyst Ashnee Gounden spearheaded the design thinking mentorship programme at the school. Ashnee mobilised usability analysts from Discovery's design and user experience teams to teach 60 grade 11 learners of Aha Thuto Secondary School how to research and design innovative solutions to problems by using the principles of design thinking. These volunteers were Kegorogile Itholeng, Tamarin Skead, Valencia Nkosi, Magdalene Kamau, Hayley Komen, Thembelihle Nciweni and Ivana Raguz.
The challenge: growing healthy food
In 2019, 55 of the original learners went to Discovery's headquarters in Sandton for the launch of the Discovery Design-a-Garden competition. The learners, who matriculated in 2019, received another lesson in design thinking and were given a challenge:
How can we grow fruit and vegetables in a sustainable way, to provide enough healthy food for our community, home or school?
Discovery provided mentorship and internet access, and the learners did the rest. They followed the five principles of design thinking and worked with selected community members to find vacant land, seed and soil for their gardens, and people to look after their gardens while they were in school.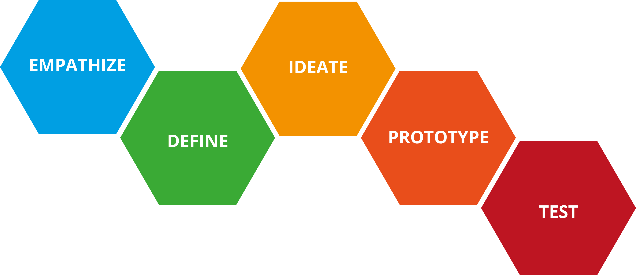 The 5 principles of design thinking
The proof is in the veggies
In 2020, four teams of 10 learners remained as some of them had left Gauteng to pursue further studies. On Thursday, 30 January, these teams wowed Discovery judges Jamie Whittaker, Chief Information Officer (Systems of Engagement); Maria Carpenter, Head of Digital; and Siphamandla Masuku, Head of Digital Research and Development, with their eight stunning fruit and vegetable gardens.
Gardening is about making a living
Lindi Nhlapo and Sibongile Kgarebe, the World Mission Accomplishers, won the grand prize of vouchers worth R5 000. "It's not only about making a garden; it's about making a living," Lindi said. "This project showed us what people in our community are facing daily, not knowing what to eat for breakfast, lunch or supper."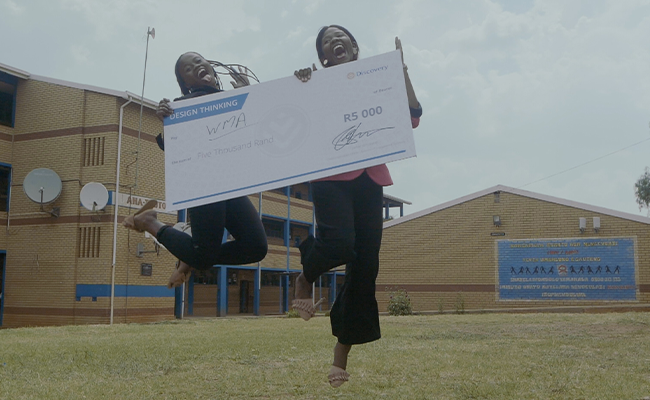 Sibongile Kgarebe (left) and Lindi Nhlapo (right), winners of the Discovery Design-a-Garden competition.
The team approached a woman in the community with knowledge of agriculture to create a garden in her backyard. "We got our seeds from the community centre," Lindi explained. "We used what we had." Then, the woman showed them something amazing. "Look at this spinach here," Lindi said, pointing to a tall, dark green bush. "You don't need more seeds to plant it; you can transplant the leaves. The person helping us with the garden cuts the leaves and sells them. This is now her side income."
Team mentor Kegorogile Itholeng said, "I'm so proud of what they've done. I'm glad they had this opportunity to win something, which is fulfilling for me and them. I hope they use the skills they learned for everything they come across in life."
Sibongile was shaking when she received the prize with Lindi: "I'm very excited. It's my first time winning something!" Jamie commended the team for their beautiful garden, their rigorous research and for following the design thinking process.
Finding a purpose
Team Pioneers came a close second, earning vouchers to the value of R3 000. Moses Masemola, Tumelo Mantswe and Kgotso Makhubela created three gardens, but could only show Discovery two as they had already donated the vegetables from the first one to the community and an orphanage.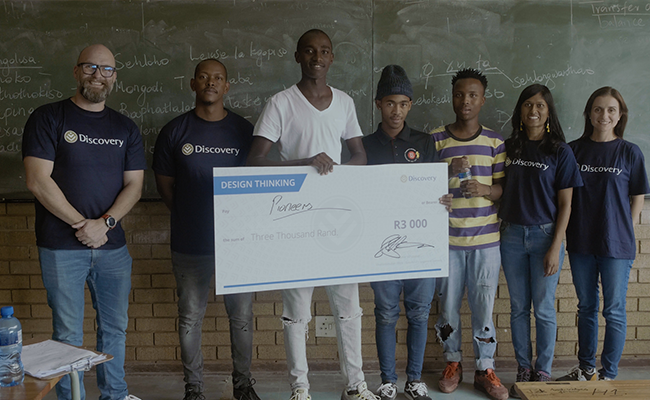 From left to right: Discovery's Jamie Whittaker and Siphamandla Masuku with runners-up Moses Masemola, Kgotso Makhubela and Tumelo Mantswe. Next to Tumelo are Ashnee Gounden and Maria Carpenter.
The team approached community members to understand their needs, and found an unemployed man to look after their garden while they were at school. "The garden kept him busy and gave him a purpose, something to take care of," Moses said. Another woman joined them, and together they grew corn, pumpkin, spinach, potatoes and beetroot.
Jamie praised the team's excellent presentation and visual proof of their work, including videos and photographs.
Creating beauty in unlikely spaces
In third place was The Foundation, who won R2 000 vouchers. Teammates Oarabiwe Mokaka, Chanice Monethi and James Noguda created three gardens. "It was an opportunity to produce food and create income, and for us to learn where food comes from," said Oarabiwe.
Front, from left to right: Chanice Monethi, Oarabiwe Mokaka and James Noguda came third and received a prize from the Discovery team (back).
"We also created beauty with our gardens," said James. "We found unoccupied spaces filled with trash, and once we had cleaned the space it became nice and we could make an environment that's appealing to the people who live there." In addition to the usual vegetables, this team also planted tomatoes, aloe, mint and other herbs. Jamie said this team's use of space reserved for trash is something every community can replicate.
Helping feed families
The Discovery judges created a fourth prize of R1 000 for the Happy Helpers Superstars, Nomusa Dlamini and Ntando Maya. "They had a sizable garden and interviewed multiple people to understand how it would be used," emphasised Jamie.
"Most people don't have money to buy vegetables," Nomusa said. "Our aim was to help people feed their families." The team grew their garden next to a big community garden. "A lot of people eat from this garden," said Nomusa. Their second garden is on the church ground at the pastor's home. "Anyone from church can help themselves."
Happy Helpers Superstars Nomusa Dlamini and Ntando Maya in fourth place. Here they are in their garden with Discovery mentor Magdalene Kamau.
Ashnee was elated to see the fruits of a project she holds dear. "Four years ago, I had this vision. Two years ago, we kicked it off, and today, to see it realised is amazing." But this is not the end of the road. Later this year, Ashnee and her team will go back to Orange Farm to teach design thinking to grade 8 students. Watch this space!

Finding better ways of helping children fight TB
Dr Vishesh Sood, a final-year radiology registrar working at the Red Cross Children's War Memorial Hospital in Cape Town, received a Discovery Foundation Award to investigate the value of using an abdominal ultrasound to diagnose TB in children.


Creating respectful maternity care advocates in Limpopo
Dr Joy Summerton is so passionate about providing excellent care to mothers and their newborn babies in Limpopo that she received a Discovery Foundation Award in 2019 to train healthcare workers on respectful maternity care.